Tips On Creating A Functional And Cute Baby Nursery For Twins Or Multiples.
Decorating a nursery for your two peas in a pod can be fun, but it can also be challenging to incorporate a sense of individuality while maintaining uniformity. Looking for a way to keep organized while giving each child their own sense of space? Read on to discover some creative ways to design a baby nursery for twins.
Michelle Maffei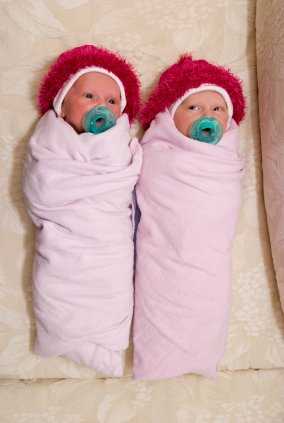 Before you get started, the first thing you need to do is decide what kind of space your double bundle will need. "When preparing the nursery, decide early on if you are going to have separate rooms or the same room," advises Tonia Tomlin, organization expert and president of Sorted Out, and author of Chaos 2 Calm. "If you decide to do separate rooms you might consider purchasing a crib that converts to a toddler bed to save money in the long term. Or, if you choose to co-bed and do the same room, a bigger crib might be more suitable for the babies."
For parents-to-be who are opting to have their multiples share a space, here are some ways you can emphasize each infant's individuality while keeping the room in harmony.
Personalize
Adding your little ones' names to the nursery is a sure way to give each child their own sense of individuality. Add the letters of their name to the wall above each twin's bed for a distinctive detail. Or, bedding personalized with each child's moniker can make them feel like they have their own special spot.
Color code
Choose décor that comes in more than one color. If you have roses as the theme for your pink cheeked babes, then a bedding collection that comes in separate hues like purple for one child and pink for another child will help give each of the pair their own identity while keeping a unified look.
This also works for multiples of opposite sexes. Some bedding collections come in shades and sheeting options that compliment boys and girls, such as playful animal themes in gender-specific colors that can make sharing space fun.
Find balance
Keeping a unified nursery style while balancing individuality can be challenging, but not if you give your pair plenty of room for self-expression. Coordinate main pieces of furniture and storage pieces while giving each child their own separate area to showcase their unique personalities as they grow. Bedding along the same theme, such as a separate sport for each twin, will help maintain individualism while pulling the entire room together.
Private sanctuary
Even look-alikes who grow up wanting to spend every waking second together need some quiet time alone. Ceiling-mounted canopies over each crib or bed can create a sense of seclusion in a room for two, whether it is soft tulle for girls, or jungle-themed netting canopy for boys.
Get in the zone
Juggling two kiddies in a single room filled with twice as much stuff can quickly turn into chaos. Save your sanity by dividing the nursery into zones, such as "Sleeping Zone," "Changing Zone," "Play Zone," and "Mommy and Me Zone" recommends Tomlin. "Keeping several children entertained is sometimes a challenge. While one child is being changed, the other can be happily playing in the Play Zone."
One final thing to keep in mind when creating a shared space is that not all nursery items need to be purchased in twofold. A single changing table, diaper pail, hamper, and even storage such as book cases and toy boxes are sufficient in a single room. Let accents, embellishments, and related décor pull the room together for a nursery that is fit for your twosome-to-be.
For more baby nursery design tips: