Check Out Our List Of The Top 15 IPhone Apps Or Applications For Moms, Including Fertility Apps, Pregnancy Apps, Apps To Get Organized And More!
Trying to conceive? Expecting a baby? Nursing? Trying to stay organized? Wondering what to cook for dinner tonight? There's an app for that! Check out our list of the top 15 iPhone apps for moms.
Ami Burns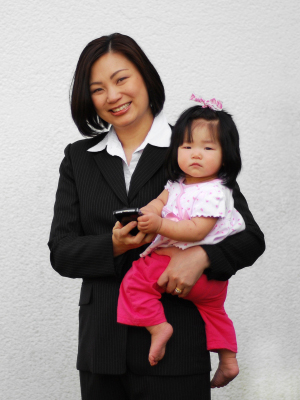 It's been a year since iTunes launched its app store (www.apple.com/itunes) and there's no better time for moms to start downloading apps to their iPhones. Here are 15 of our favorites and (good news!) most of them are free!
BabyMed Calculator (BabyMed.com)
Designed by an OB-GYN, this app calculates the best days to conceive as well as your due date. Just click the last date of your menstrual period, and this app will calculate your most fertile days that month, as well as your due date and baby's gestational age.
You can also check out our ovulation/conception date calculator here. This will tell you the days you are most fertile!
Labor and Contraction Timer(MKale)
When a contraction starts, click the timer, when it ends, click again. This app saves each contraction and calculates the pattern. When you call the doctor and she asks "How long are your contractions lasting and how frequently are you having them?" you'll have the answer right there on your iphone.
You can also try out our contraction timer to help you keep track and time your contractions.
White Noise Lite by TMSoft*(free version – full version is $1.99)
Thunderstorms. Beach waves. Oscillating fan. Need we say more? These white noise sounds will help baby – and you – get to sleep in no time.
Get more tips on calming a crying baby so they (and you!) can get some much-needed sleep.
iNeed milk
This app helps you keep track of baby's feeding times. Simply click the left or right side of the top breastfeeding graphic if nursing, or click the bottle feeding graphic at the bottom if formula-feeding. No searching for pens or a notebook anymore!
Find out here 12 tips to get ready for breastfeeding.
Taxi Magic (RideCharge)
If you're a mom who lives in a big city or traveling to one, good news! No more standing in lines, hoping to hail a cab – now you can book one from your phone. And if you choose to enter your secure credit card information, you can automatically pay for your ride on your phone. No more haggling with drivers or searching for change.
Sit or Squat (Densebrain)
You have to  love an app that locates the nearest public bathroom! Whether you're super-pregnant and have to go all of the time or potty-training your toddler, this is the app for you!
Dictionary.com (Dictionary.com)
This app is ideal for moms of school-age children. If you're helping your child with homework and he needs to spell-check or find the perfect word for his paper, this app can help. It also includes a thesaurus feature.
Photoshop.com Mobile (Adobe Systems Incorporated)
If you just took the not-so-perfect picture of your baby, the photoshop app lets you crop and add cool effects on the go. Grandma will be proud when she sees your professional photos.
Get tips on taking the perfect pictures of your baby here!
 
Shazam (Shazam Entertainment Ltd.)
If you're listening to a hot new tune while sipping a much-needed latte at the coffee shop but have no idea who sings it, or hear a song during your favorite t.v. show and just have to have it right now, Shazam! Hold your phone close to the speaker and this app will not only tell you what song is playing but lets you download it to iTunes on the spot.
 
Simplify (Simplify Media, Inc. - $3.99)
When little Susie wants to hear her favorite song – again – and it's not on your iphone playlist, all you need is a wi-fi connection. This app lets you connect to the itunes library on your home computer. Fantastic for long car rides!
Epicurious (CondeNet)
From quick and easy dinners to gourmet feasts, this app provides thousands of recipes and reader reviews.
Check out recipes for yummy, easy and healthy homemade baby food here!
Urban Spoon (Wanderspot, LLC)
If your favorite thing to make for dinner is reservations, this app finds local restaurants with the shake of your iphone. You can also sort by cuisine or location. It will automatically default to your current location or you can type one in. Great for neighborhood restaurants and travel.
Voice recorder
This is a great app that you don't need to download – it's part of itunes software. You can record reminders, ideas or fun conversations with your kids, and then email the files.
Facebook (Facebook, Inc)
Tell your friends how far along in labor you are, then post baby's first photos. Update your status or chat with long-distance family on-the-go.
Follow SheKnows on Facebook here!
What is your favorite iPhone app? Tell us here on the SheKnows message boards!