Tips For New Dads On Forming A Bond With Baby, Including Helping With Feeding.
From books and magazines to Internet and television, new mothers have access to a multitude of advice about caring and bonding with a newborn. But what about Dad? What's his role in the new baby experience? Irene Zoppi, a Clinical Education Specialist with Medela, Inc., is an experience clinician caring for new families in antenatal, labor and delivery, postpartum and neonatal intensive care units (NICU) settings. Pregnancy & Baby asked Zoppi for some advice for fathers of newborns on how to form an early bond with baby.
Mary Fetzer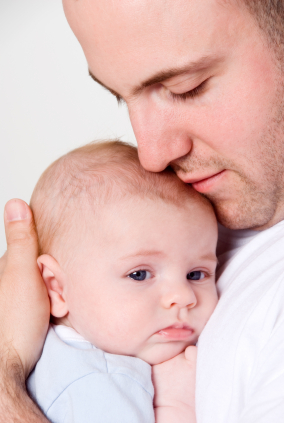 P&B: Many women return to the workplace after a brief maternity leave. Are modern-day fathers more or less involved with their babies than dads of earlier generations?
Zoppi: There is not a lot of concrete research available to say whether fathers are more or less involved with their babies than dads of earlier generations. However, from observation of more couples attending childbirth preparation classes and dads being increasingly present at their infants' births, it certainly seems that there is a trend toward fathers being more attentive to childrearing. 
Thinking back to stories of past generations, it typically was a mother's responsibility to be the caregiver of her children. Much of that was a reflection of mothers staying home with their infants. Now, with more mothers working outside the home, there is more of a blend of both parents taking a shared responsibility in the care of their babies or children.  
Forming an early bond
P&B: What can a new dad do to start forming a bond with his baby?
Zoppi: Similar to mothers, fathers employ a sequence of touching their new infants. They begin to gingerly touch the newborn's extremities with fingertips before gradually moving their hands and then their entire palm to touch the infant's chest, face or head. Mothers and fathers both move from gazing at their infants to touching their infants in the first 15 minutes after birth.
While mothers and fathers experience similar initial attachment behaviors with their infants, fathers use play as a way to get to know their infants differently than do mothers. This can be a sweet, engaging way of communicating with their infants. Holding, talking and using this gentle play is a way many men are comfortable beginning their relationships with their children. 
When the baby comes home, Dad can continue to grow that through bathing, massaging (be sure to give Mom one, too), rocking, singing and reading.
Dads and breastfeeding
P&B: The mother-child bond resulting from breastfeeding is very strong. How can Dad contribute to the breastfeeding experience?
Zoppi: Fathers play a vital role as a supporter of breastfeeding and are often the most influential support persons in the early breastfeeding period.  Further, when fathers enter into a care giving role, they are more likely to feel that they are an important part of the baby's life. 
While mother and baby are still in the hospital, it is important for dads to be involved in learning basic breastfeeding guidelines. The mother, already overloaded with stress, may not remember what is being said, but fathers often pay close attention and sometimes add questions of their own.
Along with Mom, Dad should learn simple instructions that may assist getting the baby to breast feed. Dad can show support by awakening with Mom in the middle of the night to keep her company while baby nurses. New breastfeeding mothers will also appreciate help with burping after a feeding as well as changing diapers. In breastfed infants, this is far less unpleasant task because breastfed stools are less odorous than formula stools. So it's the perfect time for Dad to get into the habit of assisting with this task!
The new role of dad
P&B: What other advice can you offer new Dads to help them embrace fatherhood?
Zoppi: I would suggest any new parent envelope themselves with as much knowledge and education from the experts on what to expect. Hospital classes on parenting and birthing are a great place to start. 
While many fathers are unsure of what their role is in the hospital or how to participate in the infant's care, it is important to take the time to explore their roles and for families to address new uncertainties together. Dad certainly plays a role in coordinating the hospital discharge process, getting necessary supplies and gear in place, mastering the mechanics of the infant car seat, and contributing in other small ways that relieve Mom of some of the responsibility and anxiety.
Finally, fathers should practice the virtue of patience in learning what their new infant may need and patience assisting the new mother with her role.  The new mother is experiencing a tumultuous drop in pregnancy hormones that may make adjustment quite challenging. The biggest support the new father can give the new mother is understanding.
More articles for new dads: