Guide To Airplane Travel With Babies, Toddlers And Preschoolers.
Even the most well behaved toddler or easy going baby can throw you a curve ball when contained on an airplane for several hours. Before you were a mom, you probably looked at *those* parents – the ones with the screaming baby or the whining toddler – and thought, "Glad that's not me!" Well, now it's possible that it could be you. Do your best to prepare for the flight with your little one to minimize those looks and preserve your sanity.
Laura Willard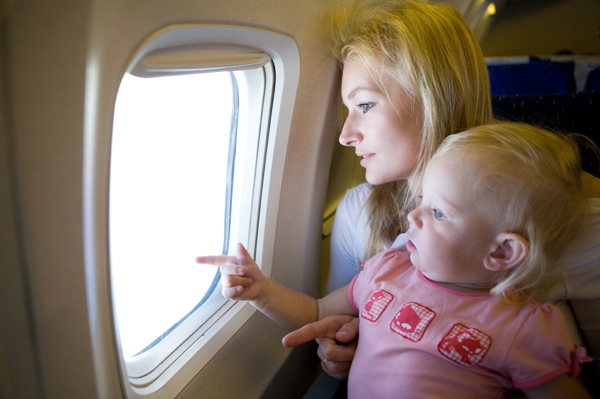 While many people scoff at the idea of air travel with a baby, toddler or preschooler, it is possible. Even more, it is possible to do it with minimal stress. While there are no guarantees that it will be a seamless trip, you can do your best to be ready!
Babies
Traveling with an infant -- it's either really easy or really difficult, right? If you're lucky, your angel might sleep the entire flight. But if you're not? You might want to bring earplugs for yourself and your fellow passengers. Or you can do your best to plan ahead. First and foremost, infants and small children have trouble clearing their ears on takeoff and landing, so if you're not breastfeeding, mix a bottle after you board so that you can feed it to your baby as you gain altitude. Sucking on a bottle or nursing will help your baby avoid pain that can cause her to be fussy or cry. Do the same when you begin to descend as well. Once in the air, hope that your baby takes nap. If she doesn't, be ready with her favorite little toy or even things you can find on the plane -- a plastic spoon or a paper cup. 
Get tips here on what to wear to make breastfeeding in public a breeze.
Pack your diaper bag accordingly. Check TSA's current rules regarding carryon liquids when you have an infant.  Bring several more diapers than you think you'll need, a change or two of clothes, food or formula and anything else your baby uses regularly. Ronnie Schmeltzer, author of Happy Family Travels, suggests bringing at least three baby blankets. As Ronnie says, "They don't take up much space and they can come in handy for many things -- playing peek-a-boo, keeping baby warm on a cold flight, spreading out on the floor to play, or soaking up a spill when you have nothing else to grab!"
Get our list of diaper bag essentials to keep babies happy when traveling.
Toddlers
Children in this age range can be hard to entertain on a flight. They are curious and interested, but their attention spans aren't always the longest. Consider putting together a "goodie" bag of random objects. One place to find such an assortment is a Dollar Store. A mesh bag filled with lots of little items that are new to your toddler can keep him busy for a while. Remember that you don't have to limit your selection to toys. Toddlers are interested in an array of things, particularly if they're unfamiliar. For example, a lock and key can keep a little one busy for a while, as can a stopwatch. Because you will be sitting right there with your child, supervising him the entire time, you might feel more comfortable with him having items you would otherwise ban for safety reasons, such as a key.
As parents, we don't want to use food to entertain our children, but a flight might be one of those times to make an exception. Pack your toddler's favorite healthy and minimally messy snacks and offer them up when necessary. Linda Carlson, mother of two and author of Parenting Press's Monthly News for Parents, suggests that you avoid salty snacks, as these can cause your toddler to drink more. And we all know what that means: more diaper changes!
You may also be interested in: 7 Tips to stop tantrums in public
Preschoolers
Pack a small backpack that your child can carry with a mix of his favorite (small) toys and a few new ones. Carlson suggests toys similar to an Etch-a-sketch, but very smartly warns against toys with small pieces, such as Legos or tiny doll clothes. In addition, pack crayons and a coloring book, a favorite action figure or anything else that fits your child's interests and will help pass the time.
By this age, most children have enough of an attention span to watch a good Disney movie or at least a few of their favorite short programs on DVD. Bring a portable DVD player -- make sure the batteries are fully charged -- and then save it. Don't wait until the situation is desperate, but read your child's cues and break it out when he starts to become antsy or bored. 
Other Considerations
No matter your child's age, carefully consider the details, such as where you think you'll be most comfortable -- in the back of the plane or the front, in an aisle or window seat.  Is bulkhead seating available? If so, decide whether the tradeoff of being able to store some of your possessions under the seat in front of you is worth having more leg room, which can also mean room for a preschooler to sit or lie down. 
If your child is under two, you are not required to purchase a seat, but think about how your child does in your lap versus a chair. If he prefers the latter, consider purchasing a seat if your budget allows. Also, some airlines will happily allow you to use an extra seat if the plane is not full. Find out if this is an option ahead of time. If you have a layover, do you have a plan? Also carefully look over your carry-on items and make sure you can juggle them and your child or children comfortably.  Minimize when possible.
Above all, Schmeltzer reminds parents not to set expectations before they travel. Instead, she says, "There are many perfect pictures. Paint yours when you get home, not before you leave."  If the flight is difficult and your child has a hard time, muster up the best attitude you can and make it work.
More tips for traveling with baby: