Having A Baby Is Not What It Used To Be. With The Bursting Popularity Of Social Networking Sites Such As Facebook, Twitter And Personal Blogs, Parents Can Share Baby News Quickly And Efficiently With Just A Few Clicks Of The Mouse.
Having a baby is not what it used to be. With the bursting popularity of social networking sites such as Facebook, Twitter and personal blogs, parents can share baby news quickly and efficiently with just a few clicks of the mouse. From "we're expecting!" to "it's a girl!" online technology bridges the distance gap and streamlines communication, enabling loved ones to stay connected every step of the way.
Tiernan McKay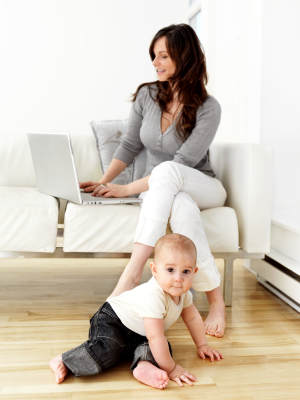 Since just about everybody is online these days, it is tempting to send out up-to-the-minute updates on our every aspect of your parenting experience. Some people will appreciate all of the information, others will wish you'd edit a bit more freely. Either way, technology definitely changes the game and can either complicate or simplify the parenting process.
Always connected
Cyberspace allows us to maintain friendships and keep grandma in the loop. Connie Betcher, a mom of three in Sandpoint, Idaho, admits that she relies on social networking to stay connected. "I have rekindled friendship with people I haven't seen in years through Facebook so it's really wonderful for me," she says. "I've had so much fun sharing pictures and news about my kids. Plus, I feel more connected when I read updates on my friends' families from all over the country."
Stay connected with us! Follow PregnancyandBaby.com on twitter here!
Online community of moms
One of the biggest challenges of parenting is a lack of support, whether physical or emotional. Heather Terveen, a mom from Phoenix, Arizona, appreciates the community of mothers that have gathered around her via technology. "I have lots of friends and family that utilize the Internet to stay updated," she says. "I jumped on the cyber-highway after my daughter was born and I love all the mommy advice I gather from friends, even those I haven't spoken to in years. Honestly, it has helped me get through some of the lonelier new mommy blues."
Check out our parenting and pregnancy message boards here.
A fine line
One of the risks of parenting in this online age is the translation of your news on the other end. Emoticons are great, but sometimes you need to see someone face-to-face to truly understand the meaning of their statement. Successful online communication requires a certain amount of sensitivity.
Karen Sharp, a mom from Las Vegas, Nevada, finds herself carefully editing her posts. "I don't go out of my way to ask for advice on Facebook or my blog either. I try not to say too much, because I don't want to seem like I'm bragging or annoying, especially since I have many friends who struggle with infertility."
Time saver
While many parents will still send birth announcements through the mail, the need to do so is greatly reduced by the ability to post text, images and even videos to your site of choice. Brooke Tarne, a brand new mother from Huntington Beach, California, (who recently announced her daughter's birth on Facebook) doesn't have a ton of spare time so she appreciates how easy it is to send frequent updates. "I don't have to make a million phone calls or send a bunch of emails. I just send out the information all at once," she says. "I also love when other people post news of their new arrivals. It's great to be able to see their pictures! It's second only to being there."
TMI?
Parenting in the digital age is undeniably convenient, but with convenience often comes unsolicited advice and a tendency to overwhelm our friends and family with too much information. Betcher says, "There are always those people who want to share too much information. That's just the way it goes online. I'm pretty good at ignoring posts that go overboard."
Proceed with caution
The Internet is truly changing the way we communicate, nurture relationships and even raise our children. As parents, we can surely benefit from this online tool, but proceed with caution because, like your mother says, too much of anything can't be good for you. It's easy to be swept away or swayed by the feedback you read online, so proceed with caution and use this technology in moderation in order to reap the greatest benefits as parents.
For more ways to stay connected: