These Mom-Tested Tips Will Get You Through The Holiday Shopping Madness With Your Baby Or Toddler In Tow!
Our mom-tested tips will get you through the holiday shopping madness with your baby or toddler in tow! Holiday time has families everywhere bustling about – gathering presents for under the tree and scrumptious goodies for Christmas dinner. And this busy time can be even more hectic when your shopping involves babies and toddlers.
Mary Fetzer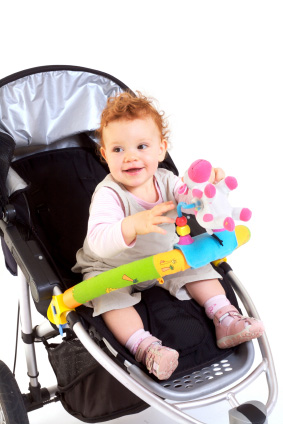 If you've ever tried to navigate a department store or grocery store with a little one, you know all too well how difficult it can be to complete your errand. Children get fussy when they're bored, hungry, or tired, whether they're at home or at the cosmetics counter in Macy's.
Ideally, you'd leave your young kids in someone else's care while you shop, but if your babysitter is busy and your in-laws are out of town, these simple suggestions can make those shopping trips a little bit easier.
Don't skip the nap
Whether you're toting along an infant or a toddler, make sure she's well rested. "Shop after the nap," says Marilyn Walker, a mother and the owner of a toy store. "Tired children simply cannot handle the stimulation."
Mother-of-three Heather Sokol frequently finds herself in stores with a cart full of children. "I find that babies are the easiest to shop with," says Sokol, who makes full use of her infant carrier. "It gets a little more difficult as they get older, especially the toddler years."
Feed your child
It's no fun shopping on an empty stomach, even for grownups. Why do you think the food court always busy? And we all know what happens if you hit the grocery store when you're hungry. A hungry child is far less tolerating than a hungry adult, so feed your child before, during and/or after the excursion.
Jennifer Marko has a 3-year-old. "Take them shopping on either a full stomach," says Marko, "or with snacks they don't always get." The novel treats will keep them busy for a little while, at least.
Feeding can be a little more challenging if you have an infant. "If things get hectic," says Walker, "find a spot – a dressing room, restroom or mall bench – to stop and nurse or cuddle with a bottle." If there's no time to rest, Marko recommends using the Bottle Snuggler (bottlesnugglers.com). This delightful product helps support a bottle so Mom has one hand free to shop or push the cart.
Prepare your child
Toddlers tend to do better when they know what to expect. "I tell my son step-by-step what we're going to do and what fun thing we'll do after the errand," says Marko. "He tends to stay focused on what's to come – the fun part."
If your shopping trip is going to be a long one, be sure to build in a stop or two for your young child. Schedule a break at a park or other place where they can just play, says Walker.
Give your child a task
If your child is old enough, involve her in the shopping. Sokol suggests having an older child read the grocery list while a younger child searches for items using coupon pictures. Let your toddler choose colors or count items, or put her in a kids' car and let her drive!
Be safe
When using a shopping cart, be sure to park your car next to a cart corral. "Buckle kids into the car first," advises Sokol, "so they are safe and occupied while you load your bags."
Enjoy
Yes, it can be stressful, but your kids are only little for a short time. Grin and bear the fussiness and try to make the most of your precious time together. (You can complete your shopping errand next time you're out on your own…)

For more tips on shopping with baby: