How To Help Your Kids And Babies Avoid Holiday Or Christmas Meltdowns And Tantrums.
The holiday season brings brings with it family, traditions and memories that last a lifetime. It can also bring unwanted stress, added responsibilities to an otherwise already busy schedule and for children it can mean meltdowns.
Tracy McGinnis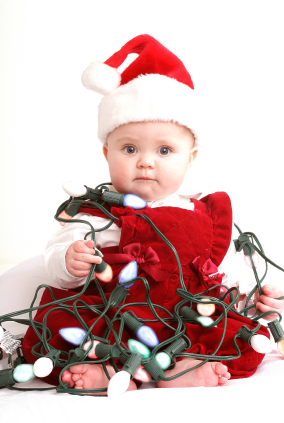 Lori Lite, a childhood anxiety expert and creator of www.stressfreekids.com, says it is important to keep children on regular schedules to avoid holiday meltdowns.
"Tired children, late nights, cramped kitchens, argumentative relatives, crowded malls, overwhelming hosting duties, stretched budgets and high anxiety.  These are just some of the stressors that quickly replace the visions of feasting, exchanging gifts, and gathering with family and friends over the holidays."
With so much added to your to do list this season – how can you prevent and deal with those dreaded meltdowns when they occur?
Focus on your kids
With family in town and a full calendar of events to participate in, children can be overwhelmed, pick up on stress from parents, and get off their normal schedules, which can all add up to meltdowns.
Michael Behmer, M.A., marriage and therapist and Co-creator of Chaos to Connection, says one thing you can do is keep the focus on your kids.
"Being willing to change your plans if your child is overwhelmed or needs time with you, and finding ways for your kids to be involved in all the holiday activities will help."
Scott Haltzman, MD, Clinical Assistant Professor at Brown University Department of Psychiatry and Human Behavior, and author of  The Secrets of Happy Families, suggests getting the kids out to help them relax.
"It's important to get you kids out the door and into fresh air," says Haltzman. "The sounds and feel of the outdoor, and the physical activity all act to calm children."
Carol Casey, author of DearBaby Books (www.dearbabybooks.com) suggests saying yes to as much as possible with kids adding, "Say YES to as much as you can while bringing it around to an acceptable outcome."
She also adds that, "the art of clever distraction is your best friend on the holiday."
Maintain a routine
Married couple Mike and Renee Mosiman, are aerospace Engineers from Mesa, Arizona and authors of, The Smarter Preschooler: Unlocking Your Child's Intellectual Potential.
The Mosiman's suggest keeping your child on a normal schedule and routine as much as possible. Maintaining a schedule means making sure your children get enough sleep each night and not keeping them out too late when special events do come up.
"Everything from naps, to meals and snacks, and activities such as "library day" or
playgroups should be maintained as much as possible."
Quick tips
Lite agrees with the Mosiman's adding the children are sensitive to change and going places to visit family – their routines become disrupted. "Children are overlooked victims of stress during the season."
Lite offers these additional quick tips for parents:
1. Organize adult only shopping trips
2. Kids get over stimulated in a party environment – opt for smaller get togethers.
3. Exude calm when traveling – plan carefully and avoid rushing.
"Allow kids to pack something that makes them feel secure and encourage them to explain the travel process to their stuffed animal.  This empowers them and eases their anxiety of not knowing what to expect."
4. Relaxation techniques – deep breathing, visualization, muscle relaxations, affirmations.
5. Laughter is a proven stress reliever.  Laugh every day and laugh when anger might be the first reaction.
6. Prep kids for visitors by opening up the photo album and talking about who is coming to see them.
Linsey Knerl, senior writer at parenting squad and mother of 4 (and one on the way) offers these additional tips:
 "Pack healthy (and familiar) snacks, cheese, fruit, and a variety of whole-grain carbs for them to eat in place of rich side dishes.  Otherwise, they'll fill up on sweets -- and that's a recipe for meltdown later."
 "Schedule the photo ops early (and don't overdo it.) Get the photos out of the way, when kids are fresh, and let them change into comfy play clothes for the rest of the season.  Kids should be allowed to be kids at Christmas!"
Take care of yourself
Behmer suggests, "You will be less likely to respond well and calmly to your child if you
are stressed and overwhelmed. You can help to prevent your child's meltdowns just by taking care of yourself."
Taking care of yourself may mean asking for help – so reach out to friends and family to help watch the kids while you shop or bake and return the favor when you're able to.
Dealing with a meltdown
If your child does acts out consider gently correcting a toddler, and if necessary bringing them out of the room to calm down suggests Casey.
If you're going to use a time-out Marty Babits, LCSW, BCD, and author of The Power of the Middle Ground: A Couple's Guide to Renewing Your Relationship, suggests giving your child something to occupy themselves with while in time-out.
"Explain that the purpose of the time-out is to help the child calm down because they don't seem to be able to calm themselves down otherwise," says Babits. "In other words, de-emphasize the 'punishment' and promote the time-out as a learning experience because if it isn't, it's not worth much."
Finally, experts agree parents need to support one another and get through the meltdowns together.
"Don't allow stress in dealing with children to turn you and your partner into adversaries," says Babits. "Help one another buffer stress because it helps you and the children."

For more Christmas survival tips: