Decorating the nursery is super fun when you're expecting. You get to choose room colors, pictures, toys, furniture, and more. If...
Decorating the nursery is super fun when you're expecting. You get to choose room colors, pictures, toys, furniture, and more.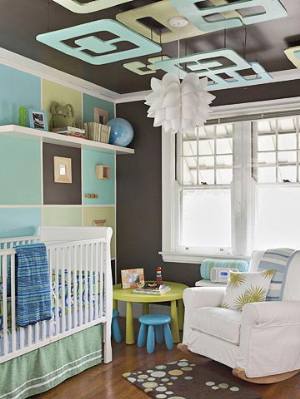 If you've never decorated a nursery before, you may not know where to start. There are two main components to nursery decor - basics and fine details. Getting the basics down is your first priority, basic items form the core of your nursery.
The basics:
Choose a room in your house. You might want to decide how much furniture you're going to have first, so you can choose a space that will hold everything. Babies don't need much furniture though - keep that in mind.
Choose the perfect nursery color, and then use non-toxic paints to give your baby a clean and green start in life.
Choose a theme or choose eclectic. A theme can be say, animals, boats, or princess. Your theme can also avoid a "brand" and be something like an eco-friendly nursery, or a blue-based nursery. An eclectic nursery combines pieces that aren't themed, but still fit together.
Choose furniture. Basic baby nursery furniture may include a crib or cradle (unless you're going to co-sleep), a changing table, a bookshelf, some storage solutions (think toy box and cubbies), and a rocking chair. A rocking chair is more for you, and will really help you get cozy for breastfeeding. One piece of furniture that's nice to have is a small art table and chairs. Of course your baby will be too small for this right now, but not always, and it's nice to fit it in now.
The fine details:
Wallpaper, wall stencils, wall decals, and other wall accents is your first decision, because these options need to be completed before you move furniture and rugs in.
Other wall choices. Framed pictures, a clock, baby name plaques, or wall shelves.
Baby bedding and other linens. You'll need crib sheets for a crib, a few baby blankets for during the day, and curtains. Something nice to have are a couple of larger blankets to place on the floor, so your baby can lay down or play on the floor during the day.
What's up with the floor. You need to decide on a rug, or carpet. Of course you can keep your current flooring. If you have hardwood or vinyl floors you'll absolutely need a rug.
Toys, books, and stuffed pals! Don't go overboard. People will buy your baby a lot of stuff. Choose some key items you love, and then wait to get more.
Accessories such as lighting, hooks for hanging, a mobile, closet hangers, scented cedar blocks for drawers, something to eliminate diaper smell, and baby bath supplies.
When decorating your baby's nursery remember to have fun and don't let other people dictate your choices. You're the one who will be spending plenty of time in there. For more tips read:
Creating the perfect baby registry
or
create a whole baby nursery quickly
.