The thanks for this find goes to Rachel at Anything Bloggable. And what a find it is! You won't believe...
The
thanks for this find
goes to at
Anything Bloggable
. And what a find it is! You won't believe these cute and super cool
Nerdy Baby ABC Flashcards
. I love them. I actually have a degree in math and science, plus almost minored in statistics while in college for nursing, so I might be a little nerdy myself. It's no wonder I love these cards. They'd look awesome mounted or framed in the nursery or small child's room. I love that they're so different than most baby decor out there.
Check out the product description:
"Here is an awesomely pretentious gift for nerdy parents with nerd babies. A is for Atom, B is for Binary Code, C is for Cellular Membrane... and it's all downhill from there. Shock and horrify your friends whose babies only know lame stuff like animal names! This is a complete set of 5"x7" cards, printed on bright white matte cardstock, perfect for framing or hanging on the wall of your nerd baby's nursery."
This is me in a nutshell. When Cedar was just a wee babe I'd take him with me to anatomy and microbiology classes. Now he likes to flip through my science texts. My absolute fave card is the N is for Neuron - I actually used to sit in college classes and doodle neurons - I kid you not. There's something soothing about doodling dendrites and axons (see I'm a little geeky).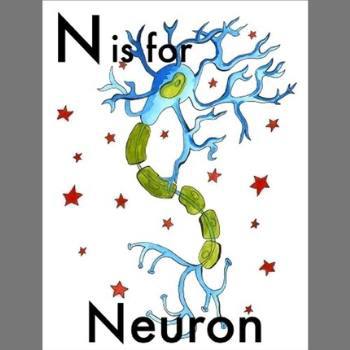 All of them are cool, but I really also like the Atom, Stratus Cloud Formation, and the Jovian Moons cards. See them all at Etsy shop
electricboogaloo
. If I were you, I'd also check out the
I love love love my microscope -- green
print - super slick.