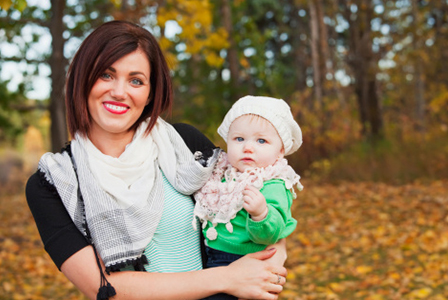 When I became a mother at the age of 21, I worried that I was doomed for a life of struggle and debt. Imagine my surprise to learn that some claim that having babies first is the best move you can make for your career
Could young motherhood be key?
You all remember the famous "having it all" article, penned by Anne-Marie Slaughter way back when in 2012 that lit the online world of women up in flames, right?
Basically the article went a little something like this: it's incredibly difficult to have a high-powered career and be the kind of parent most mothers want to be without actually, you know, being around. It's not to say every woman doesn't want the same thing or that every parent-child relationship is the same, but for a generation of women who had proudly flown the flag that they could have it all and do it all, Slaughter's article caused quite a stir.
One of the most interesting parts about Slaughter's article, however, often goes overlooked. (Perhaps, because, it happens to fall on page five of what is certainly a very in-depth article). She writes, "Women who have children in their late 20s can expect to immerse themselves completely in their careers in their late 40s, with plenty of time still to rise to the top in their late 50s and early 60s."
In other words, if you want it all, have the kids first and the career later.
"I could concede that getting to where I wanted took a lot of time."
It's a concept that, as a young mom, I am actually very familiar with.
When I first became pregnant, I have to admit that I had a lot of fears and misgivings about how I would go on to lead a "successful" professional life; I've always been a dreamer and knew I wanted a lot out of life. Goals, checklists, and plans — those were my motivators and I didn't want to settle for anything less than I had to. And honestly, I haven't settled. I am living exactly the life I always dreamed of.
As I look back now, from my wizened old age of 27, with three kids ages 5 and under, I often find myself wondering, was it harder? Am I being unrealistic?
I could concede that getting to where I wanted took a lot of time. I spent almost six years working as a nurse, a job that I didn't always feel a soul-calling to, to support our family while I pursued writing on the side. I got there slowly, but surely. I have a great marriage, a wonderful family and the work-life balance that works for me, even with baby No. 4 (!!) on the way. My college experience was full of memorable meetings with other young inspiring women and I worked to make a difference for student parents before graduating. I even had time to study abroad in France and work in D.C. as an intern before becoming a mother.
This week, I even had another lifetime dream come true, when I saw the release of my first book, Tiny Blue Lines: Reclaiming Your Life, Preparing For Your Baby, and Moving Forward in an Unplanned Pregnancy.
In short, while in some ways, having children at a young age (my daughter was born one week after I turned 22) has made some things harder, in other ways it has actually contributed to making my dreams come true. My book, for one, but also in helping me to prioritize and focus on the things that really matter in my life.
When I consider the fact that my last child will heads off to kindergarten five years from now and I will only be 33 years old, I can't help but thinking that Slaughter was on to something. I will be a 33-year-old mother of four and although school doesn't mean my parenting responsibilities end, it will be a completely different world than the primary stay-at-home parent of young children I have lived in for six years.
I could go back to school, I could completely switch careers, I could reinvent my entire professional image if I wanted. By that time, I can't help but think that having my children will once again help me cement exactly what it is that I want out of life.
Now, granted, every woman's path is different and a large part of the formula to successfully "having it all" is a supportive partner, but the notion that kids first, career later may be the secret to having it all is definitely a question that is worth women considering.
For one, it's working with biology and a woman's natural child-bearing years. Secondly, it may help women (like me) identify what they really want out of a professional career, rather than building up a career, then trying to have children, only to realize that the job they worked so hard for isn't giving them the work-life flexibility they want. Penelope Trunk, a business coach and mother of three who has successfully founded three start-ups, agrees. She tells women on her site to "get pregnant at 25 if they want a high-powered career."
Slaughter, like me, does believe that women can have it all.
We might just need a little restructuring in our plan to get there.
More on pregnancy and parenting
More than just a mom
Why pregnancy rates are at an all-time low
Can I love another baby?
Photo credit: LJM Photo/Design Pics/Getty Images