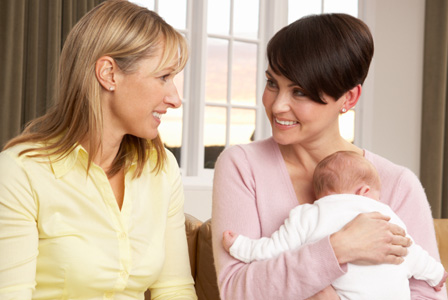 Did you know that there are several different types of postpartum professionals you can hire for those first few weeks with your newborn baby? There are reasons to consider each one.
Get off on
the right foot
Contributed by Jessica Remitz
While your first few days of motherhood are sure to be filled with excitement, you'll want to prepare for the responsibilities of caring for a newborn and recovering from childbirth long before you leave the hospital. If you think you may be overwhelmed by your new role, consider getting some help from one of these postnatal professionals.
Postpartum doula
These professionals do whatever a mother needs to best enjoy and care for their new baby, according to the Doulas of North America (DONA) website. This can include performing light household chores, assisting with breastfeeding education and teaching new siblings and partners to "mother the mother." Doula support can last anywhere from a few visits to over three months, with hours ranging from 9 a.m. to 5 p.m., evening shifts or overnight, according to DONA. Find a doula by asking your friends, doctor or childbirth educator for a recommendation or searching by zip code on the DONA website.
Average cost: $30 per hour
Lactation consultant
Certified lactation consultants are the experts of breastfeeding, and help with demonstrating nursing positions, soothing sore nipples and perfecting your baby's latch. Look for a consultant that's been board certified, which indicates that they've received formal clinical education in breastfeeding. The hospital where you're planning to deliver may have a lactation consultant on staff — so be sure to stop in for a visit before you're discharged. If not, take a look at the International Lactation Consultant Association's website for one near you. For free advice from trained peer counselors, call the federal breastfeeding helpline at 800-994-9662 or contact La Leche League. Learn more about breastfeeding as a new mom here.
Average cost: $70 per visit
Baby Nurse
An experienced infant and newborn specialist, a baby nurse helps care for your newborn day a night. While they aren't registered nurses, they have extensive experience with newborns and often have a medical background. They can work for up to 24 hours a day during their assignment, which can last up to two months depending on when your baby is born and your postpartum needs. Ask your healthcare provider for recommendations or visit babynursesamerica.com and be sure to call several references before making your choice.
Average cost: $15 per hour
Click here for a full postpartum guide to help manage your life after baby is born.
More vital postpartum info
Postpartum changes and your body
How to enjoy your babymoon
5 Ways to get comfortable with your new baby