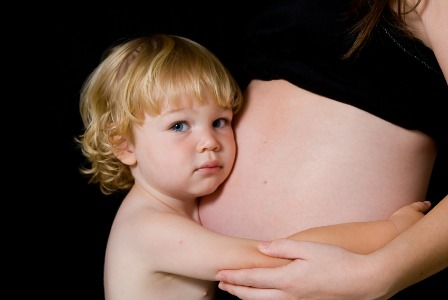 If this is your second, third or fourth baby (or even more!), there are definite signs you display that this isn't your first go-around. From pregnancy to birth and beyond, these seven signs totally show that you're not a first timer.
Laid-back, casual mama
With your first baby, everything must be perfect. Your second — or more? Not so much. Here is how you can tell if your mindset has changed as you go from one kid to more.
Last minute preparations
With your first pregnancy, you likely had everything purchased, set up and waiting for your baby well before your due date. This time, you may be more relaxed, waiting until closer to the big day to start setting up the nursery. "I was so relaxed with my third pregnancy that when she was born nearly two weeks before her due date and took us by surprise, we didn't even have a car seat!" shared Megan, mom of four.
A birth party?
Not all moms feel this way, but often a first timer won't want anyone else in the room when her baby arrives. This is not necessarily the case the next time she has a baby. Since she's gone through labor and birth before, she knows what to expect and can more accurately predict how she'll feel about having friends and family members in the room to celebrate her little one's birth.
No handling woes
Moms who have been there and done that don't have those awkward newborn-handling issues that first timers often have — especially if a new mom hasn't held many babies before. "It really is just like riding a bike," said Rebecca, mother of three. While you understand that a baby's head is a delicate thing, you no longer feel the need to handle your newborn like an egg.
Dirt? Who cares!
Sanitize, sterilize, clean — this mantra may course through your mind for anything and everything your first baby touches or otherwise comes into contact with. It really does become less of a big deal the more babies you have, though. "With my first, I was acutely aware of any potential germs or dirt she got in or around her mouth," explained Jenny, mom of two. "With my second... well, let's just say it was less of a big deal." Some (experts and moms alike) feel that exposure to dirt and germs early in a child's life is actually beneficial to their developing immune systems.
More self-trust
Moms of more than one child report that they trusted themselves — and their instincts — more with their second. First time moms often second-guess themselves and consult books and websites galore instead of listening to their instincts. "With my first baby, I felt like I didn't really know what I was doing," related Heather, mom of five. "When my second came along, however, I had experience on my side and felt more comfortable trusting my instincts."
Breastfeeding comfort
Did you worry about breastfeeding in public when your first baby was small? By your second baby, you will likely be way more comfortable feeding your little one whenever and wherever she pops up hungry. Nursing covers, if you used them before, may be a thing of the past once you realize that you draw more attention using one than you do without. Bon appétit, little one!
Fewer doctor visits
It's normal — completely normal — to fret about your baby's health. But first-time moms, who might not know what really needs a doctor's attention, can overdo the whole doctor visit routine. "The first time my baby got sick, at 9 months of age, I took him to the emergency room," laughed April, mom of four. "He had a sore throat. Not even strep throat. Now, I know what types of illnesses need a doctor visit, and what types can get better on their own without help."
It's fun to see how much you grow as a mom as your child grows up beside you, and as siblings begin to enter the fray. Parenthood is quite a ride, and you learn so much with each day that passes — and each baby you have.
More on baby care
Preparing your first child for the birth of your second
Baby milestones: When should baby sit up? Crawl? Walk? Talk?
How to move with a baby in tow