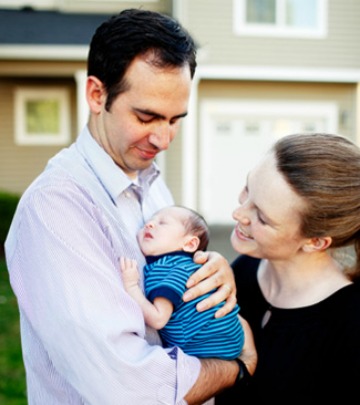 Stay put and relax
Your babymoon begins after your baby arrives. How you choose to spend it depends on how you feel, but we have a few tips on how to thoroughly enjoy staying put and relaxing with your newborn.
In recent years, the term "babymoon" has come to be used to describe a couple's vacation taken during pregnancy — a final trip together before the baby arrives. However, the original meaning of babymoon refers to the first few weeks right after the baby's birth. It's the "honeymoon" phase of new parenthood — a time to really relax and get to know your new little person. How can you make this time more comfortable and absolutely special?
Create your space
Your bedroom may be the best place for you and your little one to hang out after her birth. Keep a stash of diapers, baby wipes and a trashcan or wet bag nearby. This way you don't have to get up if you need to change a diaper. Keep water nearby and pack a basket with easy and healthy snacks, such as cheese and crackers or fresh fruit.
Establish a sleeping space
Add a bassinet or a play yard if you don't want your baby napping in bed with you — otherwise, create a safe place for her to sleep by keeping your mattress firmly up against the wall, removing plush blankets from her nap space and ensuring that pillows aren't near her as she snoozes.
Set up entertainment
Keep your electronics nearby — your phone or a tablet for bed surfing, a laptop with a webcam for Skype, a television with a DVD player. Get caught up on your favorite TV shows on Netflix or have someone rent a DVD for you that you've wanted to watch.
Record your baby
Take photos and video footage of your newborn. Before you know it, she will change so much, and you'll treasure the memories. She'll start plumping up, and those skinny newborn chicken legs will soon be a thing of the past. She will start noticing you and focusing on your face, so the beautifully-endearing newborn crossed eyes will likely fade too. And don't forget pictures of you too, if someone is there to take them. You may not be feeling your best but photos of you with your baby will transmit some of that new-mama glow.
Prepare to bask
The newborn period is a precious, fleeting time that will be over before you know it. As you rest and recover from childbirth, trace the contours of your baby's wrinkled face, hold her close so you can feel her tiny breaths, place her on your chest and warm her with your own skin — and get to know your baby as only her mother can. Let other family members wait on you if they offer so you don't push yourself too much during this time.
It can be hard to hang out in your nest if you have older kids, but if you have family members to help you out with them it can really make a difference. They may even want to join you in your room, soaking up their newborn sibling right along with you. Don't rush this time — cherish every moment.
More on newborns
5 Ways to get comfortable with your new baby
Dads, new babies and jealousy
New baby? Keep germs at bay