Modest to custom to high-end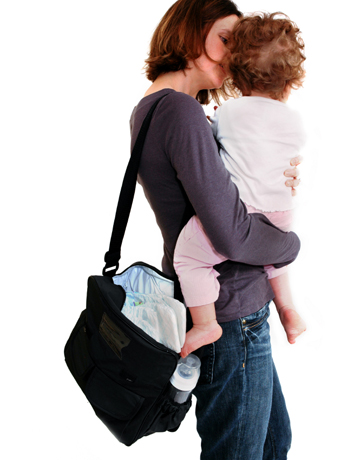 Picking out the perfect bag
As a mom, you know how important the perfect diaper bag is — it needs to hold everything you need for a trip out, but it also needs to be sturdy, and definitely, definitely cute.
We went searching for some of the most popular diaper bags out there to see what made them so special.
Your diaper bag is your lifeline — it holds everything you hold dear, and more. Moms will often carry everything in them instead of opting to carry a diaper bag plus a purse, so it needs to be easily transportable as well as roomy enough for what you need. It also needs to have organization on the inside — everything all lumped together is not a good thing for a busy mom. Who has time to fish around for your Chapstick, or the baby's diaper rash ointment? We asked moms what their favorites are, and this is what they told us.
Diaper Dude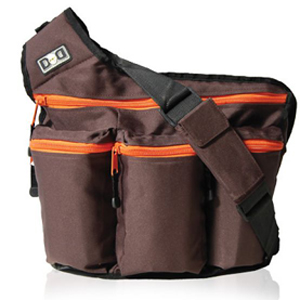 Perfect for moms as well as dads, the Diaper Dude line — including this brown and orange messenger bag (Diaper Dude, $60) — is highly touted by parents everywhere. This messenger bag is designed to be worn across your body, instead of like a purse, and has pockets and storage galore. It has a wide and adjustable shoulder strap and the backside is padded for your comfort. The colors and designs are grown-up — not babyish.
Baby Kaed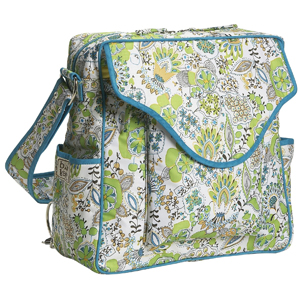 Baby Kaed has a line of diaper bags that are mom-friendly and can pack a ton of stuff. Lindsay, mom of two, loves her Baby Kaed (Amazon.com, $138) that can be switched around to a backpack. "It has so many pockets to keep everything organized!" she shared. "It's actually worth the money. My old diaper bag could barely fit enough for one child. I can fit diapers, clothes, bottles, drinks, snacks, wipes and even my purse in this bag."
Ju-Ju-Be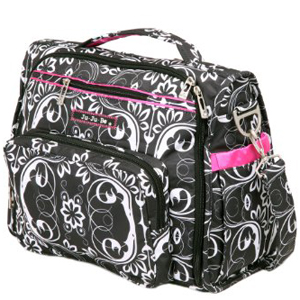 Ju-Ju-Be has a wide range of diaper bags, like this BFF (Ju-Ju-Be, $165). They are loved because they are super sturdy, functional and totally adorable. "It has a shoulder strap and removable backpack straps, which is awesome," said Brittney, who is expecting her second baby. "It has an antimicrobial lining, which is cool. And the outside is coated with Teflon, which I was honestly super-iffy about, but since no one will be chewing on it I decided it would be OK. And they have these crumb drain things so if a cracker busts in one of the pockets you can just shoot the stuff out of the bottom."
Petunia Pickle Bottom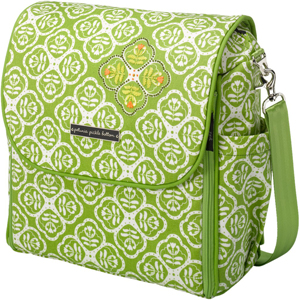 Another popular diaper bag choice is the Petunia Pickle Bottom, commonly known as PPB. The Boxy Backpack (Petunia Pickle Bottom, $180) is a favorite of Heather, mom of two young girls. "I went through four cheap diaper bags before I finally caved and bought a PPB," she told us. "I bought it used off Kijiji but in nearly new condition and I love it! I got the boxy style and it holds just about everything I need to carry with me. It isn't obnoxious or over the top; it's just literally perfect with removable backpack straps or shoulder straps, built-in change pad, key holder, detachable inner bag and all the pockets inside to organize all your stuff."
Brooke Van Gory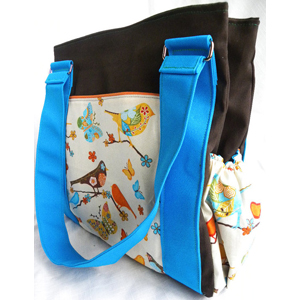 Are you having trouble finding a diaper bag that really complements your personal style? Well, a custom diaper bag is the way to go. Brooke Van Gory's Custom Fundamental Tote (Etsy, $65) is more than big enough for your needs. It was designed specifically for cloth diapering moms, but even a mom who uses disposable diapers will adore a bag made just for her. Plenty of interior and exterior pockets, this bag is perfect for a day out on the town.
Thirty-One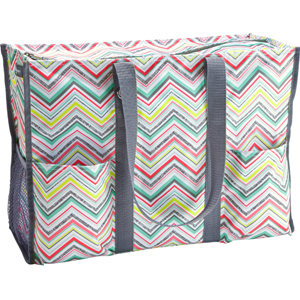 Thirty-One creates a ton of different and stylish bags, including the Super Organizing Tote (Thirty-One, $50) that Ashley, pregnant with her fourth child, is getting ready to buy. "It has tons of space and organizing pockets," she said. "It also comes in seven different prints and can be embroidered."
More must-haves for moms
Must-have pregnancy gear
Must-have breastfeeding essentials
Baby gear to make Mom's life easier