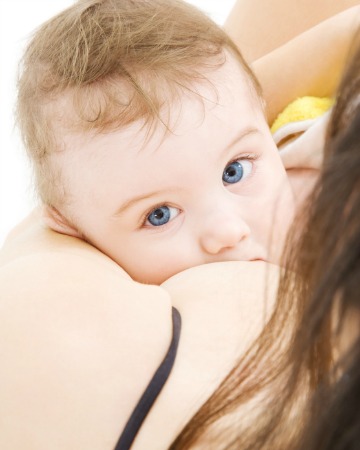 Parenting choices under fire
Breastfeeding, vaccinations, circumcision — these are just three examples of parenting choices that we make once our babies are born. Sometimes, trouble rises up when you mingle with other parents and judgment rains down for your method of parenting.
Here, we talk about what it's like to be judged, and how to handle it.
Ah, new motherhood. You've joined a big club, Mama — you have something in common with every parent now around the world. Right? Well, yes, of course… but you might find yourself facing off with another mother over something that you never thought would cause judgment to come to you.
Feeding methods
One of the hottest topics is how you feed your baby — more commonly known as breast versus bottle. Formula-feeding mothers report that they sometimes get judgment for not nursing their little ones, and breastfeeding mamas can encounter a lack of understanding from folks for whom bottles are the norm.
"I caught a lot of grief for formula feeding," shared Nicole, mom of two. "It was so bad that I was certain I had ruined my son's life and he was going to do poorly in school and be disease-ridden. I, to this day, do not like to discuss my parenting choices because of the looks I get."
Breastfeeding mama Jenn had a different story that was annoying in its own right. "I nursed my daughter until [she was] just shy of 2 and I got comments from friends and family all the time asking if I planned to nurse her until college," she told us.
Sleeping arrangements
Western culture dictates that babies sleep in a crib in their own room — however, many moms are tuning in with their own instincts and sleeping with their babies and children. With the resurgence of bed-sharing amongst parents and their littlest family members, moms who co-sleep sometimes find themselves on the receiving end of criticism.
"Most nurses and doctors and child development teachers would tell me how wrong co-sleeping was and how I could harm my children doing it," explained Jessica, a mom from Minnesota. "I even had people say they were going to report me to child protection over it and that I was endangering my children."
Why it's a problem
Many people can shrug off criticism from others — even from family members or medical professionals. But other people can't. New moms, in particular, are vulnerable to criticism and condemnation that comes from the mouths of their peers. As Cheryl, mom of one, reminds us, "It's hard enough to be doubting yourself but then having someone else speak up and put your parenting into question just increases any second thoughts tenfold."
If you can ignore negative comments from others, more power to you — but if you can't, and are bothered by what other people say, understand that your feelings are valid. Know in your heart that you are doing the best for your child and that is the most important factor to keep in mind. As Valerie, mom of three, puts it, "No one is the same person and we all have different ways of doing things. It should not be such a cat fight; there's just not enough support among fellow moms if there are differences."
More on new moms
Tips for coping with new mom isolation
Time management tips for new moms
What to do after you have a baby