New Mom Survival Tips
Adjusting to a newborn can be overwhelming, but there's no rule that says you have to do it alone. A wacky sleep schedule, your other children and the household duties that already fall onto your shoulders can quickly become too much for a mother of a newborn to juggle. From hiring a baby nurse to letting your mother move in, discover tips on how to get help with your newborn.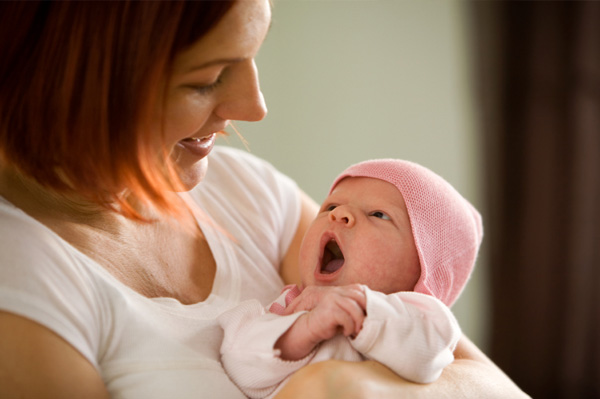 Hire some help
Whether it's a house cleaner, a mother's helper or a lactation nurse, calling on another set of hands can help you get the rest you need while keeping your sanity. "I tell everyone that the best investment we ever made was in a baby nurse who came at night two times per week for the first month," confides sociologist and new mom Hilary Levey Friedman, Ph.D. "She also is a certified lactation consultant (which helped me get everything right) and a sleep coach... and on the night of his two-month birthday, he slept 12 hours straight through the night! Worth every penny."
Organize a meal schedule
When a friend or family member asks what you need as a new mom, ask them to drop off dinner and run. "The most helpful thing for my family was having friends and family members prepare meals for us," shares Kelly Bejelly, agirlworthsaving.net. "Often, the stress of taking care of newborn comes from managing their needs along with the everyday to-do list of living. I was able to relax and enjoy the time knowing we would be well nourished."
Sites such as MealTrain.com and Lotsahelpinghands.com make it easy for a friend or family member to set up a meal calendar where others can sign up to help. Just be sure to answer the door in your robe so they get the hint that you're not up for socializing!
Accept that people genuinely want to pitch in
You may not be up for a barrage of visitors, but when your mom offers to move in for a couple of weeks or your bestie begs you to let her fold your laundry, just say yes! "Help when a new baby arrives is integral for the mother's health so she can rest and recover," explains Dr. Ramani Durvasula, licensed clinical psychologist in Los Angeles, California. "Social support is considered to a protective factor against the development or at least the management of postpartum depressive symptoms." So, when people offer to even hold your newborn so you can sneak in a shower before 1 p.m., take them up on it.
"While the bonding between mother and newborn is key to healthy development, it's important for new moms to notice the difference between natural nervousness and anxiety," warns Karol Ward, LCSW. "Anxiety creates distortion in perception, and one of the best ways to regain your perspective is by accepting help, recharging and then starting fresh. Both mom and baby will benefit." So, whether you're a new mom or have plenty of kiddos at home, it's important to learn how to get help with your newborn and accept -- with open arms -- the village it will take to raise a baby!
More newborn tips
How to get housework done with a newborn baby
7 Ways to sneak in exercise with your newborn
Newborn head control