How To Lose Baby Weight After C-Section
Been through a c-section and frustrated about getting back into your pre-pregnancy jeans? Compared to mommies who have had their babies vaginally, if you've endured a cesarean section you may be faced with more of a challenge when it comes to shedding the baby weight. So, before you throw in the towel, check out expert insight about your postpartum body and first-hand advice from real moms post-c-section.
Michelle Maffei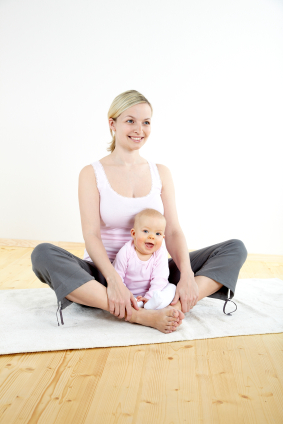 After going through a cesarean section, be aware that your body went through a different experience than the mom who gave birth vaginally, which means you recovery will be different.
But, alas, you are not alone! "For me the biggest hurdle of recovery was the extra weight gain following the surgery," shares Kira Kroboth, new mom from Raleigh, NC. "It was a complete shock to me the amount of fluid you retain in the weeks after the c-section. This felt beyond unfair."
And, don't make the mistake of comparing yourself with Hollywood moms. The crazy diets and strenuous exercise routines they often dive into after giving birth are not recommended by most doctors.
When to get started
Now that you have your sights set on the finish line, make sure that you are ready to head out of the starting gate. Most physicians recommend that you wait until your 6-week postpartum appointment before giving the green light to begin exercising. Dieting is also a no-no before your 6-week mark, especially while breastfeeding.
With a vaginal delivery, many women are able to begin light exercise, like walking or stretching, days after giving birth. Once you hit your check up and your doctor gives you the thumbs up, resuming normal activities is usually safe.
On the other hand, a c-section is major surgery, so recovery time and what you can do will take a little more patience. "After a c-section, most moms are off of their pain meds and doing pretty well by their 2-week post-op appointment," advises Gina Dado, MD, an OB/GYN with Arizona OBGYN Affiliates, Paradise Valley Branch in Scottsdale, AZ.
"Not until 6 weeks post c-section will they be off of all restrictions and can resume exercise and intercourse. It takes many months, however, for their incisions to remodel and their abdomen to shrink after a pregnancy, so they should be patient at getting their bodies back."
Mind and body
Regardless of how you delivered your bundle of joy, moms of both delivery methods are advised to begin a light walking routine to increase your stamina and boost your spirits.
"After my c-section, breastfeeding helped immensely to naturally shrink the stomach area, and I worked my way up to a daily walk (or two) around the neighborhood," shares mom Stephanie Webb, Cincinnati, Ohio.
For some moms, joining an exercise group was just the ticket for their physical and emotional health. "I had a c-section 8 months ago and I walked most of my weight off by joining a baby boot camp group. It was a great way to get outside with the baby, make new mommy friends and lose the much hated baby weight," says Tenille Bettenhausen, who know owns her very own Baby Boot Camp Orange County franchise.
Signs to watch for
Whether you opt for a personal trainer or choose to get back in shape on your own, it's important not to rush things. Signs that you are not ready or that you're doing too much include:
? Pelvic or abdominal pain
? Excessive bleeding
? Extreme exhaustion or shortness of breath after mild exertion
? Sore muscles that last more than a day or two
If you experience any of the above symptoms during your post-pregnancy fitness regimen, call your doctor immediately.
Regardless of how your bundle of joy came into the world, remember that it took nine months to put on the weight. Give your body the time it needs to heal and give yourself a break; you brought a whole new life into the world!
More tips on losing the baby weight:
-- Exercises to treat separated abdominals after pregnancy
-- Celebrity weight loss secrets: Lose the baby weight
-- Dealing with a flabby belly after baby
-- How to dress to minimize your new mom belly