The Postpartum Period Is The Year Following Your Baby'S Birth. Postpartum Depression, Or PPD, May Result From The Physical And Emotional Changes You Encounter During This Time Period.
The postpartum period is the year following your baby's birth. Postpartum depression, or PPD, may result from the physical and emotional changes you encounter during this time period. Find out the risk factors that increase your chance of experiencing postpartum depression and treatment options to help you feel like yourself again.
Mary Fetzer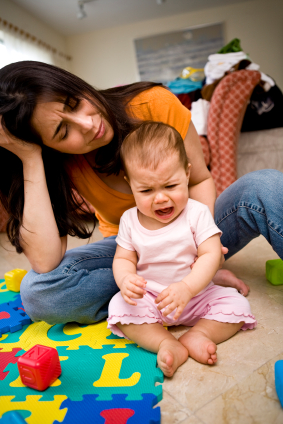 What is PPD?
The exact cause of postpartum depression is unknown, but experts believe that it is often a combination of psychological, hormonal, biological and environmental issues.
PPD cannot be treated if you don't recognize it. Your life is so different with a new baby, and it can be tricky to spot. Babies require constant care and vigilance, and the accompanying accountability and sleep deprivation can lead to postpartum depression, says licensed professional counselor Liv MacKenzie.
The key is recognizing when physical and emotional issues go beyond the normal duties of motherhood. Sleep deprivation and worry are expected, but when symptoms become chronic and affect daily life, you may PPD.
Symptoms of PPD
The symptoms of PPD range from mild to severe and may include one or more of the following:
Physical symptoms
• headaches
• hot flashes / chills
• panic attacks / extreme agitation
• nausea
• fatigue
• poor concentration
• insomnia / excessive sleeping / nightmares
• loss of appetite / overeating /cravings
Emotional symptoms
• sadness / hopelessness
• isolation / loneliness
• anger / resentment / irritability
• shame / low self-esteem / worthlessness
• loss of control / feeling overwhelmed
• lack of confidence / inadequacy/ guilt
• thoughts of hurting yourself or the baby
• fear / scary fantasies
• excessive crying
• oversensitivity / anxiety / extreme agitation
• inability to laugh
Who's at risk
There's no way to know for sure who will get PPD, says MacKenzie, but certain women are predisposed to it, such as those with:
Type A personality
There's the mom who looks like she has it all together. "She's very adept at looking right and doing things right," says MacKenzie. "On all outward appearances, she's fine, but internally she's suffering." She tends to make a lot of comparisons with other mothers and draw the conclusion that "they're doing it better than I am." With such high expectations, it's difficult to admit a loss of control and seek help.
History of mood disorder
If you have a prior history of mood disorder unrelated to pregnancy, a family history of mood disorders, or prior postpartum depression, your risk for PPD is higher. And if you're depressed during your pregnancy, you may find that the depression continues postpartum.
Lack of support
We enter motherhood with very unrealistic expectations, says MacKenzie. You may not want to admit that you need both physical and emotional support from your partner, family, friends or even hired help. "You could be having an identity crisis and be stuck on the couch nursing all day, or recovering from major surgery and your partner goes back to work," says MacKenzie. "It's overwhelming."
Preventing and treating PPD
Sometimes PPD is short-lived and goes away on its own, but sometimes the symptoms get worse or last for years. It's important to seek treatment. Postpartum depression can affect your sense of self as well as your ability to bond with your baby and maintain healthy relationships with your partner and others.
Shoshana Bennett, Ph.D., is a clinical psychologist and survivor of two postpartum depressions. Bennett, author of Pregnant on Prozac, Postpartum Depression for Dummies and Beyond the Blues, has helped more than 18,000 women recover from PPD. Bennett and MacKenzie recommend the following for preventing and treating PPD:
• Review your personal (and family) history of depression with your physician before baby arrives.
• Have realistic expectations of motherhood. Throw out the myths and fantasies.
• Put a physical support system in place. Ask for help when you need it – with childcare, cooking, cleaning – and accept it when it is offered.
• Take care of yourself. Nourish your brain with healthy foods and oxygenate your body with moderate exercise. Seek help from a perinatal specialist.  
• Seek emotional support. If you experience signs of PPD, consult your doctor. 
• Consider medication and/or natural treatment methods such as acupuncture, light therapy and energy psychology.
Remember: you don't have to do everything on your own. You'll take better care of your newborn when you're also taking care of yourself. Know the signs and symptoms of PPD and ask for help when you need it.
Get connected with other moms on our SheKnows message boards!
More on postpartum depression:
-Actress Gena Lee Nolin shares her experience with PPD
-Baby blues or postpartum psychosis?
-Is it safe to breastfeed on Prozac?
-New dads suffer from postpartum depression, too