Have You Been Told You Have A Diastasis Recti, Or Separated Abominal Muscles? Super Fit Mama Author Tracey Mallett Shows Women Explains What Causes This To Happen, Who Is At Risk And Provides Easy Exercises And Tips For A Flat Tummy. If You Are Tired
Have you been told you have separated abominal muscles, also called diastasis recti? Tracey Mallett, fitness expert and author of Super Fit Mama, explains what causes this to happen, who is at risk and provides exercises and tips for a flat tummy. As a personal trainer and mom in the trenches, Tracey gives simple and informative tips to help you lose your mommy tummy -fast!
Tracey Mallett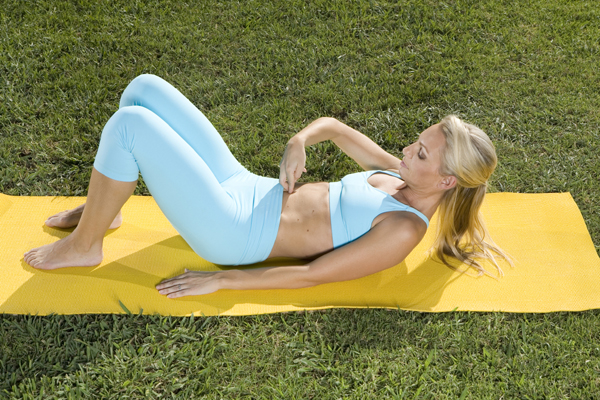 If you're like most of the women on Team Mallett, you probably have tons of questions at this point. Here are the most common questions I've been asked by new moms, and, more importantly, the answers!
 
Why are my abs separated? I look like I have a melon tummy!
By far, my abs were the most bothersome part of my post-baby body. I wished that someone had warned me that my abs would look like Play-Doh after delivery. Not only was there that little pooch from my uterus and stretched muscles, but there was mush that hung over my waistband and seemed to jiggle when I walked. I wasn't asking for a six-pack (or even a four-pack), but I was longing for a flatter middle. You may feel the same way, but caution and patience are required before jumping back into an exercise program, especially with your stretched-out abdominals and pelvic floor.
As described earlier, during pregnancy you'll probably notice a dark line going down the center of your abs. It's called the linea nigra. Take a look at this dark line and you'll likely notice that there is a recti muscle to the right and the left. These muscles attach to thin fibrous horizontal bands with about a one-half-inch gap.
This seam is very vulnerable to separation during pregnancy thanks to the pressure of the growing baby in the uterus, which leans against the front wall of the abdominals. This pressure, combined with hormonal changes, excessive weight gain, and bearing down through labor, can force this gap to open near the belly button like a zipper. This separation can range in size from 2 to 20 cen-timeters in width and 12 to 15 centimeters in length. The separation it¬self is called diastasis recti, and studies show that 37 percent of women who have one pregnancy experience this condition while 67 percent of women who have had multiple pregnancies do so.
Predisposing factors
Other factors that predispose you to diastasis recti are obesity, having a large baby, excessive uterine fluid, and weak abdominals prior to pregnancy. The most common symptoms are low back, buttock, and/or hip pain and a vertical bulge in the middle of your abdomen when standing or sitting (which turns into a bulge when you're lying on the floor and lift your head like you would in an abdominal crunch).
What NOT to do
Because sheer force can make this separation—and its accompanying bulge—even worse, it's important to monitor it before you do any abdominal exercises, especially rotation activities, or even getting up from a horizontal position (roll to the side before rising). Also, avoid exercises where you're lying on your back and lowering your legs (such as straight leg raises, dipping the toes, single leg stretches, the 100s).
It's crucial to close the gap, because when the rectus abdominals are separated it leaves your pelvis very unstable, which can eventually lead to lower-back and hip pain and will make it hard to strengthen and flatten your abs. In the worst-case scenario, this separation can result in a hernia.
What to Do
Before doing any strenuous abdominal work, it's important to gauge the amount of separation you have. To do so, use the following test [pictured above]:
Lay on your back with your knees bent and your fingers placed above your belly button.
Lift your head, neck, and shoulders off the floor and press your fingers firmly down. Feel to see if you have a gap in between your abs.
If you do feel a gap, use your fingers to measure the size of the separation.
Repeat the test, but this time place your fingers below the belly button.
If either gap is the width of two or three fingers or more, do the towel abs exercise below and only perform core-strengthening exercises in this book that are marked with an asterisk. With these exercises you can work on correcting the separation before you move on to more strenuous abdominal work.
Abdominal Wraps
Many women, especially celebrities, swear that wearing an abdominal wrap around the midsection after birth really helps their abdominals get back to pre-pregnancy state quicker. I agree that wrapping your abs will force your muscles to come back together if they're separated and can help to stop the condition from getting worse. It will also give you that extra back support and a natural reminder to activate your abs through¬out the day. I personally like the Belly Bandit (www.bellybandit.com).
Note: Do not perform any of the abdominal exercises below while wearing the wrap. The wrap is a tool that can help you recover faster, but it is not a substitute for exercising caution when working out the midsection.
Towel abs exercise
Muscles targeted: Abdominals
Reps: 2 sets of 10 reps (work up to 40 reps per day as you get stronger)
A. Lay on your back with your knees bent and your heels in line with the sit bones (those bony parts you feel under your pelvis you when you sit down). Wrap a towel around your midsection and cross the towel over your abs (holding it at each end).
B. Lift your head, neck, and shoulders off the floor, exhale, and draw your abdominals in toward the spine while tilting your pelvis up. This will activate the transverse abdominals. Then, pull the towel tight. This will pull the abs together, retraining them to go back to their correct, functional position. See picture below
Modification: If your neck begins to ache, perform the exercise by lifting just your head and neck off the floor.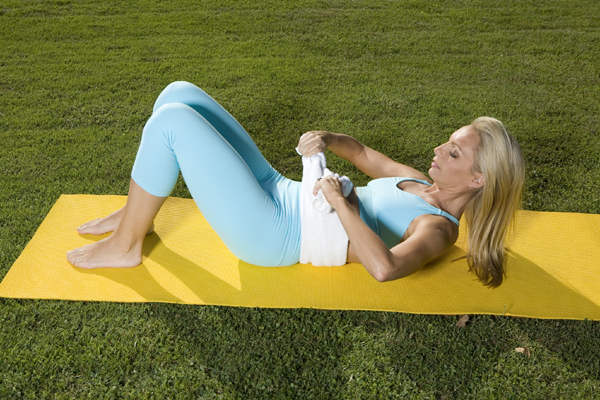 Tracey's Tips
Keep monitoring the separation. Also, you don't need to do all your reps at the same time, but can spread them throughout the day. Until the abs are no more than two fingers' width apart, stay away from any strenuous abdominal work—especially rotational ab work, lifting heavy objects (only lift the weight of the baby), and leg lowering exercises—as this will make the separation worse.
Think about bringing your belly button toward your spine with everything you do, such as when you sneeze, cough, laugh, pick up your baby, get up and down, and exercise. If you can't hold your belly button to the spine when doing any activity, it's an indication that you shouldn't be doing that activity because you're probably forcefully pushing forward, making that separation larger.
Excerpted from Super Fit Mama: Stay Fit During Pregnancy and Get Your Body Back After Baby by Tracey Mallett.  Excerpted by arrangement with Da Capo Lifelong, a member of the Perseus Books Group.  Copyright © 2009.
For more tips on getting a flat tummy after pregnancy: