Tips On Losing The Baby Weight Including, Including Diet And Fitness Tips To Help Lose Weight After Pregnancy.
One of the few times in life where women are encouraged to gain weight, albeit a healthy amount, is pregnancy. But after baby is born, losing the baby weight can be a difficult and upsetting process. So, what really works for women who want to lose weight after baby?
Sarah Caron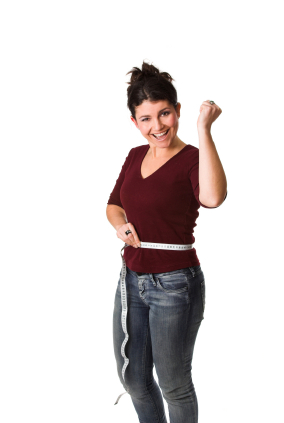 Like many other women, Alison M. Fadoul found herself at an elevated weight after her first pregnancy. With diet and exercise, she lost the weight -- 54 pounds of it, in fact. After her second pregnancy, she was more determined to lose the baby weight and began on a journey to be at her fittest. In her new book, The Hot Mommy Next Door  (Morgan James Publishing),  Fadoul writes about her success and shares how others can accomplish it, too.
"I've definitely been there. You have to start from somewhere, and you have to start moving," says Fadoul. "You have to make a commitment to yourself in the process."
How did Fadoul get started?
Set goals
Fadoul was just a mom when she began. But she advanced to become a certified Spinning instructer and an author. How? First, she set goals, which is something she recommends for all women trying to tackle post-baby weightloss. "You can't go in there open ended you have to go in knowing what you are trying to accomplish so that you have something to work toward," says Fadoul. "The important thing is to just get started and to have a goal and to modify as you move along."
Motivation is another key factor as well. Fadoul says that if you feel your motivation to achieve your goals slipping, it's time to turn to your support system and be vocal about your feelings. It may also be time to make a change in your methods. "If you are losing motivation try different things, look to different sources … change it up. Sometimes you get stuck in the same routine," says Fadoul.
Setting goals and having the right motivation is something that other moms say worked for them. For Felice Primeau Devine, that motivation came in the form of a local race. "After I gave birth, I started running again 4 weeks postpartum and signed up for a local Race for the Cure that took place on my son's 4 month birthday. Training for the race made me focused and dedicated and by race day I was right around my pre-pregnancy weight," says Devine, who blogs at TheHappyRunner.blogspot.com. Depending on the type of delivery and recovery time, most doctors recommend waiting at least 6 weeks before starting an exercise program, so check with your doctor before running or starting an exercise program.
Use both diet and exercise
It's no secret that being healthy involves hard work and a combination of a good diet and regular exercise. Individually, they are good, but together they formulate a recipe for long-term success, says Fadoul. "Diet is huge – it's going to really make the difference in terms of keeping the weight off. They are both just extremely important elements," says Fadoul. She includes sample meal plans and recipes in her book to help moms get started on the path to healthy eating.
For diet, it's important to make smarter eating choices by cutting foods that are bad for you and fighting off hunger by eating three meals and two snacks each day. Also, avoid foods that naturally lead you down a path of excess. In terms of exercise, Fadoul cautions not to use exercise as a reason to eat more because it will ultimately deter you from your goals.
Make a lifelong commitment
Fadoul says another important aspect of losing weight in a very permanent way isn't to diet in the sense of a short term plan, but instead to shift your eating expectations so that it's a life change. According to Fadoul, a healthy diet consists of complex carbs, lean proteins, healthy fats and plenty of nutrient-rich fruits and vegetables.
More tips on losing baby weight: