Experts Weigh In On How To Reduce Stress And Prevent New Mom Burn-Out
Between taking care of your newborn baby, paying the bills and juggling a hectic schedule, it is easy to find yourself burned out and stressed out. Parenting experts weigh in on how you can take care of yourself so you can get back to enjoying your baby and your life.
Melissa Chapman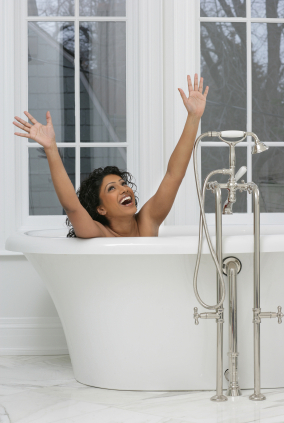 Put On Your Oxygen Mask First!
According to Laura Lowell, author of the book 42 Rules for Working Moms one of the cardinal resolutions a new mom must make is to take care of herself, first and foremost.
"Have you been on a plane with your kids and heard the flight attendant tell you to put on your oxygen mask first?  The immediate response is, "No way, I need to take care of my kids or husband, mother, best friend, stranger in the seat next to me…, "says Ms. Lowell. " But if you don't don your mask first, you won't be there for all those other people when they need you."
 
Ms. Lowell says new moms need to ask themselves; what is my oxygen mask?  For each of us, the answer is different. It might be: taking that hot bath when there is so much to be done outside of the bathroom, or something as miniscule as taking the last piece of homemade apple pie that you made and haven't yet had a piece of.
The bottom line; Take the mask first! Soak in the bath. Enjoy and eat the pie. Taking good care of your self is not selfish. Au contraire, it is the most valuable gift you can give to your self and to all who depend on you.
Be kind….to yourself
Beth Dunn, author of Social Climbers wholeheartedly agrees that the number one mistake new moms make is that they tend to forget to be kind…to themselves. To change their frame of mind she offers these tips:
Get rest! Don't worry about being perfect, thank you notes aren't necessary. This is the one time in your life when everyone understands and etiquette can go out the window.
When your child is sleeping, sleep. Even if it is only for 10 minutes. Many famous inventors were able to stay up all night working if they took a few 10 minute power naps.
Do something once a week that you enjoy. If you don't have time, money or help give yourself a manicure, a mud mask or read your favorite book (especially if it makes you laugh).
Brush your hair…you'll feel better! And don't live in your night clothes or workout clothes. Even if you can't fit into your pre-baby jeans, put on some jewelry and a scarf- accessories can always help spruce up an outfit. It's the little things that draw attention to our faces or feet that can get us through the years it takes to lose baby weight. (It took me 3 years!)

If all else fails…take a time-out
After talking with over 500 women, Katrin Schumann, co-author of Mothers Need Time-Outs, Too offers her top five secrets to help moms start 2009 with renewed energy and optimism.
1. Re-discover Curiosity:  Why? Learning and growing make you feel energized. How? Start a journey of discovery by journaling about what makes you tick; reading beloved authors; noticing nature; trying something new; tapping into forgotten passions.
2. Walk Don't Run: Why? Slowing down is the key to better mental and physical health.  How? Take a bath, not a shower; pick up the phone instead of e-mailing; make your doctor's appointments a priority; breathe deeply; pause; waste time having fun.
3. Just Say No! Why? Taking control gives you freedom. How? Pick your priorities; don't be afraid to say no; choose simplicity; let go of your guilt so you can enjoy downtime.
4. Unleash Your Passion: Why? Feeling deeply connected makes you feel alive. How? Figure out what you used to love, and invite it back into your life; make the decision to develop your interests—create a scrapbook or write a poem, go dancing or study Shakespeare.
5. Enjoy the Journey: Why? This is your one life! How? Be grateful for small things; thank someone each day; play a prank on a friend; wear three inch high pink stilettos and laugh often.
Read More: