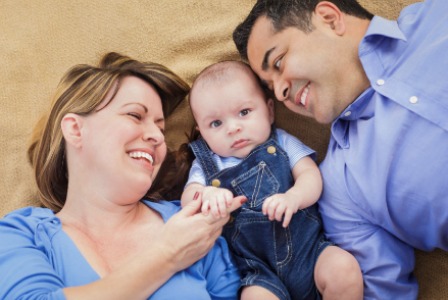 If you are preparing to add to your family through the process of adoption, there are a few things you need to know about taking leave after your little one comes home.
What you need to know
As most of us are all well aware, the U.S. falls pitifully low on the whole "providing adequate maternity leave for moms" thing. The Institute for Women's Policy Research breaks down just how bad we are doing, pointing out that the U.S. "is one of only four countries globally, and the only high-income country, without a statutory right to paid maternity leave for employees."
Ouch.
And while maternity leave is continually debated and discussed (although not really taken action on, one can notice), there is a whole other level to the maternity leave challenge — adoption.
Adoption in the U.S.
According to the Intercountry Adoption organization of the U.S. Department of State, there were 8,688 children adopted by U.S. families in 2012, with the overwhelming majority of those children at age 1 or younger. The Child Welfare Information Gateway published a 2008 report of adoption statistics, reporting a total of 136,000 children who were adopted in 2006 and 2007 alone — a number which includes both intercountry and domestic adoptions).
The study also found that adoption is on the rise — there was a 6 percent increase from 2000 to 2008 in adoptions across the board.
So with adoption on the rise and more parents growing their families through adoption, you would think that parental leave to care for adopted children would be a given, right?
Well, not exactly.
It turns out there are a few stipulations.
The rules about parental leave and adoption
First of all, according to American Adoptions, parents adopting domestically have to arrange a stay in the state that their child was born from anywhere to 7 to 10 business days in order to comply with the Interstate Compact on the Placement of Children (ICPC) regulation. So, not only do they have to arrange for maternity or paternal leave, but they have to add in the extra regulated days to ensure that they follow the correct adoption procedures.
Fortunately, when it comes to the legal aspect of maternity or paternal leave in an adoption, the federal law does not discriminate. All eligible employees are legally entitled for up to 12 weeks to care for a family member under the Family Medical Leave Act.
However, the big "but" with the FMLA is that it only applies to "eligible" employees — which, under the rules, includes very few U.S. workers. Not only does an eligible employee have to work at a place of employment that even offers FMLA in the first place, they also have to have been employed for at least a year and have worked a certain amount of hours to qualify.
And the biggest problem?
Any "protection" for parental leave offered under FMLA is not paid — basically, FMLA only guarantees that you can legally take 12 weeks off without losing your job. So if any type of leave will be a paid leave — whether for the birth of a child, the adoption of a child, or to care for a sick child — is solely up to the discretion of your employer.
For adoptive parents, who are already paying hefty fees for the paperwork and processing of the adoption, travel, and expenses, the lost income from missing work can be especially troublesome.
However much room for improvement there may be and laws pertaining to maternity and paternity leaves, one thing is clear — there is no distinction to be made between how much time is necessary to welcome a new member into your family.
As Melissa Reamer, a mother who adopted three children and whose husband took time off from his job to care for them says, "A new baby is a new baby!"
More articles on adoption
Adoption photos: The moment I became a mom
The realities of adopting from foster care
Helping your adopted child bond to you