Win An Awesome Eco-Friendly Reusable Baby Wipe Kit - Just In Time To Green Your Baby Care For Earth Day And The Rest Of The Year!
One of the best ways to go green for Earth Day (and every day) is to use reusable baby products....
One of the best ways to
go green
for
Earth Day
(and every day) is to use reusable baby products. There are
cloth diapers
, reusable fabric snack baggies and more. You can even use reusable baby wipes. Now, some parents are scared off by the thought of reusable baby wipes, thinking they'll be too messy, too inconvenient, too hard or just plain too weird - but as a mama who used
reusable baby wipes
almost exclusively I can tell you that they're none of the above. Reusable baby wipes are so much easier then they sound and think about it; do you really want to contribute all those plastic baby wipe bins to the landfills? Also consider that by using reusable baby wipes you can save $555 over traditional baby wipes! That's a great college fund start. Now, if you're still a little leery of reusable baby wipes I've got an excellent deal for you -
try them for FREE!
That's right thanks to our sponsor
Bottoms Up
, one Pregnancy & Baby reader will get the chance to win a free
Bottoms Up Washable Cloth Baby Wipes Kit.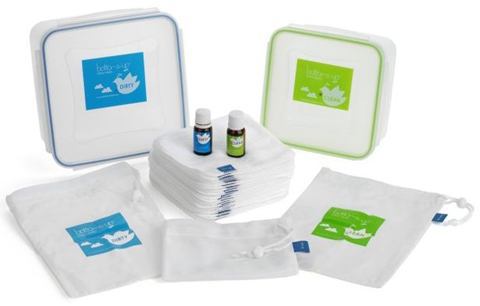 WHAT YOU CAN WIN!: One lucky Pregnancy & Baby reader will win a Bottoms Up Washable Cloth Baby Wipes Kit from Bottoms Up. This is an amazing prize packed with everything you need to clean your baby's bottom all year long. Learn more about this gift set. If you've been nervous to spend money on reusable baby wipes before, this is a great chance to dive in and give these reusable baby wipes a try (no worries, you'll love them). GIVEAWAY DURATION: Now through April 30, 2010. Midnight my time - west coast. HOW TO ENTER: Leave a comment on this post telling me if you've ever considered reusable baby wipes - why or why not? Are you excited to try them now? RULES, RULES, RULES:
Giveaway is open to North America Pregnancy & Baby readers.
On May 1, 2010, I'll draw a random winner from all eligible entries (you must enter as noted above in HOW TO WIN).
I'll contact the winner to collect the following information - full name, valid email, valid mailing address and phone number. If you're not comfortable giving me this information, please don't enter. In order to ship your prize to you I need the above info.
IF YOU WIN: You will need to reply with your info within 5 days of being notified that you won. If you fail to respond within 5 days I reserve the right to choose a new winner.
Good luck!