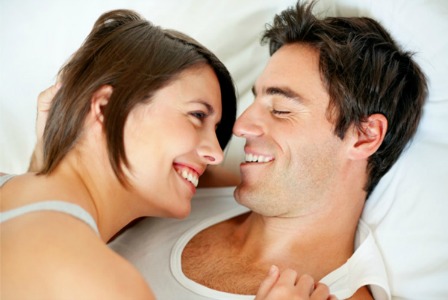 Thermometers, ovulation predictor kits and charting — oh my! Shouldn't trying to conceive be easier than this? Don't just think about your fertility, try and have some sexy fun.
Don't think about it, just do it!
Having fun while trying to conceive — is it even possible? When you know your fertile days and have to text your husband it's time to do it now, sex can seem like more of a chore than fun.
Before you can put the fun back into baby making, it's important to understand that if you or your partner are concerned about fertility, it can definitely decrease the fun factor.
Dr. Marie Davidson, clinical psychologist with Fertility Centers of Illinois, explains, "Feelings of shame or guilt can lead to a partner's pulling away. There should be no surprise that a couple's sexual life suffers. That, too, is almost universally a part of the journey. Lovemaking becomes a means to an end and stops being intimate and fun."
So, how can you get back to having sex for fun without focusing so much on fertility? Read on.
Get back to basics without focusing on a baby
There usually comes a point in a relationship when every couple needs to be reminded to simply show each other affection and nurture each other. Trying to conceive — and the stress that comes with it — can make it easy to forget. Davidson says, "If there was ever a time to be really considerate and appreciative of each other, this is it. One of my physician colleagues sometimes hands over a script on which he has written, Go out to dinner and don¹t talk about the infertility."
Make those dinner reservations now! Maybe have a cocktail and see what it leads to when you get back home.
Add a little spice to the baby making mix
Stacy Rybchin, sex toy expert and founder of My Secret Luxury suggests couples add a little spice to trying to conceive. "Add sex toys and sensation play in the bedroom," she says. "A couple could try a couples sex toy or add a simple blindfold, wrist restraints or edible massage oil into the mix. These items can be fun and would also create more intimacy between couples in a stressful situation."
Remember, great sex will always be waiting
Even if you try all of these recommendations to put the fun back into baby making, you're still focused on having a baby — that may be more important than fireworks in the bedroom. Davidson says, "This is probably not the time to have high expectations for a great sex life. We hope this will be practice for when their sex lives will take another dip, after their long-awaited baby is born. It helps patients to know that this time of less satisfying sex is absolutely normal, and it is also temporary."
More on trying to conceive
Impatience or infertility?
Secondary infertility: Stupid things people say
5 Embarrassing pregnancy sex questions answered