Because Of The Octomom Controversy, You May Be Wondering How Many Embryos Are Too Many To Implant, And Also How To Know If Your Doctor Has Your – And Ultimately Your Baby'S – Best Interests In Mind.
Nadya Suleman -- aka "Octomom" -- was only 33 years old when she gave birth to octuplets last year. Her doctor, Michael Kamrava, implanted six embryos, far more than the American Society for Reproductive Medicine (ASRM) recommends for women of any age. Suleman's pregnancy with Octuplets -- in addition to already having 6 children via in vitro fertilization (IVF), started a national conversation about how many babies is to many. Last October, Kamrava was expelled from the organization.
Ami Burns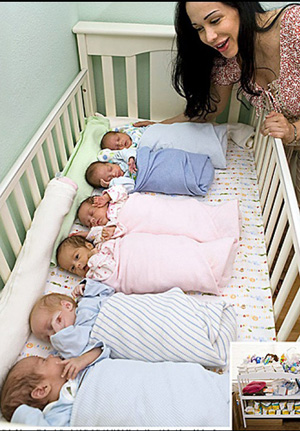 Because of the Octomom controversy, you may be wondering how many embryos are too many to implant, and also how to know if your doctor has your – and ultimately your baby's – best interests in mind.
Pictured, right, is Octomom Nadya Suleman with 6 of her 8 babies.
Choosing a fertility specialist?
Theresa Erickson, Esquire, an attorney who specializes in reproductive technology law near San Diego, CA, suggests asking the following 6 questions when interviewing prospective doctors:
1.What are their transfer, pregnancy and live birth statistics?
2.What is their protocol and standards of practice for women/men of their age and body type?
3.What is their multiple birth rate? 
4. Do they move directly to IVF when trouble conceiving for over a year?  And, if so, why?
5. What testing is done?  Are both partners -- if applicable -- tested before commencing treatment, such as sperm testing, FSH testing, uterine testing, etc.? 
6. How is the lab run, including what are their lab standards to ensure that my gametes/embryos are not misplaced, destroyed, etc.?
Jennifer R. is a mom-to-be near Chicago, IL who conceived through IVF and sperm donation due to her husband's health issues. She received information about fertility specialists from her OB/GYN. I."She gave me a run down on each one.  The one we chose was done for several reasons," she explains. "It was a small, warm practice with personal attention.  I had seen the office over many years and it was also conveniently located.  We didn't want to go to one of the large fertility clinics that was filled with many doctors, we wanted a more personal experience especially in light of our specific needs.  We also wound up choosing them after our first meeting with the doctor.  She took lots of time to explain our options, to hear our story and was so patient! We felt very welcome and loved the environment."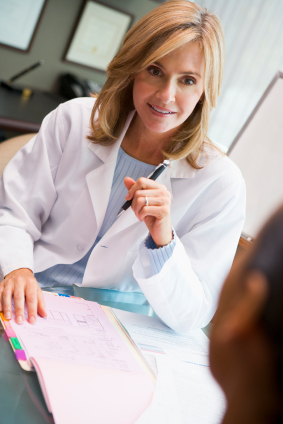 How many embryos are too many?
Erickson says doctors that implant too many embryos prey on the woman's vulnerability and desperate need to have a child.
"Women certainly need to know what the doctor's statistics are in general for women their age and body type," she says. "If the doctor has low pregnancy rates, he/she is likely to implant more embryos, which likely can result in high order multiples, and, as we know, multiples are risky to both the children and the woman themselves."
According to ASRM, the guidelines for embryo implantation include no more than two embryos for patients under the age of 35, no more than 3 for patients between 35-37, no more than four if 38-40 years old, and no more than 5 if 40-42 years old. Depending on individual factors, it may be ideal to have less than the maximum implanted – talk to your fertility specialist.
Cover yourself legally
If you've been diagnosed with infertility and are considering creating a family through surrogacy, in vitro fertilization (IVF) or another form of Assisted Reproductive Technology (ART), one of the most important steps to take is to make sure you understand exactly what you're getting into. This goes not only for women trying to conceive, but also those who are helping others create a family via egg or sperm donation or becoming a surrogate.
"Legal and psychological advice is really the smallest cost in this entire process, yet is the most often overlooked," says Erickson. "Anytime that a patient is moving towards IVF (in vitro) or other form of ART whereby one's gametes will either be utilized outside of the body and/or stored by a facility, it is prudent that the patient contact an attorney that can review the informed consents provided by the clinic/facility as a first step."
Decide who the right specialist is for you
Jennifer R. encourages moms to take their time while making a decision, whether about doctors or donors.  "It's an overwhelming one," she says. "We had spent several years discussing our options to having a family if my husband was not able to do so biologically."
Erickson adds, "Be prepared and be careful - then find time to enjoy your new family and/or the new family that you have helped create."
More on fertility: