Keeping Things Interesting
When you're trying to make a baby, keeping things exciting takes more than just candlelight and Marvin Gaye. Attempting to conceive is just as much of an emotional and mental journey as a physical one, especially if you've been working at it for some time with no luck. Here are a few tips to keep sex fun when you're trying to get pregnant.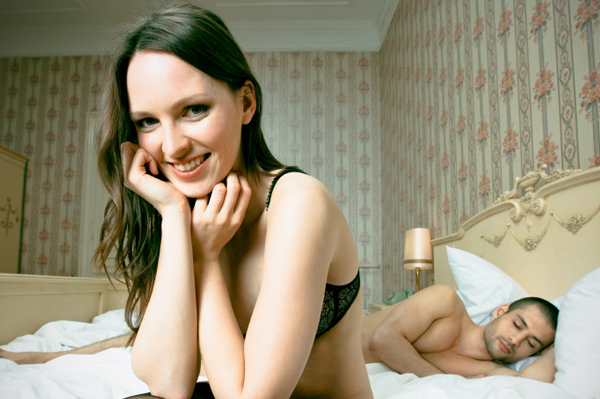 Communicate with each other
Many couples decide, "Let's have a baby!" and plunge full-force into the adventure with overflowing feelings of happiness and hope. If conception doesn't happen immediately, though, trying to conceive can begin to feel like a clock-in, clock-out job. The romance, passion and sheer fun of sex may disappear.
The joy with which you went into the endeavor can become a stew of resentment, blame, impatience, disappointment, failed expectations and missed opportunities. It becomes about what you don't have rather than what you do.
Making an effort to communicate with each other is the first solution. "Acknowledge and validate your partner's feelings," says John W. Beiter, clinical psychologist and certified sex therapist. "Use 'I' statements, and don't retaliate with defensive posturing by reacting with 'you' statements." Conflict-resolution skills and simple patience and kindness can help you ease tensions in the bedroom and recapture the intimacy you need to make sex and conception exciting again.
Talking about sex isn't easy, however, even for the closest couples. "Many people, regardless of age, struggle with being open to discussing their sexuality with their partners," says Beiter. He actually established the Beiter Sexuality Preference Indicator to help individuals identify their sexual preferences and become comfortable discussing their sexuality with each other. "It's been useful for couples to share the results and begin the dialogue they've so often dreaded." 
Develop a plan
While spontaneity is important when it comes to sex, the goal is to get pregnant — and you simply have to make that magic happen on specific days of the month for the best odds. To minimize the pressure, couples can develop a conception plan.
 
"Stay focused on creating physical intimacy while trying to conceive," says Patricia O'Laughlin, psychotherapist at the Center for the Psychology of Women. "If a couple sits down and discusses what fertility method will be used, how specifically the man can support the woman as she tracks her bodily changes and how they might be able to engage in sexual activity outside of her ovulation times, the couple will experience greater intimacy."
Developing a plan means that, again, communication is super-important — and super-effective. "Open communication is one of the best ways a couple can remain intimate and feel close to each other during a stressful time," says O'Laughlin. "It will also help minimize the stress a woman may experience when she finds herself carrying the entire load. Stress will only decrease a woman's sex drive."
Consider his point of view
While a woman is hyper-aware of the short window of opportunity during ovulation and can become wrapped up in monitoring her body's monthly cues, she isn't the only stressed partner. The act of conception continues to support and encourage a performance-based sexuality, in which a man must achieve an erection and successfully ejaculate, Beiter explains. "Basing your sexuality purely on performance not only limits the amount of sex you will have but also has the potential of extinguishing the erotic desire in your sexual relationship."
 "Women are just as invested in the erection performance of men as are men," he continues. "If a man fails to 'rise for the occasion,' the woman typically feels she isn't sexy enough or is unable to arouse her partner, thus affecting her sexual self-esteem." A woman may also feel that the man isn't as interested in making a baby as he claimed to be, often an unfair and inaccurate conclusion.
"We need to encourage pleasure-based sexuality, in which the main goals are fun, intimacy and emotional connectedness," says Beiter. "This will almost guarantee that sexual relations with your spouse will remain exciting and something to embrace and continually anticipate."
Remember your relationship
"Trying to conceive is extremely stressful and can affect a person's perception of themselves and/or the couple's relationship," says O'Laughlin. It's crucial that couples not lose sight of each other. "Pregnancy is a major life change and contains so many conflicting feelings. A couple should discuss these so they don't allow themselves to become solely absorbed in the conceiving process."
Couples who have exhausted the typical pick-me-ups in the bedroom may actually be on the cusp of fearing they're infertile. "The mental, emotional and physical experiences of infertility can have a negative impact on your sexual desire," says Carol Fulwiler Jones, psychotherapist and author of Hopeful Heart, Peaceful Mind: Managing Infertility. "Remember that sex is mental and emotional as well as physical."
She recommends a daily exercise to help rekindle the spark: "Close your eyes, breathe slowly and deeply, and remember a time you and your partner were having passionate and fun sex." Recreate the memory as if it were happening in the present. Recall sounds and textures and allow yourself to feel aroused. "You may want to call or text your partner to share the details of this memory," Jones says.
Ultimately, this amazing journey is about two people creating another person. To put the excitement back in your sex life, anticipate being sexual with your partner, communicate openly with him, and respect his feelings when you're trying to conceive (and even when you're not).
More tips on trying to conceive
10 Ways to increase your chances of conception
Are you pregnant? The early signs of pregnancy
10 Fertility boosting tricks to get pregnant