Tips To Achieving A Positive Test
If you're trying to get pregnant, chances are you're learning all you can about charting your ovulation, naturally increasing your fertility and increasing your fertility through assisted reproductive technology (ART). Many holistic treatments may help you conceive, too. Here are 10 things you can do this month to get pregnant fast.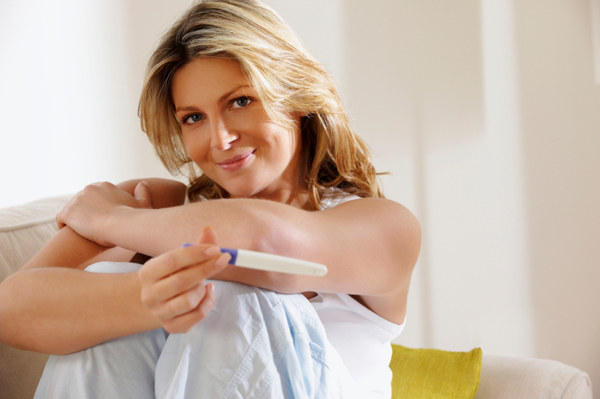 Use holistic methods with traditional methods
"Holistic approaches are beneficial to patients when used in combination with traditional Western-medicine approaches such as in vitro fertilization (IVF) or intrauterine insemination (IUI)," says Melissa A. Esposito, M.D., a board-certified reproductive endocrinologist at Shady Grove Fertility Center in the Washington, D.C. area. "I do not advise that holistic approaches be used in lieu of traditional approaches, but I have found that holistic approaches complement traditional approaches nicely, and I do recommend them regularly to my patients."
Eat well
Good nutrition is key to enhancing fertility. Cindy Bailey, co-author of The Fertile Kitchen™ Cookbook, recommends eliminating overprocessed foods, caffeine and sugar from your diet when trying to conceive.
"Processed sugar negatively affects blood sugar and insulin levels, leading to hormonal imbalance —and the finely tuned balance of our hormones is very important to conception," Bailey explains. "On the flip side, the variety of important nutrients we get from eating a variety of organic produce, lean protein, healthy fats, good carbs and so on helps nourish and support our bodies and our hormonal health — putting us in the best possible position for conception."
Acupuncture
Repeated studies have shown that acupuncture can increase the odds of IVF success when done before and after embryo transfer, explains Beth Heller, director of Pulling Down the Moon, a holistic fertility center with locations in Chicago and Washington, D.C. "In addition, studies have shown that acupuncture can increase the thickness of the uterine lining, improve sperm quality and, of course, reduce stress."
Yoga
"Yoga decreases levels of cortisol in the body, relieves stress and anxiety, and can increase blood flow to the reproductive organs by loosening tight musculature and connective tissues in the hips, low back and groin," says Heller.
Massage
Who doesn't like a nice, relaxing rubdown? Massage offers additional benefits when trying to conceive, such as reducing stress hormones. Certain techniques specific to the abdominal area can help the uterus prepare for pregnancy, according to Abigail Lynn, a licensed massage therapist and doula in Chicago.
Find support
If you're trying to conceive — particularly if you've been diagnosed with infertility — remember that you're not alone. Individual counseling and support groups may help. You also can find support online, such as through RESOLVE or the National Infertility Association — the latter of which is the only non-profit organization with a nationwide network mandated to promote reproductive health and to ensure equal access to all family-building options for men and women experiencing infertility.
De-stress
In a recent study, women who took part in a stress management program while going through a second round of fertility treatment had a 160 percent better chance of getting pregnant than with IVF alone. "Stress is fertility's worst enemy," says Bailey. "Meditation, yoga, deep breathing and moderate exercise help manage daily stress."
Dance
"Belly dancing is the ancient ritual for fertility," says Stephanie Larson, founder of Dancing for Birth. "It evokes the same movements that naturally occur during conception and birth, toning and strengthening a woman's body, especially her core and the muscles and ligaments that support her pelvic floor and reproductive organs."
Chiropractic 
Spinal adjustment not only may alleviate aches and pains, but also may help you get pregnant. When doctors are unable to offer their patients clear explanations for their inability to conceive, a visit to the chiropractor may help, according to Dr. Adam Tanase, a chiropractor who is also the chiro expert for MedHelp.org. "In the case of women struggling to conceive, nerve imbalance may be causing malfunction of the fertilization process."
5 Fertility basics to help you get pregnant naturally >>
Coaching
Trying to conceive can be overwhelming, particularly for someone diagnosed with infertility. A visit with a specialized coach can help you remain calm, educated, proactive and open to all the different possibilities of achieving parenthood, according to Hope Firsel, a fertility empowerment coach with Nu Focus.
"Individuals are able to make conscious decisions about how they want to proceed in their quest to become parents. They become their own advocates, able to move through their journeys more effectively by being planful and conscious. Together, we build a roadmap for how they intend to navigate through their own journeys from medical, spiritual, emotional and physical standpoints."
No matter where you are on your journey to conception, keep in mind that no single type of treatment — medical or holistic — works for all women. "Certainly, living a healthy lifestyle helps enhance one's chances of getting pregnant," says Esposito. "Unfortunately, many couples are doing everything 100 percent correctly and still suffer from infertility. I think the best thing to do is find an experienced practitioner at a reputable fertility center to identify the problem early and get the appropriate help."
Fun fact
Fertility-friendly Pre-Seed personal lubricant gently replenishes moisture without harming sperm.
More about infertility
Infertility myths
When to see a specialist
The male factor: The low-down on fertility sperm testing