Find Out How To Cope And Find Support If You Are Dealing With Secondary Infertility
If you're having trouble conceiving another baby, you may have secondary infertility. It's important to understand the definition of the disease, and how to cope and find support if you're diagnosed with it.
Ami Burns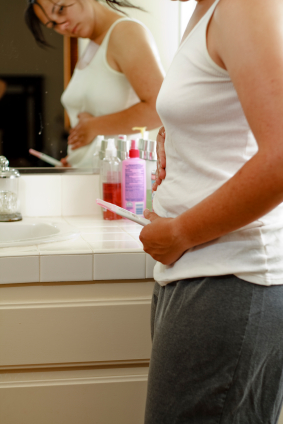 What is Secondary Infertility?
Infertility is the inability to get pregnant after one year of trying if you're less than 35 years old, or six months of trying if you're over 35. If you've already given birth to at least one child, but fit the above criteria, you may be diagnosed with secondary infertility.
Millions of women are affected by infertility; however there aren't statistics about how many have secondary infertility.
Causes of Secondary Infertility
According to Barbara Collura, Executive Director of RESOLVE, an advocacy organization for families with infertility, there are many reasons why someone may have secondary infertility, even if conceiving their first child was easy.
"It may be that a woman and her partner have had sub fertility, or a woman has diminished ovarian reserve, where as time goes on it's like having menopause at a very young age," says Collura. There may also be an underlying health issue that could have always been there but wasn't bad enough to prevent the pregnancy she already had. Blocked fallopian tubes, polycystic ovary syndrome (pcos) surgical procedures or sexually transmitted disease may affect your fertility.
Coping with the Diagnosis
If you're diagnosed with secondary infertility, talk to your doctor about your options. She will ask about your medical history, prior pregnancies and may run tests to try to find the cause. You may be referred to a reproductive endocrinologist or other health professional.
Finding Support is Key to Coping with the Diagnosis
"I can't stress the importance of emotional support enough," says Collura. A diagnosis of secondary infertility can be particularly hard if you had an easy time conceiving your first child, according to Hope Firsel, a fertility life coach who started her company, NuFocus, after struggling with infertility.
"It comes out of left field. You have dreams and hopes for how your family will look and all of a sudden there's a dark could on that vision of how it's supposed to be," says Firsel. "I help clients be able to let go of some of those specific dreams and open their hearts to all the possibilities of how it might be. Letting go of a specific amount of time between kids or sometimes go as extreme as whether or not you'll be able to have another genetic child."
Social situations can be particularly challenging for moms with secondary infertility. Collura explains, "Those of us who are infertile and don't have children, we don't have to go to the playgroups or shop for diapers. We can totally block ourselves out of the baby world." It may be hard for fertile people to understand your heartbreak about not being able to conceive if you already have a child.
It's Not "All in your Head"
Secondary infertility is a disease that can't be treated by simply relaxing or trying harder to conceive. Fertile friends and family may mean well when they make comments like these, but for infertile moms, comments like these can cut like a knife.
"What people don't understand, unless they have been through this, is that you can't relax...ever," says Alexandra Cruey, a mom in Norwalk, Ohio. Her son is four-years-old and she miscarried around 7 weeks gestation in 2007. Both pregnancies were conceived by trying once. "It's always in the back of your mind and everything makes you think of how badly you want another baby."
Cruey suggests people not give advice to moms with secondary infertility, but Collura has advice for those who are fertile. "Put yourself in the shoes of somebody who is desiring and expecting something in life that is a life function. Being a mother, getting pregnant and having a baby are life functions. Respect that this is a disease. Women are suffering from a medical condition, seeking medical help and doing the best they can to stay healthy and get the care they need."
Taking Care of Yourself while Caring for Your Child
 "Take time to love yourself and give yourself the support that you need," says Firsel. She also coaches moms about how to stay present with the family they already have while their lives may be consumed with doctor's visits, shots or surgery to try and conceive another child.
Mind, Body and Spirit
In addition to standard medical treatments that may include taking hormones or utilizing assisted reproductive technology, many moms try complimentary therapies like yoga, nutrition counseling or acupuncture.
However you choose to cope with secondary infertility, remember you're not alone. One-to-one counseling or joining a support group can help. Alexandra Cruey speaks for many moms with secondary infertility when she says, "All we want is for someone to listen, give us a hug and just be there when we need to talk, vent or cry."

For more information about secondary infertility and how to find support:
-RESOLVE: www.resolve.org
-Association for Reproductive Medicine: www.asrm.org
-NuFocus: www.nu-focus.com
Read More: