As a special bonus just for Pregnancy & Baby readers, we're offering FREE personalized pregnancy tickers! Create yours in just a couple minutes, and use them in your email messages, message board posts, on your desktop or on your own web site.
Make a fun -- and free -- ticker to count down the days until your due date. It automatically updates every day, so you always know how far you've come, and how much time is left before you meet your little one. Create yours now in just a couple of minutes!
Here are just a few of the designs you can choose: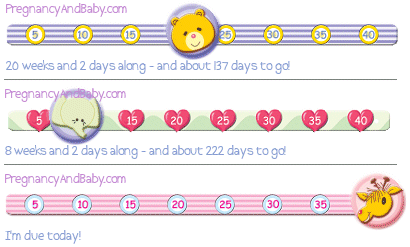 Ready? Just enter your due date below to begin!