From Day Care To Nannies, Find Out Affordable Child Care Options For Your Baby
These are tough economic times, and those who have jobs are grateful for them. In many families, both parents must work outside the home to make ends meet. As a result, there is a need for quality childcare. Here are child care options to help you decide what will work out best for you and for baby.
Mary Fetzer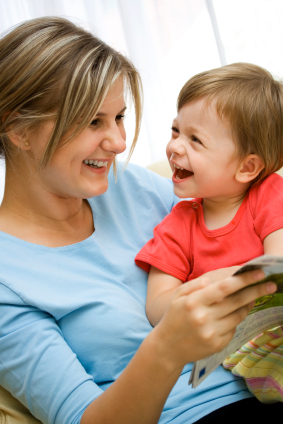 According to the National Association of Child Care Resource & Referral Agencies (NACCRRA), more than 12 million children under age 6 in the US spend an average of 37 hours per week in some type of childcare arrangement.
Choosing the right child care is not an easy decision. The first years of life of critical developmental years, so it's vital that your child is receiving high-quality care in a nurturing environment. Quality and cost are the biggest concerns for parents seeking childcare, but the two don't always go hand-in-hand. Whether you choose to hire a private nanny or send your child to grandma's house, it is possible to find affordable quality care for your child.
Here are some of your childcare options, from most-expensive to least-expensive:
Nannies
Once only for the rich and/or famous, nannies are becoming more common among middle-class families. While hiring a nanny is one of the most expensive childcare options, you can make it more affordable by participating in a nanny share. A shared nanny cares for the child or children of two more families at the same time.
Nanny shares are ideal for families with unpredictable schedules. With a nanny, you can create a schedule to suit your needs rather than try to fit yours with that of a childcare facility. Your child will likely receive more one-on-one attention than he would in a daycare facility. And in addition to sharing the cost with other parents, you can also take turns filling in when the nanny is sick or otherwise unavailable.
It's important that you and the other families have similar childcare philosophies regarding discipline, television, food and other important issues, including compensation. You will have to decide where the nanny will care for the children (whose house this week?). There will have to be some give and take on all sides.
Nanny search services such as 4Nannies.com and Nannies4Hire match parents up with an available nanny. For a small fee, these services provide thorough background screenings, as well as payroll and tax advice.
Daycare centers & preschools
Most daycare centers provide reasonably-priced, quality childcare. Daycare centers offer structure and are usually less expensive than nanny care. Parents know upfront what is expected: the cost, the drop-off and pick-up times and sick kid policies. Your child will be cared for regardless of whether a teacher is sick or on vacation.
Since he'll be among other children, your child will learn to interact and socialize, take turns and share. Although your child may get less one-on-one attention than he would with a nanny, the care that he does receive is regulated and supervised (which is not the case for nannies). All daycare centers are inspected for licensing purposes.
On the negative side, daycare centers that care for very young infants can be hard to find and more expensive. Kids in daycare tend to get sick more often, and most centers do not provide care when a child is sick. Some daycares charge extra if pickup and drop-off times are violated.
When comparing daycare centers, look for low teacher-to-child ratios and small groups. Take note of the way caregivers interact with children. Inquire about activities and curriculum. Inspect the facilities and equipment – are they clean and safe? Ask to review the center's license to make sure it's current.  And talk to other parents. Sometimes the best way to judge a daycare is by its reputation.
Home daycare
If you want your child to receive the individual attention of a nanny but still have an opportunity to interact with other children, consider affordable home daycare. Also known as family daycare, home daycare takes place in a private home instead of a daycare center. Oftentimes, a home daycare results when a mom wants to stay at home with the kids while still contributing financially to the household. There are more home daycares than centers in the US – about three times as many, according to the National Center for Education Statistics.
Home daycare is less costly than nanny and center care. Many parents prefer the home atmosphere of a family daycare over that of a daycare center, and home daycare groups are typically smaller than those in centers. Children enjoy a comforting environment and are exposed to fewer illnesses. Family daycare may also provide more flexibility with drop-off and pickup times.
There are some disadvantages to home daycare. Licensing requirements are less stringent; and, unlike centers, most home providers are not certified or trained in early childhood education and development. And – as is the case with nannies – if a home daycare provider gets sick, there may be no one available to care for your child.
To learn more about home daycare, visit The National Association for Family Child Care (NAFCC).
Stay-at-home parent
Some parents find that the opportunity cost of working outside is just too great. There are so many benefits to being a stay-at-home parent, that many are willing to give up a full-time income in order to raise their children without hired help. This arrangement enables parents to fully bond with their children – and parents are there to instill values and witness milestones.
But while this care is free, there is a cost in the form of lost income. Career-minded individuals may struggle with lifestyle changes. Some stay-at-home parents miss the company and conversation of coworkers. In this case, consider making an effort to keep in touch with former coworkers. Or offer to do some work from home so you can stay involved (this is plus for those who plan to return to work someday).
A feeling of isolation may also result for parents who are not acquainted with other stay-at-home parents. Check churches, public libraries and other gathering spots for mom (or dad) groups to join. It's common for stay-at-home parents to take turns – you watch another couple's kids this Saturday night so they can go out to dinner or a movie, and next week they can return the favor.
There are ways to provide stay-at-home parent care without giving up income and social opportunities. Spouses can try to stagger their work schedules in such a way that one parent is at home while the other is at work. This offers an opportunity for both parents to take an active role in child rearing. Unfortunately, this ambitious plan may leave little for anything but work and kids. Marriages may feel the strain of the comings-and-goings that revolves around the children.
Relative care
A great number of families opt to keep it in the family. It's very common for grandparents (or other relatives) to provide full-time child care. Relatives have a personal interest in the welfare of your child and may share your values and child-rearing goals. With relative care, your child will receive more personalized attention. And relative care tends to be inexpensive or free. 
There can be drawbacks to this sort of arrangement. If your relative's childcare philosophies conflict with your own, there will be a constant power struggle that will ultimately have a negative effect on the child. Additionally, grandparents and other older relatives may lack the energy or physical fortitude to manage babies or active toddlers full time.
Experts at the National Institute of Child Health and Human Development contend that the type of child care you choose is less important that the quality of that care. In other words, selecting expensive nanny care does not guarantee better quality than opting for free relative care. Do your homework, run the numbers and pick the child care arrangement that works best for you and your children.



Read More: