Confession: I Was Totally Afraid To Breastfeed
After 10 vicious bouts of mastitis while nursing my third child, I was ready to throw in the breastfeeding towel.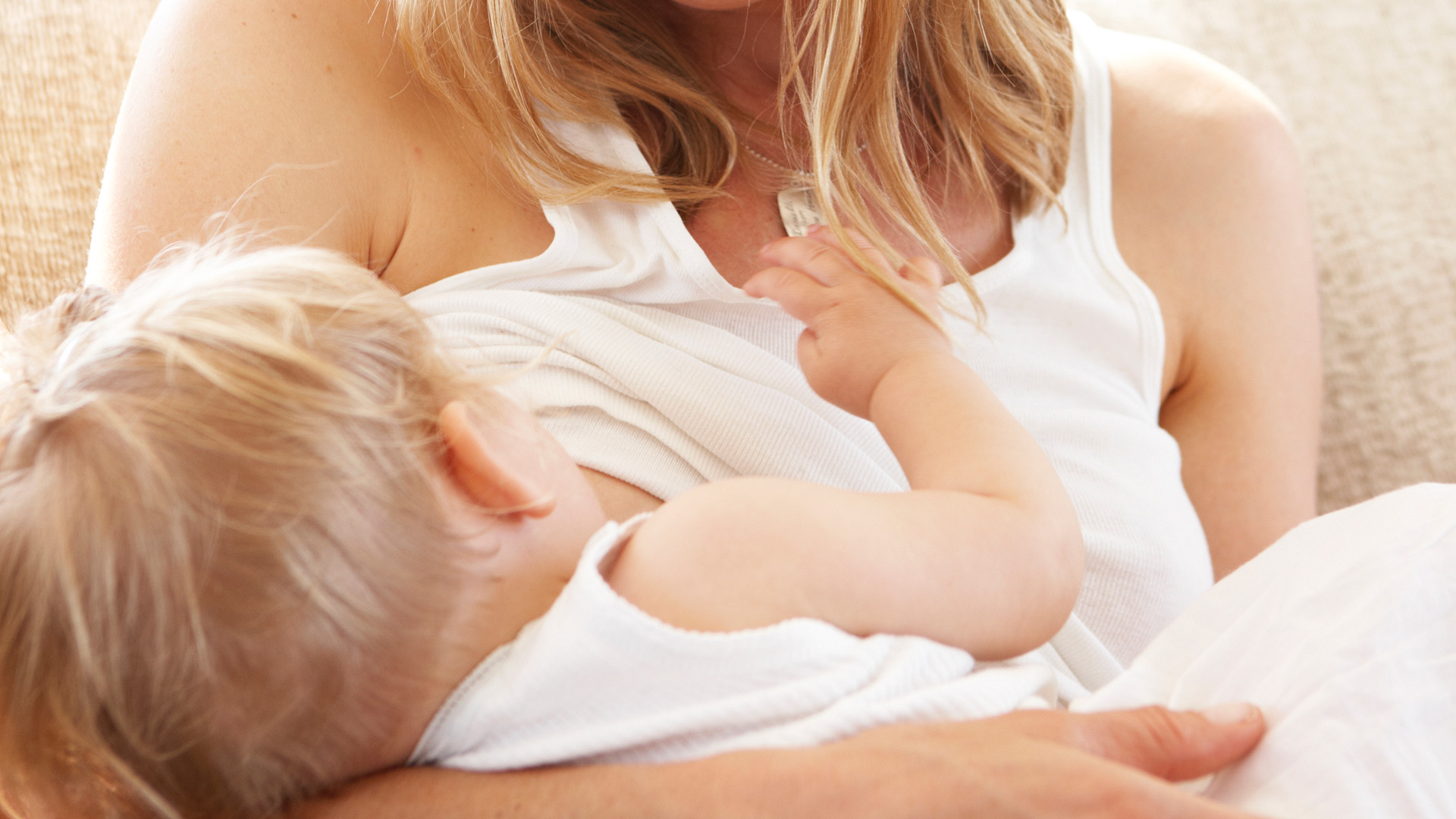 Photo credit: Juzant/Digital Vision/Getty Images
It's supposed to be the most natural thing in the world, right? (Thank you, Olivia Wilde, for that motherhood inferiority complex.) But breastfeeding, for me, hasn't always been so natural or as beautiful as the celebs make it out to be.
Which is why, this time around, I was absolutely dreading it.
A rocky start
My troubles with breastfeeding started with my first daughter. Working as a labor and delivery nurse at the time, I never even questioned if I would breastfeed or not — of course I would do what was best (breast) for my baby.
But for some reason, my body didn't exactly agree with breastfeeding. I wound up in the hospital with mastitis that required IV antibiotic treatment and resulted in significant milk duct damage to one of my breasts.
Soldiering on
After my first experience breastfeeding, I was fortunate to avoid any problems with my second baby. Come baby No. 3, however, and my mastitis came back to rear its ugly head. The duct damage, combined with overdoing it a bit in the postpartum phase and having three young kids at home all created a firestorm of conditions perfect for infection to set in — which it did, a whopping total of 10 times.
I was glad to have been able to successfully nurse my son, but the whole experience was incredibly exhausting and, at times, downright miserable. My son refused a bottle of any kind and because I was working outside of the home, I was constantly stressed about feeding him. With each bout of mastitis, there were a lot of calls to my husband at work to come home when I was running yet another fever, along with tears and guilt on my end for being sick all the time. When my son finally weaned himself, I honestly felt nothing but relief to be done breastfeeding. So when I found out that I was pregnant again when my son was 16 months old, I became fixated on how horrible breastfeeding yet another baby was going to be.
Surprise, surprise
During my entire pregnancy, I devoured article after article on formula feeding. I followed moms who were guilt-free and happy with the bottle and read up on studies about bottle-feeding. I gave myself permission to try breastfeeding this time around and if it didn't work — if it caused both me and my baby extreme misery again — I would simply choose a different route. Breastfeeding doesn't have to be all or nothing and I told myself that all I could do was take it day by day.
Which is exactly what I did. When breastfeeding hurt in the hospital on the damaged breast, I simply didn't feed her on it. When I was delirious with exhaustion and my milk hadn't come in yet, I didn't freak out when my husband let me sleep and gave her a bottle. And when — surprise, surprise — I came down with mastitis yet again and the antibiotics weren't working and my husband, who had listened to my fears and complaints about nursing all through my pregnancy, gently asked me if I wanted to stop, I was shocked to discover that I didn't.
Somewhere along the line, when I had let go of the guilt and given myself permission to do what was best for me too, not just my baby, I had also given myself permission to fall in love with breastfeeding again. It wasn't about doing what was "right," but what was right for us.
So for the first time, I'm enjoying the bond that breastfeeding gives me with my daughter, no guilt allowed.
More on breastfeeding
Pushing through: I made breastfeeding work
Why do you breastfeed?
How to breastfeed in public