Decorate Your Baby's Nursery Perfectly
Jump on the wooden wall sign bandwagon with these perfect nursery additions for your new addition.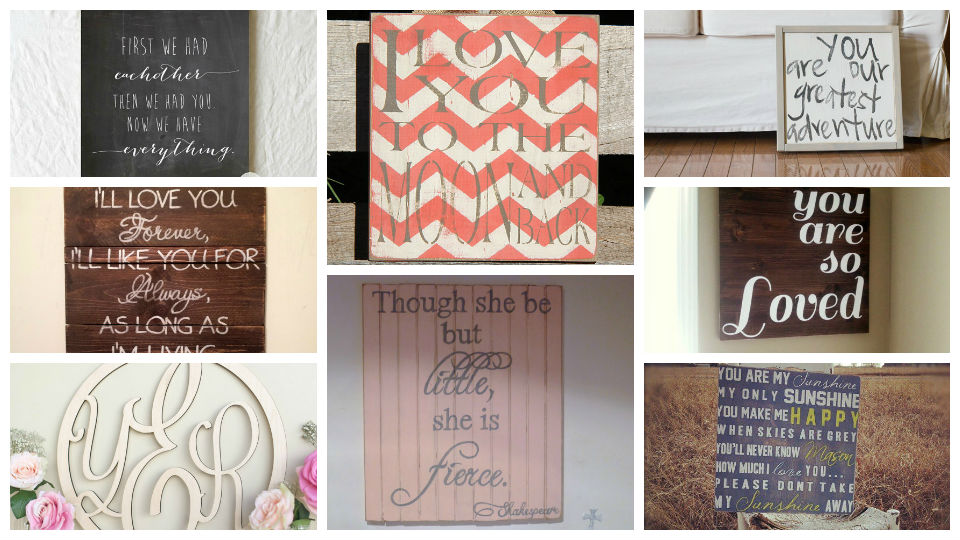 If you're shopping for a little something special for your baby's nursery (and really, who isn't?), try your hand at these decorations, with everything from rustic to ruffled.
The greatest adventure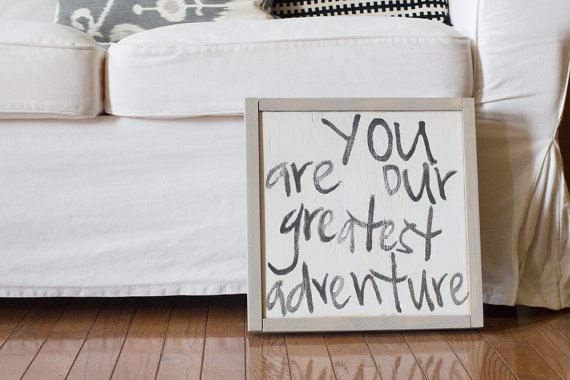 I may not always be the world's most sentimental mother, but this sign speaks the truth, doesn't it? Having our first baby started us on the world's greatest adventure — and I can't wait to see where it takes us. (AllAboutMeatloaf, $40).
You are my sunshine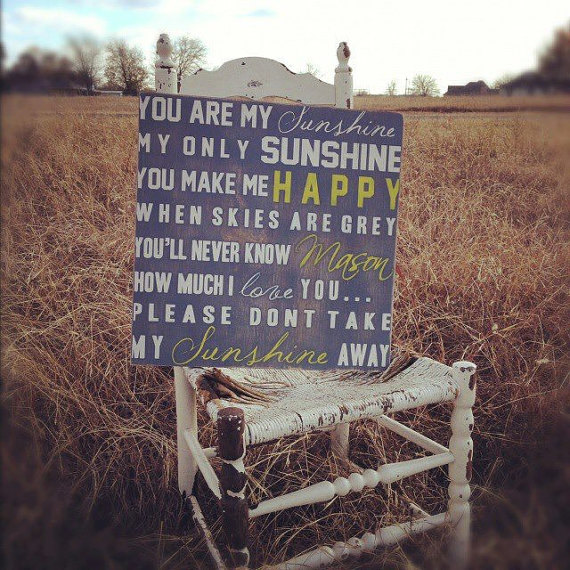 This favorite childhood song comes to life in the trendy combination of charcoal gray, yellow and white (a favorite color scheme of mine). I love this sign because it would be perfect for a baby girl or boy. (MadiKayDesigns, $45).
Monogrammed beauty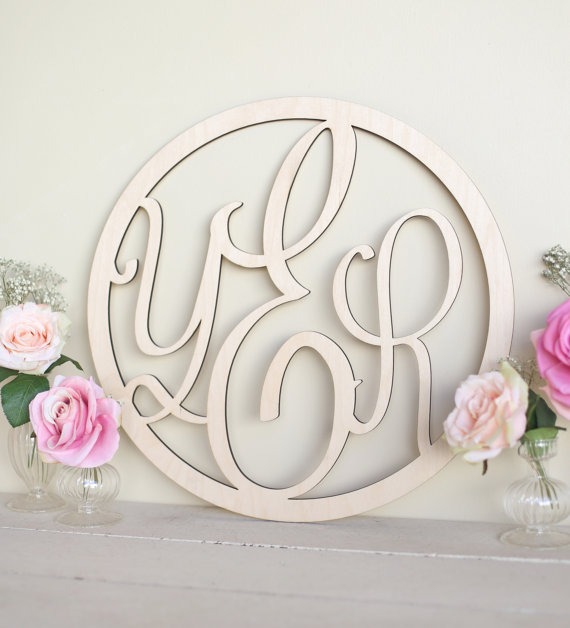 I am head over heels in love with this sign. I picture pale pink walls, an extravagant chandelier dripping with diamonds and all the fluffy blankets we could ever snuggle up with. OK, so maybe that is more of a dream, but really, this monogrammed initial sign is gorgeous. (braggingbags, $45).
First we had each other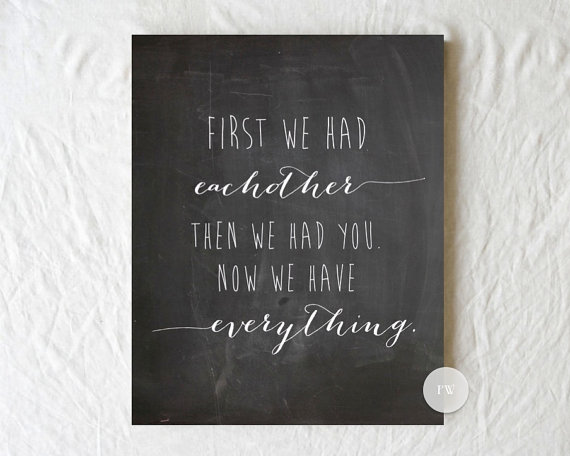 If you're saving up your pennies, this chalkboard-inspired print would be perfect for decorating on a budget. You could even get fancy and try a Pinterest project to Mod-Podge it on a rustic wooden board for some DIY action. (ThePaperWalrus, $5).
You are so loved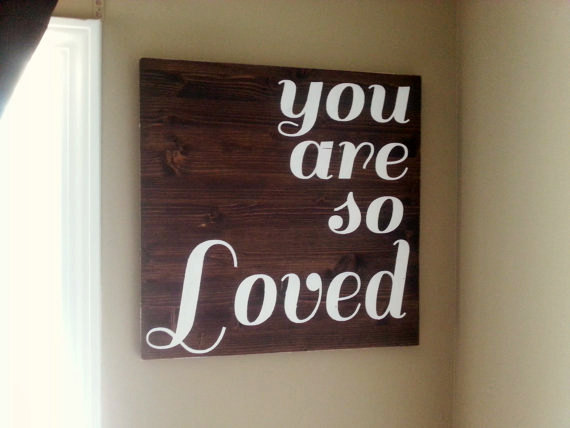 Nothing speaks the truth like the simplicity of this rustic wooden sign. Plain white lettering on dark wood says it all — "You are so loved." (CASignDesign, $65).
Paris pink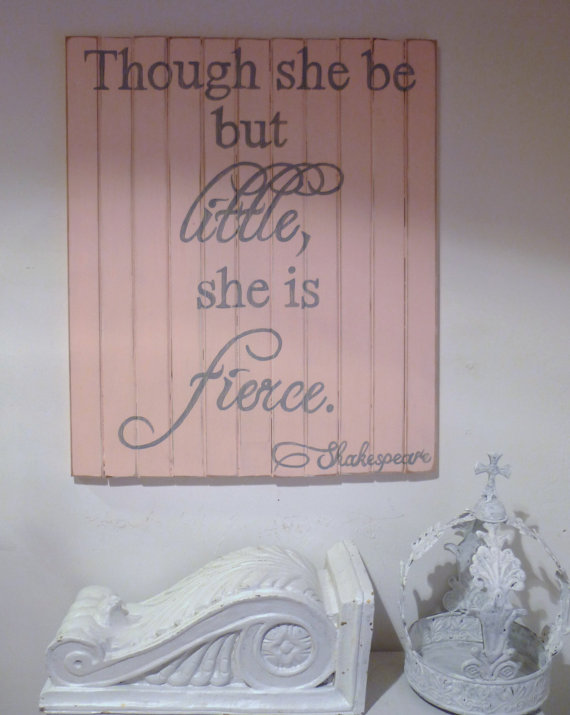 As the mother of three daughters, I have a special place in my heart for this piece. Not only is it beautiful, but it is so, so true. (StardustTalismans, $55).
To the moon and back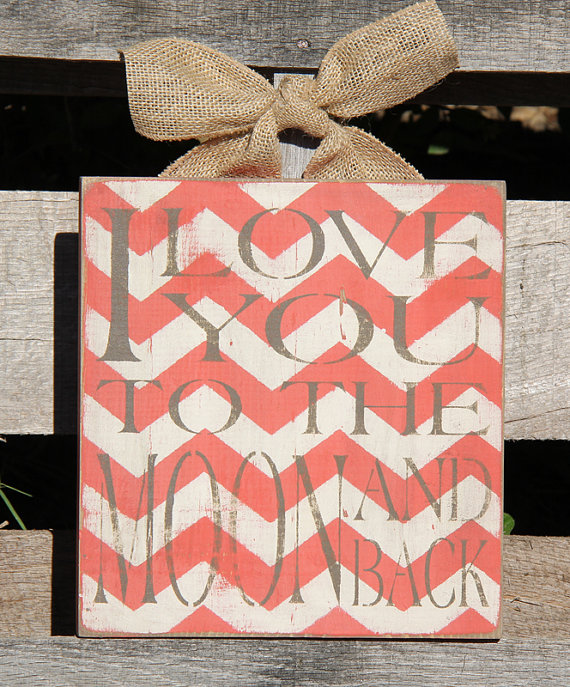 Chevron is everywhere and, shamelessly, I still love it. The colors on this sign are unique for a nursery and you'll soon become more acquainted than you want to be with the "I love you to the moon and back" sentiment. (SweetSouthernSavvy, $18).
Love you forever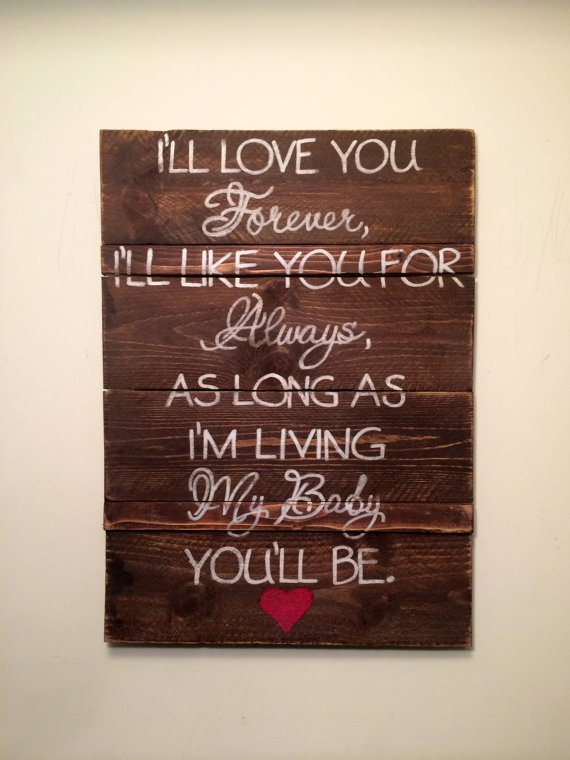 I pretty much can't even look at this sign without wanting to burst into tears. Granted, I'm still in that delicate postpartum stage of emotions after giving birth to my fourth baby, but I don't think any parent is immune to shedding a tear over this famous line. What better way to show your little one how much you love him? (PalletsandPaints, $45).
More on baby
Top 10 paint colors for nurseries
10 Great ideas for your new nursery
Baby nursery design on a budget