Diaper Bag Dos And Don'ts
You've got enough going on, mama. You don't need an aching back, too. Lighten up that diaper bag!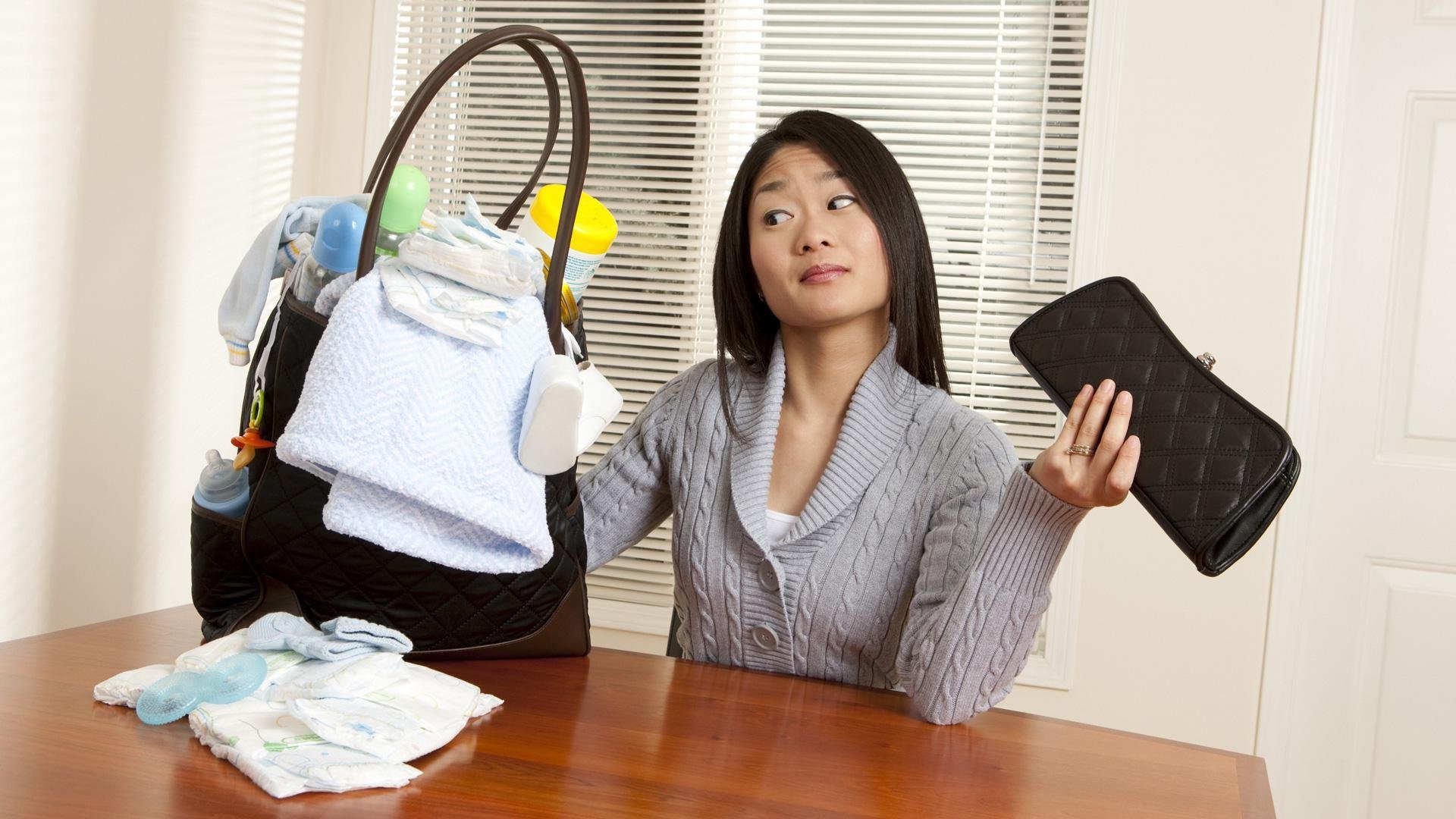 Photo credit: Design Pics/Ron Nickel/Getty Images
Your baby comes with a ton of gear, and it's hard to figure out what you do and don't need to lug with you when you leave the house. A well-stocked bag is a lifesaver, but if you over-pack, you're breaking your back carrying around things you don't need. Lucky for you, we're here to help.
What to pack
Diapers and wipes — This one's pretty much common sense, right? A good rule of thumb is to pack a diaper for every hour you plan to be gone, plus a couple extra. The travel packs of wipes are pricey, so so buy a full-size soft pack to keep in your bag. They're not much bigger, and you'll use them all, we promise.
Diaper cream — Pack a small tube of whatever cream or ointment you use for baby.
Bottles — Bring along enough formula or expressed milk to cover you for the time you plan to be gone, plus one extra.
Hand sanitizer — Get one of those cute little keychain bottles of sanitizer and keep it handy by attaching it to the outside of your diaper bag.
Burp cloths — Spit-up happens, a lot — so be prepared.
An extra outfit for baby — Diaper explosions, drool, spit-up and more can and will happen. Have an extra outfit at the ready.
A plastic bag — All those dirty clothes and used burp cloths have to get back home somehow.
An extra pacifier — You'll be surprised at how often these get flung from car seats and shopping carts. If your baby takes a pacifier, always have an extra.
Breast pads — If you're nursing, you know leaks tend to happen at the most unfortunate times. Place a couple of these in your bag, just in case.
A blanket — A simple blanket can easily become the most important tool in your diaper bag. Use it to cover your baby in the sun or rain, as a nursing cover, a changing pad or a bib. You can even throw it over your shoulder and use it as a burp cloth if you run out if clean ones. Oh, and it's also pretty handy for keeping your baby warm.
What to leave behind
Tissues — Unless you or baby have a cold, there's not much that can't be taken care of by burp cloths or wipes.
Nail clippers — Are you really going to cut baby's nails while you wait in line at Target?
Tons of toys — If you have a baby who is a few months old and likes to interact with toys, grab a couple small ones that clip onto the outside of your bag. They may help calm a fussy baby, but there's no need to pack a whole toy box.
Sunhat and sunscreen — Unless you're planning an outdoors outing, these just take up space in your bag. Use your blanket to cover baby during short amounts of time outside.
Plug-in bottle and wipe warmers — These are just bulky items that take up space in your bag. Most babies can drink bottles at room temperature. If they feel cold, run the bottle under hot water for a few minutes to warm it up. If your wipes feel chilled, rub it between your hands for a few seconds before you touch it to baby's skin.
Clothes for you — Everyone says you should pack a shirt for you in the bag as well, in case you get spit up on (you will). The problem is, by the time you actually need that shirt, it will be ridiculously wrinkled and clash with the pants you're wearing. Chances are, you'll opt for a quick swipe of a paper towel and be done with it.
More for baby
Diaper bag essentials
Diaper bags to die for
What to look for when buying a diaper bag