Is It Really Back To School Time?
For the first time ever, this school year I will have two kids in school, one toddler and one brand-spanking-new baby.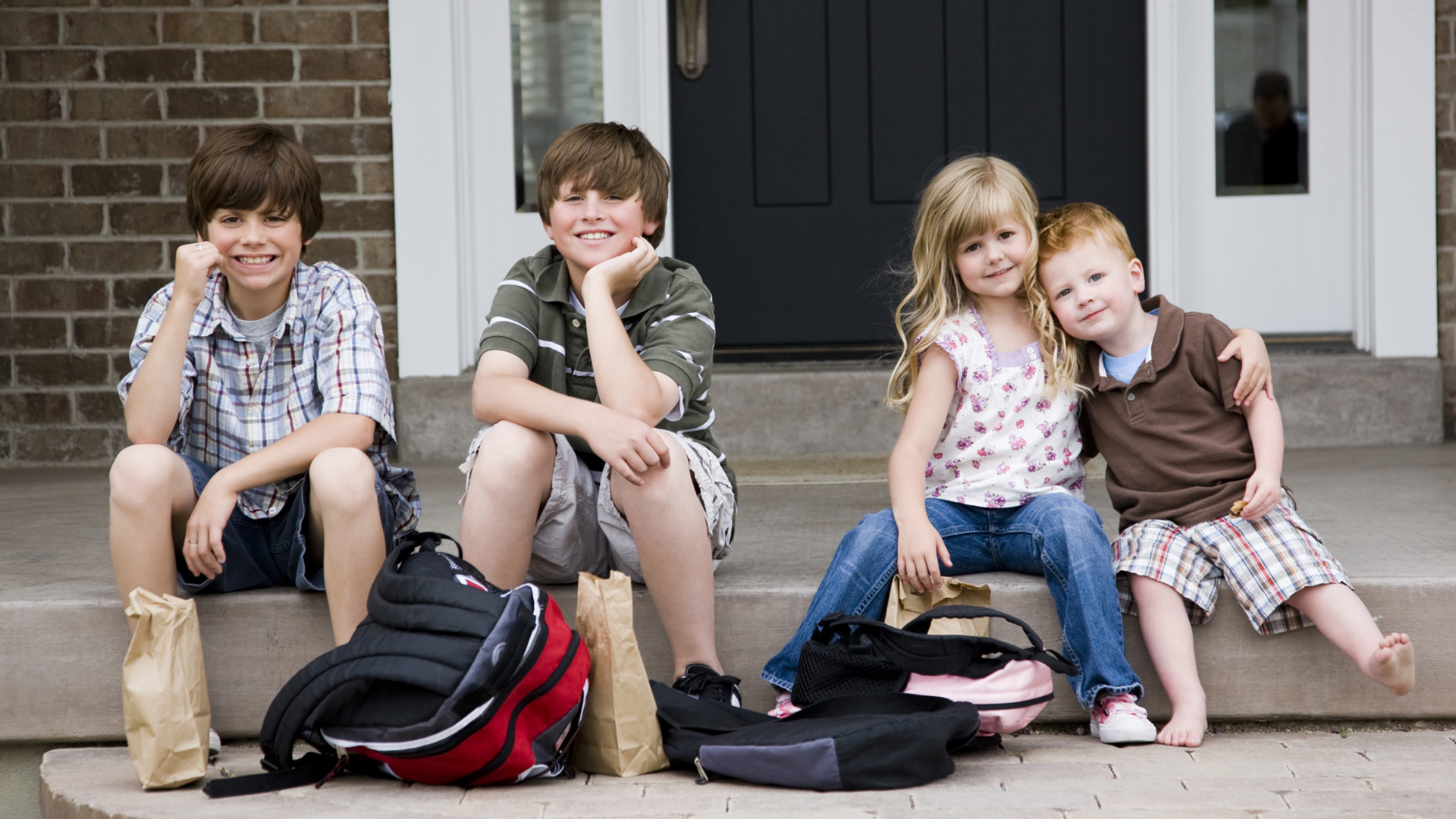 Photo credit: Rubberball/Nicole Hill/Brand X Pictures/Getty Images
And confession?
I'm scared to death.
Right on schedule
My due date for baby No. 4 happens to fall precisely one week before school starts. Assuming that she actually arrives by her due date (because babies are famous for that, right?), I will have a one-week-old to cart into school for all the back-to-school happenings. A school year that, I might add, will involve daily morning drop-offs at 8:25 a.m., thrice weekly preschool pick-ups at 12:30 p.m. and then daily pick-ups for the first-grader again at 3:35 p.m. Not to mention, I'll have to try to handle keeping my emotions in check about my second daughter starting preschool for the first time. Hormones will not be my friend that week. Oh, and then there's the fun of on-demand breastfeeding. Parking lot feedings, anyone?
And did I mention that my daughters' school is walk-in only? Meaning that not only do I have to be there and be presentable with a brand-new baby, but I have to take all four still-carseated children in with me every time.
Help me.
Finding a new normal
I know that I'm not the first mother to do the post-baby freak-out and to wonder how on earth she will do it all. And I also know that, in the end, it will all work out and we will fall into a new rhythm that suits our family. I think that it's completely normal to wonder how a new baby will affect the "norms" we have established in our daily routines, but let's be honest — since when do babies care about our precious schedules?
Over time, I've found that the best way to adapt to a new baby is to realize that life will be completely crazy for the first few months — and most importantly, to be OK with working a baby into our family life, instead of basing life solely around a new baby.
Asking for help
That being said, I'm finally starting to realize that this time around, I may just have to break down and admit that it's time to cut some corners, give myself a break and ask for a little help. Here's the plan:
Two words: online shopping. As much as I actually do enjoy back-to-school shopping, this year, I'm planning to do a lot of it online. I can order personalized backpacks, water bottles, lunch boxes and school clothes all while battling my Braxton-Hicks from the comfort of my own home.
Find another baby mama. And by this, I mean the plan is to align myself with another mother with a new baby and other young children who gets how hard this time in life can be. Hopefully, finding another mother who can help with the intricacies of coordinating school pick-ups and drop-offs will help ease the burden for both of us.
Talk to the teacher. I've already talked to my daughter's teacher about some options I might have for the pick-ups and drop-offs. Having my daughter walk out with an older student from the next class up? Putting another parent's name on the permission form so she can walk my daughter out to the parking lot for me? It won't be forever, right?
Hire a babysitter. I've tracked down a long list of homeschool students, college students and one unsuspecting sister who I'm hoping to look into hiring on a part-time basis during the fall, just until I can get settled in my new role as a working mom of four. Hiring a sitter could help me immensely, by allowing me to leave the littles at home while I do the morning drop-offs and pick-ups. Alternatively, I could hire a sitter to watch the baby while I catch up on work in the afternoons. Either way, just the presence of another (adult) set of hands might just save the day, even if costs me financially in the short-term.
Be OK with not volunteering. Honestly, last year, with just two toddlers and a kindergartener, I couldn't keep up on volunteering on a regular basis. So this year, I know I will be even more of a slacker parent. And I'm learning to be OK with that. I won't always have young children and babies, and when that time comes, I will be more than happy to volunteer my time more at their school.
Do you have any tips for juggling the back-to-school season with a new baby?
More on back to school
Back-to-school backpacks
Tips for staying upbeat for back-to-school shopping
5 Reasons your kids should pack their own lunches