Celebrate Love Family-Style
Your first Valentine's Day with a new baby brings an entirely new element of love to your Feb. 14 celebration. Celebrate the new addition to your family this heart day.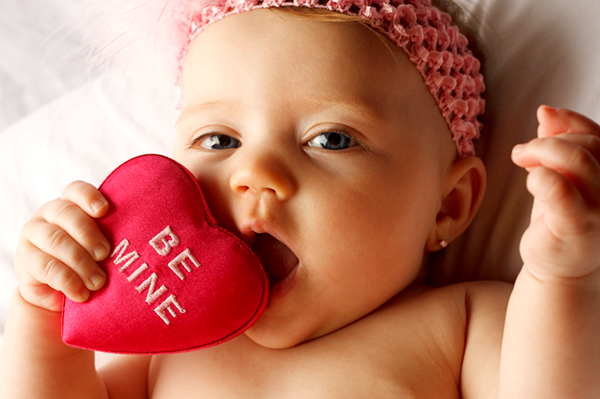 Include baby in special moments
Valentine's Day is about all kinds of love, not just the romantic kind. So it's perfectly natural (and so much fun!) to include your new baby in your Valentine's Day celebrations. Let her sport a cute "Baby's First Valentine's Day" onesie, give her a special "lovey" or simply shower her with extra love all day long! (Hint, she'll never notice or remember if you don't buy her valentine gifts so don't feel obligated!) If you and your man have some special Valentine's Day traditions like taking a romantic walk hand-in-hand, continue those traditions with your baby — simply put her in her stroller or carrier.
Take some cute photographs
Don't forget to grab the camera and snap away to commemorate Baby's first Valentine's Day! Take photos of her in her cute new Valentine's Day outfit (see above) or use props like red, pink and white helium balloons (or a simple red blanket) as a backdrop for your Feb. 14-themed photographs.
Stay in
Forget the pressure of trying to squeeze into a pre-pregnancy dress for a night on the town — especially if you're still recovering from Baby's birth. Enjoy staying in your comfy clothes and preparing a home-cooked meal (or ordering from your favorite take-out joint). You can include Baby in your special low-key dinner or wait to eat your meal until after Baby goes to sleep for the night so you and your man can have some time to chat one-on-one (though we're certain conversation will certainly be about your new arrival).
Cuddle up, relax and soothe one another
There will be plenty of future Valentine's Days when you and your partner will be ready to leave Baby behind with a sitter as you enjoy a swanky dinner at a fancy restaurant. But don't rush into that this year. Instead, cuddle up on the couch together, read and sing to your baby or simply coo at and fawn over him together. Once Baby goes to bed, enjoy some special downtime with your honey whether you watch a movie, give each other back massages, take a soothing bath together or simply cuddle up and fall asleep on the couch while watching the evening news.
Ditch requisite gifting
Don't worry about lavishing your partner or your new baby with overpriced valentine's gifts like giant stuffed teddy bears. Instead, focus on sharing this special time together with your little addition. Don't forget to shower one another with extra displays of affection — and a sweet card for your man (and new Dad) wouldn't hurt, either. Simply telling your loved ones how much they are cared for and appreciated — not just on Valentine's Day but every day — can make their whole day!
More on new baby
Becoming a family
Squeeze in new parent time
5 Ways to prepare your marriage for baby