Fresh Baby-Laundry Tips
There's not much that smells better than a newborn baby. The clothes, the hair, that irresistible neck! But did you know that baby detergent does so much more than smell delicious? Here's the down-and-dirty on washing baby's garments.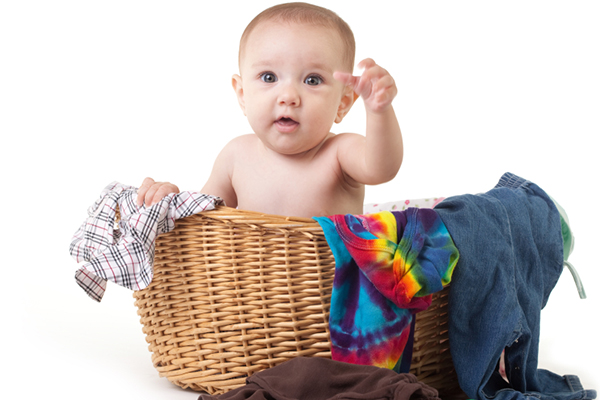 Getting ready for baby
Use the days leading up to baby's arrival to get all those tiny outfits washed, folded and put away. In addition to clothing, make sure you launder bibs, sheets, blankets, car-seat linings — and even stroller and playpen fabrics. If it's going to touch baby's skin, give it a wash. Why? Clothing manufacturers often treat garments with chemicals to prevent wrinkling or mildew during shipment. A trip through the washing machine will remove these chemicals as well as any residual dye that could irritate baby's sensitive skin.
Baby-laundry products
When it comes to choosing laundry products for baby, think mild. Natural options include baking soda, borax and white vinegar. Baby-laundry detergents such as Dreft are formulated to be gentle on baby's skin and tough on stains (and they make baby smell irresistibly delicious). If you choose to wash baby clothes in regular (nonbaby) detergent along with the rest of the family's, make sure to check your baby's skin for signs of irritation like red spots or itching. Switch back to a specially formulated baby detergent if necessary.
Stain-treating tips
Babies are adorable, but they're also expert mess makers. Between the gushing spit-up, food splatters and explosive poops, you'll be getting familiar with all kinds of new stains. The four words to remember are these: Rinse. Soak. Wash. Repeat.
Rinse messes as soon as possible with cold water, then place stained clothes in the washing machine with water and detergent and soak up to 30 minutes. Add an enzyme product during the soaking stage for protein stains (formula, breast milk, spit-up, most food stains and feces). If the stain is oil-based, use a prewash stain spray and scrub with a toothbrush or other stiff-bristled brush. Finally, wash according to the garment label. If one cycle in the washing machine removes the stain, go ahead and toss the garment in the dryer. If the stain persists, treat again before drying.
Be prepared
Keep a bottle of stain-treating spray near your changing table and in your diaper bag to quickly pretreat baby's clothing. (Extra plastic bags never hurt, either!) With the right preparation, spitty bibs and poop-smeared onesies will be no big deal.
Quick TIP:
Before washing, turn baby's clothes inside out to prevent fading and make sure all hook-and-loop (Velcro) closures are closed so they don't snag on blankets and clothing.
More new-mom tips
Chronicling baby's first year
Hottest new nursery trends
Must-have baby products for moms on the go