Tiny Bundles, Giant Hope
Premature birth can be a matter of life and death. We spoke with real moms who have lived through the trepidation of premature delivery, and needless to stay, their stories are nothing short of miraculous.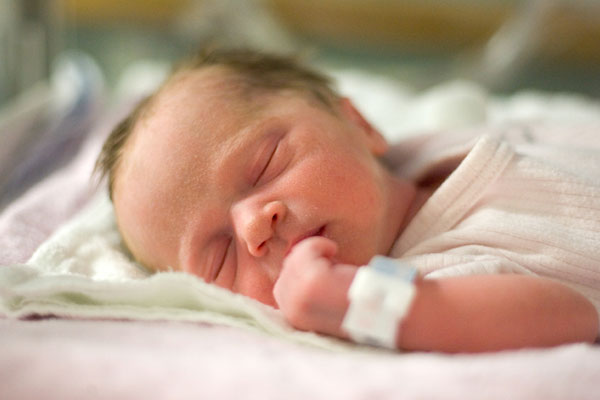 "She changed my life forever"
Nineteen years ago, Treena went into labor when she was just 26 weeks pregnant with her daughter, Makayla. Even though Makayla is now a healthy young woman who dances competitively for her university, Treena remembers with awe all of the miracles that occurred for Makayla to help her survive her first few months of life.
"To this day, I'm sure that even in my delusional haze, I saw a light surrounding her tiny body as they whisked her away for emergency care," Treena says.
Makayla endured multiple surgeries and several months of NICU care before she came home from the hospital.
"She changed my life forever," Treena says. "We moved to a new city for her ongoing medical care, and this city is where we've put down our roots. She has grown into a beautiful woman who touches everyone with her gentle and sweet spirit."
"We grew more faithful in great and powerful hands"
Laurie and her husband struggled to conceive for three years before receiving the happy news that they were pregnant with twins. At 22 weeks gestation, however, Laurie went into labor when she was at work.
"I was admitted to the hospital, where they did their best to slow down the contractions. The contractions slowed but never stopped, which made me a ticking time bomb," Laurie said.
After five weeks of bed rest in the hospital, Laurie's water broke and her twin boys were born by emergency cesarean section. Both weighed under 2 pounds and could fit in the palms of her hands.
"We grew more faithful," Laurie said, "knowing that we were in great and powerful hands. Our boys are now happy and healthy 3-year-olds. Every night before bed, they recite the banner that hangs above their beds: 'We are winners and we are miracles!'"
"My husband nearly made funeral arrangements for two"
Angela knew she was facing a high-risk pregnancy and delivery when she was admitted to the hospital at only five months gestation due to severe preeclampsia. She stayed on bed rest in the hospital for three months before she was released to go home for the remainder of her pregnancy.
The doctors had determined that her condition was resolving, but "As soon as I got home, my condition got much worse," Angela said. "We immediately returned to the hospital, and I was wheeled to the operating room for an emergency C-section. My husband was told that if he didn't allow the C-section right then, he'd be making funeral arrangements for two. We were lucky we made it on time because both my daughter and I almost didn't survive."
Thankfully, Angela's daughter Makyla didn't have to reside in the hospital's NICU unit for very long. She remained in preemie clothes for four months because she was so small at birth, but Angela is happy to report that Makyla is now a happy and healthy 8-year-old.
"I never realized how scary 'normal' can be"
Laura's pregnancy started as normally as any other, but it ended abruptly when she was diagnosed with preeclampsia and HELLP Syndrome. At 29 weeks gestation, she was told that the only cure for her life-threatening conditions was an emergency C-section. When Laura's daughter Abby was born, she was a mere 13 inches long and weighed just 1 pound, 13 ounces.
"Everyone in my family feared for her life because she was so tiny, but a NICU nurse reassured my husband that our little girl had not only lifted but turned her head within the first five minutes of life," Laura said.
For each of the 44 days Abby spent in NICU, Laura struggled with her new normal.
"It was incredibly difficult for me to accept that what I had to offer my child wasn't enough for her to survive and thrive, and it took me a long time to realize that she was exactly where she needed to be."
Abby's heart and breathing rates jumped up and down, and she had a Grade 1 brain hemorrhage, which doctors said was normal.
"I never realized how scary 'normal' can be," Laura said.
Happily, Abby is now 5 years old and as healthy and energetic as any other child her age.
More from Baby
10 Things you didn't know about newborns
Your baby's first year in checkups
Cloth diapering without a washer or dryer