Feeling Overwhelmed?
If you've ever attended a baby shower, you know that new moms are inundated with an overwhelming amount of baby clothes. But how much clothing does a baby actually need during those first few months of life?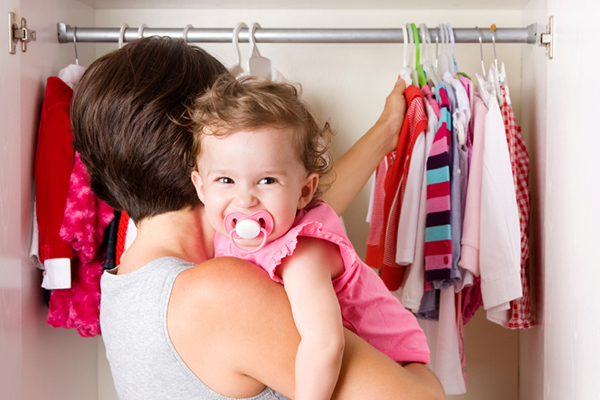 How much baby clothing do you actually need when your little one comes home from the hospital? The short answer is... not much. Your baby will grow so quickly, and you'll spend so much time changing diapers and cleaning up after blowouts, that you don't need to think too hard about a smashing wardrobe for your little one.
Basic recommendations
You'll need a variety of basic pieces with which to build your baby's wardrobe. These need to be practical, bleachable and disposable, if necessary. Since most babies outgrow newborn sizes within a few weeks, it's wise to build the wardrobe with size 0-3 clothes instead. Here's what you'll need:
Five to seven onesies. Depending on how hot it is outside, your baby may spend the first few weeks of life wearing only a onesie. Purchase them in a variety of colors for fun, but don't forget basic white.
Five to seven one-piece outfits. Like onesies, one-piece outfits don't require a lot of thought. They do, however, provide more warmth and coverage than onesies do.
Four to six pairs of pants. Throw these on over the onesies for a more "put-together" look.
Three to five gowns. Baby gowns are little miracles. They function as sleepwear, and they make it super easy to change a dirty diaper in the middle of the night.
Two or three pajamas. Essentially, all of the above pieces can function as sleepwear, but baby pajamas are just so cute that it's worth it to have a couple of pairs.
Special ensembles
Don't waste a ton of money on gorgeous baby clothing. Instead, pick out two or three beautiful outfits to serve as keepsakes and garb for special occasions. If you purchase much more than that, you'll find that the outfits remain in the closet or get ruined by baby food and spit-up. Here are the ensembles you should get:
One outfit for portraits. Most parents want newborn or infant portraits, so go ahead and splurge on an expensive outfit for the photos. You'll keep those pictures forever, so purchase something you really love.
One outfit for christening or baby dedication. Buy a nice outfit for your baby's baptism, christening or dedication service. You'll want to keep the outfit as a memento and perhaps even pass it down to future generations.
One outfit for a special occasion. Just buy one outfit for whichever holiday is closest to your baby's birthday. Don't plan too far out, because you never know how big your baby will be by the time the next holiday rolls around.
Pieces for layering during winter months
If you have a winter baby, it's important to have several pieces to layer over his or her basics. Just make sure not to overdo it, since you'll spend most of your time indoors during the winter. Here are the pieces you'll need:
One jacket. Make sure it's spacious enough to grow into.
Two or three sweaters. Purchase them in fleece or wool to layer over your baby's onesies. Consider purchasing sweaters with button-up fronts so they're easier to put on your baby.
Two or three wearable blankets. Fleece sleep sacks are the best. They will keep your baby warm at night without posing a suffocation hazard.
One or two fleece suits. For those rare occasions when you take your baby out in the frigid air, purchase a few one-piece fleece bodysuits for warmth.
Accessories
You may want a few accessories for both practicality and cuteness. Finish out your baby's wardrobe with the following pieces:
One or two hats. A nice cap keeps your baby's head warm, and it's darn cute, too.
Four to six baby booties or socks. Booties keep your baby's toes cozy, but you may find that they're more of a nuisance than they're worth. Have a few pairs on hand, but if your baby's toes are really cold, just clothe him or her in a full-body onesie instead.
One pair of baby shoes. Your baby really doesn't need shoes, but a cute pair can look great in baby portraits. Not only that, but they make a great keepsake.
Two or three hair bows. Hair accessories are great for differentiating baby boys from baby girls, so it's a good idea to have a few on hand.
More from Baby
Breastfeeding support: Common breastfeeding problems and solutions
Hemoglobin: The new test for babies
The real reason why many women don't breastfeed