Nursery Decorating Ideas For Winter
See how lifestyle writer Melissa Dunlap decorated her nursery for the holidays. Get inspiration for making your own baby's room merry and bright.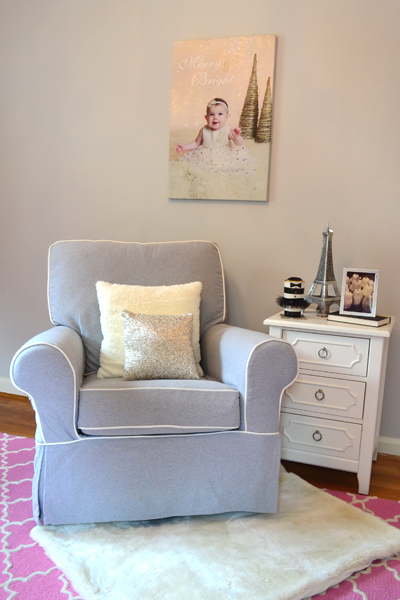 One of my favorite traditions as a little girl was how my mother used to decorate my room for the holidays. While my baby girl is too young to appreciate this just yet, I wanted to start the tradition by giving her nursery a seasonal update. Plus, I spend so much time playing and nursing in the baby's room that I wanted to refresh the space a little bit.
Add a bit of warmth
My daughter's bedroom decor is pretty colorful (get a peek at how I decorated my nursery here). Now that the weather has turned chilly, I'm craving a warm and cozy space for nap time cuddles and a lighter color palette to keep it bright during short winter days.
When I saw the pictures from our holiday photo session with LBV Baby Boutique Portraits I instantly knew one of the pictures was the perfect jumping off point for the space.
Cute canvas inspiration
One of my favorite holiday photos of our daughter was blown up on a custom canvas from Picaboo and turned into the focal point for a seasonal nursery makeover.
Using a combination of accents I had on hand, a few simple DIY decorations and a handful of accents I picked up during a holiday shopping trip, our nursery got an easy update for winter.
Winter nursery decor additions
A 30 x 20 inch canvas from Picaboo was the inspiration for the room. It's a large canvas and will be a great impact piece for holiday decor in our main living spaces in the future.
A cream toss pillow and beaded accent pillow from Target highlight the piping on the nursery glider.
This fabulous Alice+Olivia mug from Starbucks is a glamorous way to sip warm beverages and the lidded top keeps your drink from splashing baby.
I printed and framed this photo of sparkly pears from my Christmas Pinterest board (original source unknown).
A luxe faux fur stroller blanket from Restoration Hardware makes a cozy spot for playing. This would be a fantastic baby shower or holiday gift.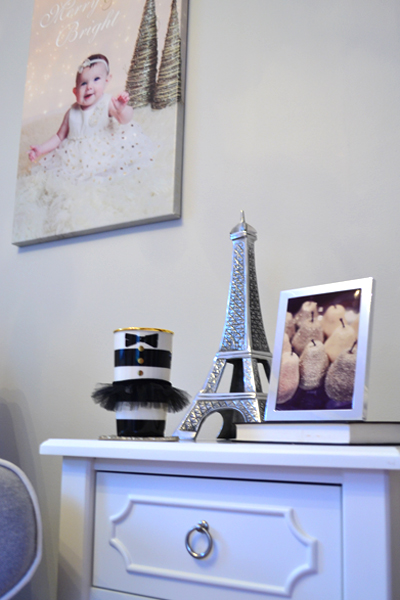 I downloaded the free "baby, it's cold outside" printable from overthebigmoon.com.
This winter photo on Pinterest (original source unknown) was printed on card stock and lodged into a yummy scented pine cone I snagged at Whole Foods.
Other seasonal accents include a picture with Santa, snow globe and more pinecones.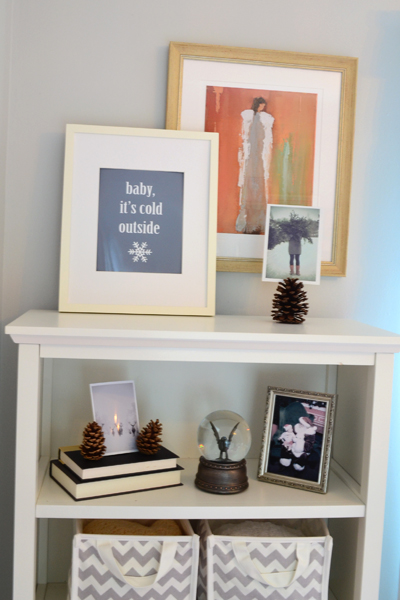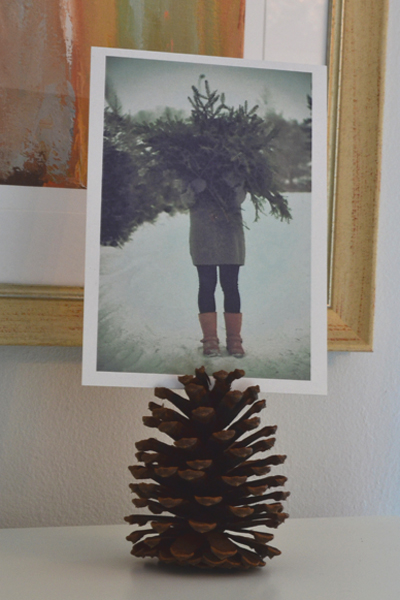 Special family items
My husband's childhood rocking horse got Santa-fied with a small hat from one of our baby outfits. Having the Santa hat out on display also reminds me to put it on baby girl during the holiday season.
A Christmas teddy bear that's been in our family for almost 20 years sits atop ready for a ride.
I had a blast decorating my daughter's room for the holidays. It was a great start to our own family tradition.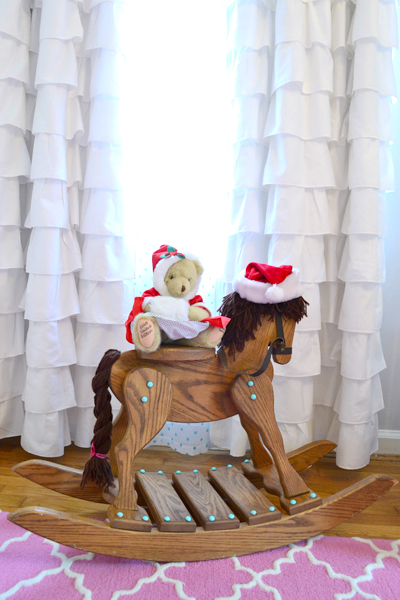 Photo credits: Images photographed by Melissa Dunlap. Photo used for canvas artwork is credited to LBV baby, lbvbaby.com.
Disclosure: I was provided the custom canvas courtesy of Picaboo. I decided to write about the product because I was impressed with the photo quality. All opinions are my own.
More nursery decorating ideas
HGTV debuts new nursery collection
Nursery essentials you and your baby will love
Coyuchi launches new organic baby and nursery collection