Car Seat Exudes Comfort And Safety
Looking for a convertible car seat that will last from 5 to 65 pounds? The Chicco NextFit Convertible Car Seat may fit the bill!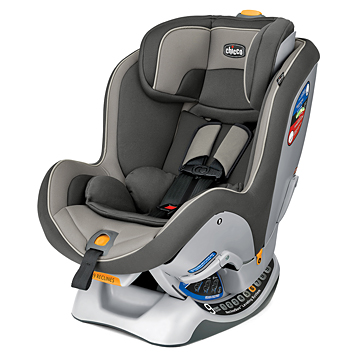 The NextFit Convertible Car Seat from Chicco is an awesome choice for parents looking for a car seat that will last for a very long time. You want to make a good decision when it comes to protecting your child in your vehicle. Chicco doesn't disappoint with the NextFit.
Features
Here are some of my favorite features of this car seat.
Long life: The NextFit is extremely versatile — parents will love that it can rear face from 5 to 40 pounds, and forward face up to 65 pounds. It also comes with an infant insert that provides additional support for smaller babies.
Super recliner: The ReclineSure™ 9-position Leveling System allows for perfect customization to fit in a wider range of vehicles.
Easy installation: It's a cinch to install, and attaches to your vehicles LATCH system with way less effort than other seats. Also, the two bubble indicators help provide guidance for proper, level installation. I really enjoyed not having to sit on my knees in the seat while tugging on the strap to get it good and tight. There is some fabulous technology behind the SuperCinch™ LATCH Tightener!
Plush: It's a very soft and plush car seat — it may be the most comfortable one I've seen or used.
Our take
This is a fabulous car seat. It's nice and deep, and the heaviness of it makes it feel more secure. It installed easily, as noted above, and my kiddo told me she felt really comfortable riding in it. I also love how long it will last — a 65-pound weight limit is amazing, and the fact that it will rear face until a child has reached 40 pounds is well in line with current car seat safety recommendations. I also love that you can adjust the harness straps without rethreading them. It can be a bit of a challenge getting her buckled in due to the depth of the seat (she's not always 100 percent cooperative) but once she's in there, I feel very confident in her comfort and safety.
Writer's note: Chicco provided a NextFit Convertible Car Seat for review. All opinions are my own.
More cool baby gear
Holiday shopping guide: For Mom
Cold weather gear for baby
HGTV Home debuts new nursery collection