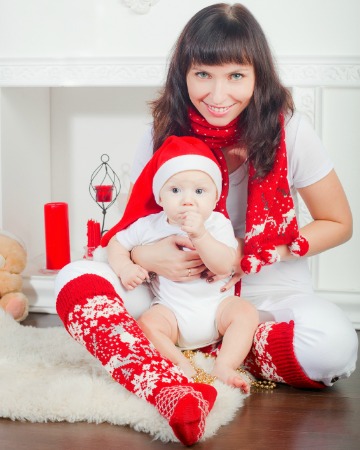 holiday Gifts for babies
"We are not getting her anything for Christmas," my husband told me sternly on the eve of our first Christmas shopping trip as parents. Our daughter, a mere 6 months old, blinked innocently as we argued in the kitchen.
"Nothing?" I asked incredulously. "How can we not get her anything? It's Christmas!"
In an ironic turn of events, when I finally dragged him out to the store, it was my husband who got that magical Christmas glint in his eyes. Suddenly, I couldn't keep track of him as he sprinted from aisle to aisle, his arms overflowing with enough useless and expensive presents to last us through our two subsequent, yet-to-be-born children.
"Ooo, this looks nice!" he shouted at me from behind the bin of bouncy balls. "Oh, and how about this ride-on train? She would love this!" he called seconds later, somehow six aisles over.
After I was able to tackle him in the Barbie aisle (Barbies, really? For a 6-month-old baby, honey?) and snap him out of his Christmas shopping mania, we settled on the all-important task of deciding what presents really were best for a baby.
The bouncy ball
You really can't go wrong with a mid-sized bouncy ball for a baby. (Obviously, don't go with anything remotely small enough that she could choke on it!) Not only is a bouncy ball very inexpensive, but it's the perfect size for inquisitive baby hands. We were able to prop her up between our legs and roll the ball between us, encouraging her to strengthen all of those muscles she needed to sit up, along with promoting eye and hand coordination. After we successfully rolled the ball back and forth, she also picked up on the exciting baby development of her first clap!
Building blocks
For some reason, my husband once again fought me on this. I thought that the brightly-colored bag of plastic building blocks would make the perfect present for our little one — he thought the small price tag was way too boring. Can you guess who was right? I can tell you honestly, that after six years of parenting, with an entire basement packed with hand-me-down toys (including that ride-on train), a trampoline and a giant rocking horse, nothing gets played with more at our house than that beat-up basket of building blocks. Mom: 1, Dad: 0. (OK, so we're not really keeping score, but if we were, I'd totally be winning.) I also like the building block present, because they have a lot of really great classic wooden options if the idea of your baby chewing on plastic doesn't sit well with you.
The chewable book
And speaking of chewing, I happen to be a fan of books for babies. Of course, I am an unabashed book lover — I am a writer, after all. But regardless if you share my affection for the written word, a chewable, soft cloth book makes a great first Christmas gift for baby. Bonus points for peek-a-boo versions and those that make crinkly sounds!
The play cell phone
The smartphone addiction starts early, my fellow mom friends. And instead of fighting it, I totally suggest giving in now and providing your little one with a baby-friendly version. Although they have the baby toys that convert your iPhone into baby-compatible, drool-proof toys, I really think those are a bit of overkill. Plus, your baby may look small and harmless, but I guarantee you that she knows the difference. She will absolutely want the actual phone if you go there.
Savings bonds
Boring? Yes! Useful? Of course! Every year, my children's grandmother gifts her grandchildren with savings bonds, and although they don't know it yet, her gifts are definitely a gift that keeps on giving — in about 10 years or so, that is. Turn that $25 into $50 down the road and say good-bye to that baby on her way to college. (Sob.) 
Baby's first ornament
Browse Pinterest or go DIY by ordering online for a Christmas ornament that will help you remember your baby's first magical Christmas. This isn't a gift for your baby, per se, but it will be every year when she pulls out that ornament, made (or ordered) by you with love and gets to hear you gush about how adorable she was as a baby.
More on Baby's first Christmas
Best names for Christmas babies
6 Ways to baby-proof your home for Christmas
Why Baby's first Christmas is overrated