Your Baby Can Enjoy Holiday Fun, Too!
This winter, don't stay cooped up inside. Enjoy the holidays at one of these baby-friendly festivals around the country with your entire family.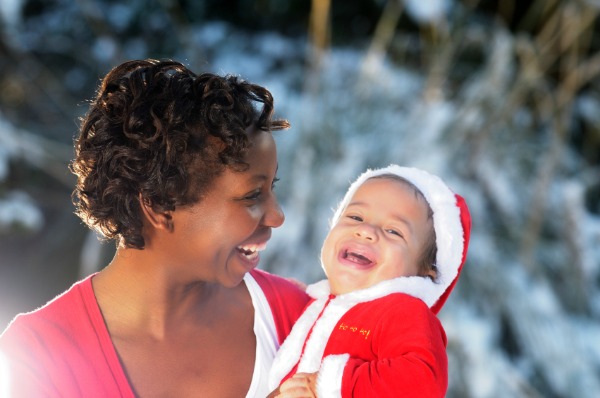 Midwest
2013 Target Holidazzle in Minneapolis, Minnesota
It's time to bundle up, load up the kids and be dazzled by the 2013 Target Holidazzle! Get the baby comfortable in his carrier, stroller or covered sled and take in the illuminated floats, festive music and even Santa in his sleigh! It's worth the trip to downtown Minneapolis to celebrate this holiday tradition.
Why Baby will like it — Your tiny one will ooh and aah over all of the brilliant lights and movement and be stimulated by lots of cheerful music. Just be sure to dress warm!
Event dates — Friday and Saturday nights from Nov. 29 to Dec. 21, 2013
Cost — Free
Christkindlmarket in Chicago, Illinois
Chicago's largest open-air Christmas festival, the Christkindlmarket offers visitors a unique holiday shopping and dining experience, with handblown ornaments, classic German products like nutcrackers, cuckoo clocks, toys and beer steins and loads of authentic German food. Come on Wednesday, Saturday or Sunday between 2 and 4 p.m. to meet Christkind. Your family can take a photo and hang out at Christkindlmarket Kinder Korner for kids' activities like scavenger hunts.
Why Baby will like it — Baby will be entertained by different vendors boasting German games, food and toys.
Event dates — Nov. 26 to Dec. 24, 2013
Cost — Free
Pacific Northwest
WildLights at the Woodland Park Zoo in Seattle, Washington
Participate in Seattle's wildest winter holiday lights festival, WildLights, at the Woodland Park Zoo! Make this event a new holiday tradition, boasting zoo animals — including reindeer — and thousands of twinkling lights. With both indoor and outdoor light displays, you'll have a chance to warm up inside when the little ones get cold. Teach your kids about animals and the holiday spirit.
Why Baby will like it — What baby doesn't love animals, faux snow and carolers?
Event dates — Nov. 29, 2013 through Jan. 4, 2014, 5:30 to 8:30 p.m.
Cost — Adults (13 years and up) $9.50, kids (3 to 12) $6.50, toddlers (ages 2 and under) are free
East coast and more
How the Grinch Stole Christmas the Musical: New York, North Carolina, Ohio and Texas
Discover the magic of Dr. Seuss' classic holiday tale in this fun-filled musical, How the Grinch Stole Christmas. The Grinch discovers there's more to Christmas than he bargained for in this heartwarming holiday classic.
Why Baby will like it — Exciting storytelling, music to bop to and animated visuals.
Event dates — Dates vary depending on your location.
Cost — Prices vary per location.
West coast
Balboa Park December Nights in San Diego, California
Spread the joy with your family and friends at Balboa Park's December Nights in San Diego. Kick-off the "most wonderful time of the year" with a multicultural experience, enjoying food, music and entertainment from around the world. Watch musical and dance performances, eat eclectic fare and help spread holiday cheer.
Why Baby will like it — Teach your baby about international foods and cultures while cruising in the comfort of his stroller.
Event dates — Friday, Dec. 6, 3 to 11 p.m. and Saturday, Dec. 7, noon-11 p.m.
Cost — Free
South
Holiday Fantasy of Lights in Coconut Creek, Florida
The Holiday Fantasy of Lights is three miles of giant animated holiday displays and illuminated trees, combining classic favorites and exciting new creations. It is safe and fun for all ages, as you remain in your vehicle and drive through the holiday spectacular.
Why baby will like it — They get to remain warm and dry in the car, while viewing jaw-dropping light displays.
Dates — Friday, Nov. 22, 2013 through Saturday, Jan. 4, 2014; open nightly 6 -10 p.m.
Cost — $13 per car
Brunch with Santa and his Elves in New Orleans, Louisiana
The Bourbon Orleans invites visitors to celebrate the magic of Christmas at Brunch with Santa and his Elves. Nosh on a wide variety of foods, from ethnic foods to traditional brunch fare, and partake in festivities including live music, a meeting with Mrs. Claus, treat-filled holiday stockings, interactive activities and more! Reservations required.
Why baby will like it — Baby will be excited to meet Mr. and Mrs. Claus as well as the elves and have fun dining on various finger foods.
Dates — Dec. 8, 15, 22; seatings at 10 a.m. and 1 p.m.
Cost — Adults $52 , kids (5 to 12) $24 , children (under 5) are free
More Christmas activities for kids
Teaching your kids to give back around the holidays
5 Kid-friendly Christmas Eve traditions
Keep kids occupied on holiday vacations