Learning Is Fun!
Babies love to keep busy with toys that are interactive. With different playthings that teach cause and effect, coach hand-eye coordination and more, Baby can have fun and learn at the same time. We love these 10 developmental toys for babies.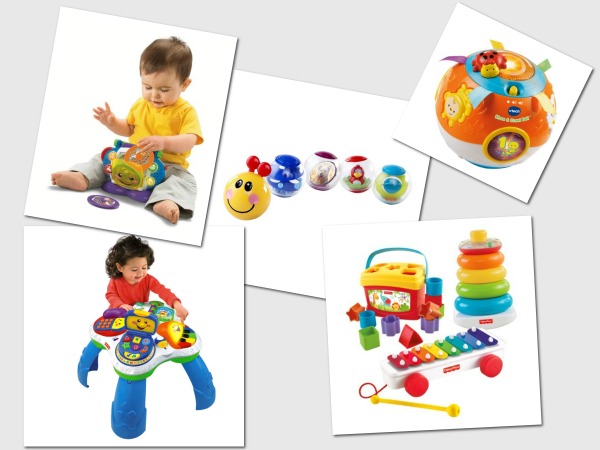 Become bilingual
Every corner of the Fisher-Price Laugh and Learn Fun with Friends Musical Table (Amazon, $42) has its own interactive learning center full of dazzling lights and musical sounds. It encourages discovery all around the table and teaches letters, numbers, counting, colors, shapes and animals — in both English and Spanish no less!
Fun with music
Cultivate an early appreciation for music, have fun with rhymes and encourage interaction and imagination with the Fisher-Price Laugh and Learn Sing-With-Me CD Player (Babies R Us, $22). Your tot will love its flashy buttons, sing-along songs and stories.
Wildlife, shapes and numbers
The innovative VTech Move & Crawl ball (Target, $10) has six colorful animal buttons, so your baby can learn about wildlife, shapes and numbers. The motorized ball creates flashing colors and lights that are a fun playmate for babies and inspires your little one to crawl.
Promotes fine motor skills and crawling
The lights, chimes, rattles, imagery and different textures on the Baby Einstein Roller-pillar Activity Balls (Target, $10) make it easy for little hands to touch and explore. The five unique activity balls offer various experiences and promote fine motor skill development and crawling.
Hand-eye coordination
Baby can sort and stack all five colorful rings on the Brilliant Basics Rock-a-Stack, sort and drop 10 shapely blocks with Baby's First Blocks, and play music on a xylophone with the classic Infant Trio (Target, $28).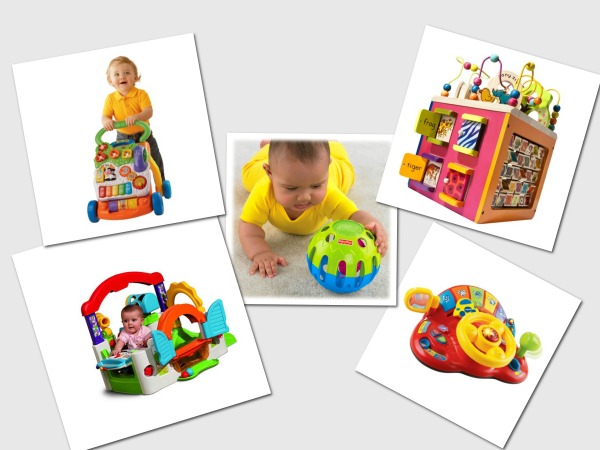 Learn to drive
The Learn & Discover Driver (Target, $14) features three modes of play, a 3-D car, traffic light, mirror, joystick, steering wheel, an ignition key, radio and a gas pump to keep the role play fun and fresh.
From crawling to walking
The VTech Sit-to-Stand Learning Walker (Target, $30) helps develop a crawler into a walker. With three light-up shape sorters, spinning gears, colorful rollers, five piano keys and a telephone handset, your little one will learn to recognize shapes, colors, animals and more.
Learn cause and effect
The Fisher-Price Growing Baby Clutch Ball (Walmart, $6) helps develop hand-eye coordination as Baby grasps, shakes and rolls the ball. Your tiny tot will learn about cause and effect when rewarded with playful sounds and movement.
Develop cognitive abilities
The Little Tikes Discover Sounds Activity Garden (Toys R Us, $73) offers loads of fun with several different attached toys, including a crawl-through obstacle course, a ball-drop flowerpot, window shutters that open and close for peek-a-boo, a telescope, a shape-sorter mailbox and a multilingual telephone.
Zoo animals
This B. Zany Zoo Wooden Activity Cube (Target, $60) has a zoo theme with looming routes and zigzag paths with spinners to keep kids entertained for hours while they learn shapes and colors.
More gift ideas for babies
Holiday gifts that inspire the imagination
Eco-friendly gifts for kids
Top holiday gifts for babies