Stay Warm!
Don't feel like you have to stay cooped up inside all winter because you have a baby. Get out there and have fun! Just keep warm while doing it with these affordable winter baby items.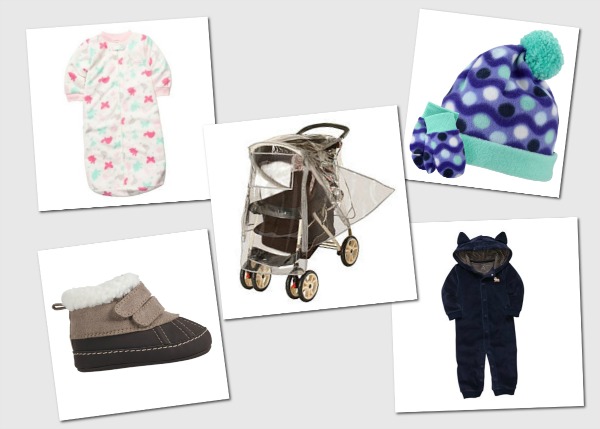 Super soft hat and mittens
Available in several cute prints, this Frosty Fleece II Set (Columbia, $22) will keep your baby's head and hands snug and warm. And with adjustable cuffs, the mittens can grow with your little bean.
Nothing "ruff" about this jumpsuit
This adorably fluffy Carter's Velour Hooded Dog Jumpsuit (BeallsFlorida.com, $13) with puppy ears will keep Baby warm and toasty this winter.
Cover those tooties
To keep little feet cozy, we love Carter's Duck Boots (Kohl's, $11). And an adorable option for little girls are the Tendertoes Sequin Leopard Bootie Crib Shoes (Kohl's, $14).
A sleepbag with arms
In the wintertime, nights get cold. Keep your wee one comfortable in their crib with Carter's Microfleece Sleepbag (J.C. Penney, $10). Just zip them up and let them snooze away.
Protected from the elements
Just because it's chilly outside, doesn't mean you can't enjoy a crisp walk outside. Or maybe do some Christmas shopping at an outdoor mall. Simply toss the Premium Stroller Weather Shield (Babies R Us, $15) over their buggy to keep out the rain or snow, and tuck in some blankets for a winter ride.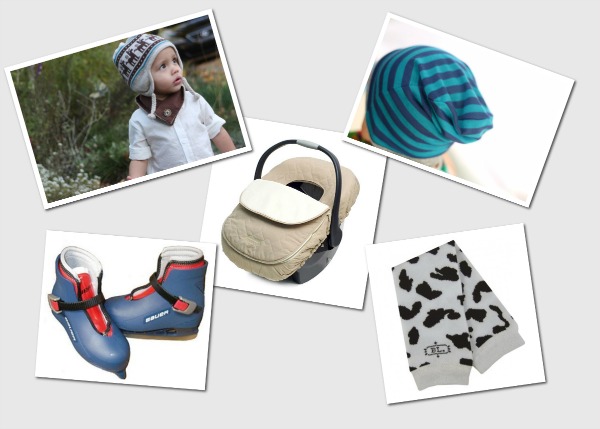 No more kicking off the blanket
Forgo the jacket and keep your peanut protected with JJ Cole's Car Seat Cover (Babies R Us, $30). Made of fleece and weather-resistant nylon, it's perfect for those harsh winter months.
Your tiny hipster
Just because they're pint-sized, doesn't mean a kid can't be stylish. Opt for a Baby Slouchy Beanie Hat (keerasama for Etsy, $14), for functionality and fashion.
Skate on over
Is your kid the next Apolo Ohno? It's never too early to test your child's interest in sports and hobbies! Bauer's Lil Champ toddler ice skates (Amazon, $32) provide needed support and comfort for your future Olympian.
Accessorize this season
This trendy Safety Scarf (TaiandTrey on Etsy, $20) will keep Baby's neck dry and looking stylish.
Put boring legs out to pasture
Keep those stems covered with these wild animal print Cow Arm and Leg Warmers (BabyLegs, $12)!
More winter gear for babies
Winter fashions for your tot
Family bargain hunting for next winter
Cold weather gear your kids will love