Expressing breast milk on the job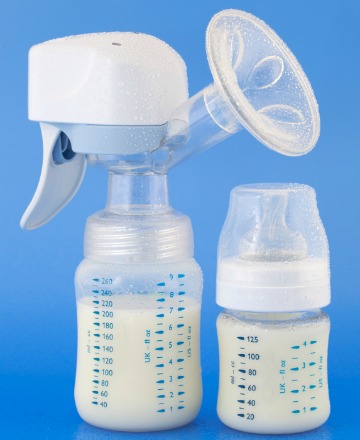 Guide to pumping at work
Going back to work after maternity leave can be difficult, but the added stress of figuring out how, when and where at work to pump breast milk for your baby can make it even more stressful.
Here is your complete guide to what you'll need to make breastfeeding while working a success.
Your legal rights for pumping at work
According to the National Conference of State Legislatures, any company with more than 50 employees is required by law to provide a space for women to express breast milk, other than a bathroom. Additionally, they must allow break time for pumping, as many times per day as needed, up to the child's first birthday. However, employers are not required to compensate for break time used to express breast milk.
Who to talk to about pumping at work
If you prefer, you can speak directly to your boss about the situation. Let him or her know that you will need a clean lactation room, and tell them how many times per day and for how long. Discuss if you will need to use unpaid break time, or lunch time in order to do so. You'll feel better if you know your expectations. I was provided with a laptop at my workplace, so that I could take it with me and work at the same time. This was not something they asked me to do — I volunteered and was happy to multitask.
If you're uncomfortable talking to your boss, you may go straight to human resources. Again, just let them know what you need and they should be educated on their legal obligations and oblige accordingly.
How to talk to your boss or HR about pumping at work
While it's totally natural to breastfeed and pump breast milk, it can still be embarrassing to talk about — especially to a male boss or even a female boss who does not have children. If you're uncomfortable requesting a lactation room and break time in person, it is totally acceptable to send an email. It will also give your boss time to look into accommodations, as he or she may not be informed on what is available in your work space. Just keep your email simple and factual, and be sure to specify that the room must have a lock.
How to pump at work
Now that you know your legal rights, who to talk to and what to say, you may be wondering how to navigate the waters of pumping at work.
You'll want to pump as often as your baby would usually nurse, in order to keep your milk supply up. If your baby hasn't started eating solids yet, this is usually every three hours. If this is the case, you can expect to pump three times during the work day. You'll also learn very quickly how many ounces you need to supply your baby with milk while at child care the next day. Some women can express enough milk in 10 to 15 minutes. For others, it can take 45 minutes or more.
Before pumping, it's important to be comfortable. It is recommended that you take in a photo or other item with your baby's scent to help with "let-down." If distractions bother you, wear headphones and listen to relaxing music. If you're up for it, bring your work into the room with you so you can multitask. Or make those phone calls you've been meaning to catch up on. This may be the only alone time you have! It can't hurt to keep an extra shirt in your car either, in case you get breast milk on your shirt.
Supplies you'll need to pump at work
First, be sure you have a reliable breast pump. If you're working full-time, you'll want to invest in a double electric pump, so that you can express from both sides at once. We really like the Medela Freestyle Breastpump as it's lightweight, compact, discreet and equipped with "expression technology," making pumping faster.
Next, consider forgoing the Medela bottles and lids. Instead, use the bottles your child drinks from. Just screw the bottles directly onto the breastshields — almost all bottles will fit these parts. When you're done, screw the nipples onto the bottles, pop on the lid, put them into your little cooler and your child's bottles are ready to go for the next day!
Consider purchasing extra breast shields so that you don't have to wash them between pumping sessions. They are only $10 each and worth the convenience. Or purchase Medela quick clean breastpump and accessory wipes. They are hygienic and are proven safe for cleaning breast pumps, breast shields and accessories.
What will my coworkers think?
While oblivious coworkers might be curious as to why you lock yourself into the conference room with a backpack a few times a day, you are not responsible for talking to them about it. If you have an office job, just mark your calendar as "busy" during your pumping breaks. This way they'll know not to schedule your meetings when you need to pump. If someone asks, if you're not shy, just tell them the truth. If you're uncomfortable, tell them you just need to work in a quiet space for a bit.
More on nursing
Simple Wishes nursing bra review
Breastfeeding tips for first-time moms
Why breast is best for babies