Handmade Gifts That Show You Care
Busy moms barely have time to make it to the local big box store to pick up a gift card or baby toy for that belated shower gift or new-baby welcome. But there are handmade items out there that share an awful lot more love and feeling than your run-of-the-mill receiving blanket and three-pack of onesies… and they're just as easy to order and purchase (perhaps even easier) than putting that new-mom or shower gift on your everlasting to-do list.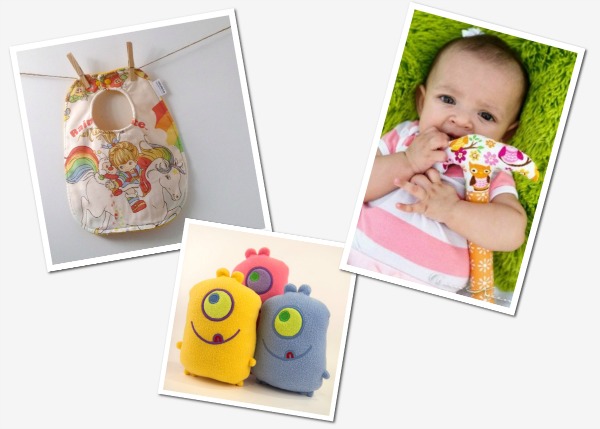 May the bib be with you
Jesi Josten's Hip Violet baby bibs feature trendy designer fabrics and animal appliques. "All of our bibs are oversized to actually cover those adorable clothes. They feature two snap sizes to fit newborns through toddlers," says Josten. Check out the online shop, that boasts over 40 different girly, boyish and gender-neutral designs. You'll also see bibs made from upcycled bed sheets showcasing blasts from the past — Rainbow Brite, Smurfs, Strawberry Shortcake and more.
Shake it, baby, shake it
Here's the dilemma with Little DeMoura Designs — you'll find it difficult to part with whatever item you order as a gift, so you might want to order two. Gina DeMoura's unique handmade creations include matryoshka doll rattles, plush hammer rattles and teething buddies. Her in-demand snuggle babies can be customized by skin tone, hair color and fabric choice, and you can also encourage some early superhero action by adding a cape to the little guys and gals.
No one's scared of these monsters
Ray Tollison's stuffed monsters from A Monster to Love are a great first toy for newborns. "They have no removable parts, everything is sewn on and they are smaller — perfect for little hands. They also come in fun, bright colors," says Tollison. Bonus — A Monster to Love works with organizations like Realities for Children to distribute their monsters — so when you purchase a monster, you also give one to another child somewhere who could truly use a monster to love.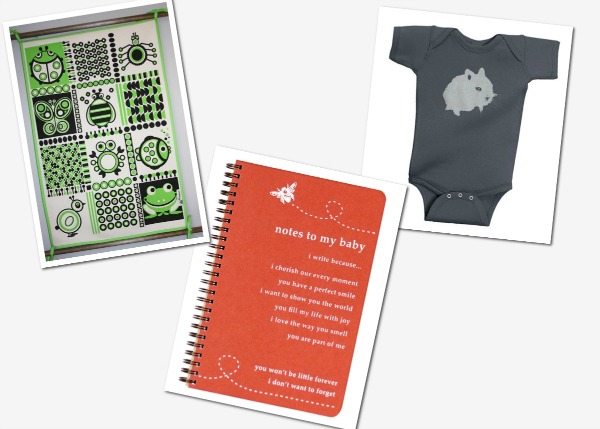 It's black and white (and British!)
Whether you've been on the royal baby bandwagon or not, you can't go wrong with handmade gifts sent with love from the U.K. for the new arrival. Rebecca and Anna at MarthaLewis produce graphic prints designed to feed baby's imagination, hold her attention and encourage her eyes to focus. "The first images a baby notices are black and white, crisp and simple — these are what we create," says Rebecca. Versatile and easily transportable, picture play mats can be hung on the wall, in the car or by the changing table to keep baby busy. Flash cards can be placed in a bassinet or used as tummy time motivation.
Rock the retro onesie
A mom can't have too many onesies for her newborn. Instead of buying a typical three-pack that's nothing special, gift someone with newborn duds featuring everything from gnomes to motorcycles to robots. The screenprints on Counter Couture's soft onesies will definitely appeal to retro, trendy mamas — and many parents will appreciate that unlike any other onesie that makes the "future baby quilt" cut. Matching cotton beanies have adjustable top knots to fit that sweet baby's head perfectly. More handmade-to-order onesies come from Finch Pickles and can be personalized for a one-of-a-kind gift.
Sweet somethings for mama
Accompany your unique new-baby gift with something special for the new mom too. Give her a tearjerker of a gift — a hand-printed baby journal from Make My Notebook titled Notes to My Baby. It'll make her grateful for years to come that even though she's short on sleep, she took time every day to jot down a few notes about life with baby. For the practical mama who loves convenience and compactness (and who now has her hands very full), order an iPhone leather wallet case from SmartCover with places to store cards, cash, ID and, of course, her smartphone.
More articles about baby gifts
Throw a baby sprinkle
Eco-friendly baby registry checklist
Monthly subscription boxes for moms and kids