Make Feeding Easier While Out And About
When your baby was only eating formula or breast milk, all you had to do was bring along your nursing cover, or throw a bottle and formula into your diaper bag. But now that your baby is growing, it can be more challenging to feed him on the go.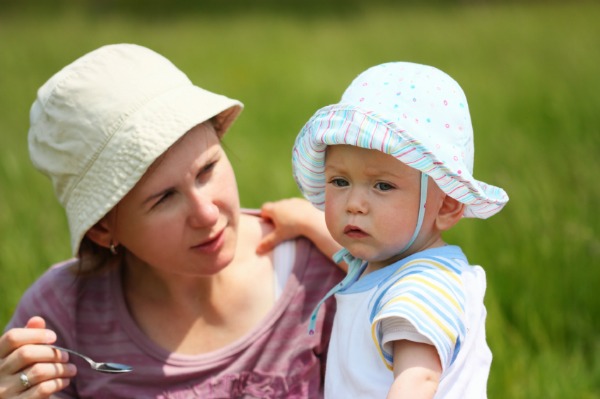 Whether you're out running errands, or going on a day-long adventure, you have to find time to feed your baby.
1
Stackable storage containers
The Innobaby Packin' SMART Stack N Seal 4 Tier Travels food storage system (Innobaby, $18) is perfect for moms on-the-go because they're light, portable, leak-proof (even with liquids or pureed baby foods) and an easy shape to shove down into your diaper bag. With four separate containers, you can pack a whole smorgasbord of snacks for your little one and they won't mix!
2
Mini fridge with car adapter
We're mildly obsessed with the affordable Wagan Personal Fridge/Warmer (Amazon, $43). It takes up little room, but does double-duty. Just plug it into your car's outlet and keep your child's food, formula or breast milk safely chilled until it's time to eat — then simply flip a switch and warm up their meal in the same device!
The Sippin' Smart ez flow Stainless Sippy cup (Innobaby, $20) is easy for small hands to hold and has a straw with a weighted stainless steel ball so the fluid flows freely. The straw is flexible too, and spill-resistant when turned upside down. An easy-grip lid complete with a leak-proof silicone seal means the kiddos can drink in the backseat and you don't have to worry about a mess.
It can be difficult to control bored children in a restaurant, but not anymore! Simply pull the reusable, silicone Kidz Placemats (modern-twist.com, $16) out of your purse (which folds or rolls up nicely) and let them doodle away. It works with any dry-erase markers, and wipes clean when they're done. Genius!
The reason we love the Lasinoh mOmma Mealtime Fork (Albee Baby, $5) is because it comes with its very own cover, and the round base doesn't allow the fork to touch the table. Germ-free on all accounts — a win-win.
Pack a meat, grain, veggie, fruit and dairy all in one meal with the clever Din Din Smart Stainless Bus Platter (Innobaby, $18), complete with five different compartments. Just slap the lid on top and haul it out the door for mealtime on the go.
Not every establishment you visit will accommodate toddlers. That's why the compact First Years On the Go Booster Seat (Target, $18) is perfect for getting your little one comfortable enough to eat. With a pull of a valve it self-inflates, like magic, into a solid, full-size booster seat. With an adjustable safety belt, you won't have to worry about an active child. When you're done, push out the air and fold it back up.
The deep pocket on Modern Twist's Bucket Bib (modern-twist.com, $20) as well as the soft, silicone construction makes this bib easy to clean and keeps the floors clean, too.
More on feeding kids
Healthiest ways to feed your toddlers
Don't feed your baby solids too early
Creative baby food ideas