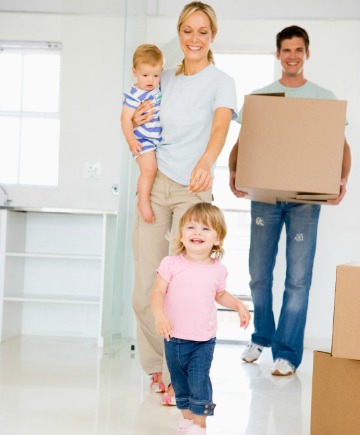 Moving house with Baby
Moving is an unavoidable reality for many, but if you have a young baby in your family the logistics can be a bit overwhelming. These helpful tips will have you packed up and moving in no time.
Whether you have hired movers or not, it can be amazingly crazy trying to move when you have a baby. When you make plans a few weeks before the big day, your move will likely go smoother.
Wear your baby
Wearing your baby will make packing a breeze. If you're not used to wearing your baby in a quality baby carrier such as a Moby wrap, an Ergo or a Beco, practice for a few weeks before you need to start packing to get both of you used to it. Your baby will likely love being worn and may even fall asleep in it — and the best part is, both of your hands are free while you're loving and cuddling your baby.
Work in chunks
Instead of trying to pack everything in one day, make it a goal to do a room at a time — and do them in small bits. The last day before your move will likely be completely nuts, but if you plan ahead well enough you can pack a bit at a time instead of saving it until the last minute. It will be less stressful if you don't try to make huge goals, because if you don't meet them, you can feel like a failure. Small goals that you can easily meet (and sometimes exceed) can make the process more pleasant.
Delegate baby care
Do you have friends and family members who would love to spend some time with your baby on the days when you're really busy? Feel free to call them up. Have them watch the baby at your house — a good idea is to clear out one room and set it up with a comfy chair for the caregiver and a blanket, baby toys and other necessities. This way you don't have to worry about your little one mouthing random household goods as you do some heavy lifting.
Coordinate moving day
The day that you physically relocate, whether it's across town or across the country, is going to be a big one. Pack a special bag just for you and your baby's needs — snacks and water for you, and some for your little one if she's started eating solids. Pack her favorite pacifier and toys. Traveling with an infant for long distances has its own issues, but if you try to time your journey during naps or even bedtime she might sleep her way to her new home.
Unpacking
Unpacking is just like packing, but in reverse, and you might be surprised at how much "stuff" you really have. Try to utilize the same tips you employed when you were packing, and enjoy the extra time to do so since you don't have a time limit on when you need to be finished.
Enjoy your new home with your baby and look forward to the memories that will take place in your new abode. Soon enough the stress of packing, moving and unpacking will be behind you as you watch your baby grow up in her new house.
More on baby care
How to care for your baby's umbilical cord
Grandma doesn't care that your baby doesn't eat sugar
When your baby doesn't like solid foods