Celebrate Safely With Your Little One
Just because your baby is young doesn't mean that you both can't celebrate the Fourth of July, as long as you keep these tips in mind.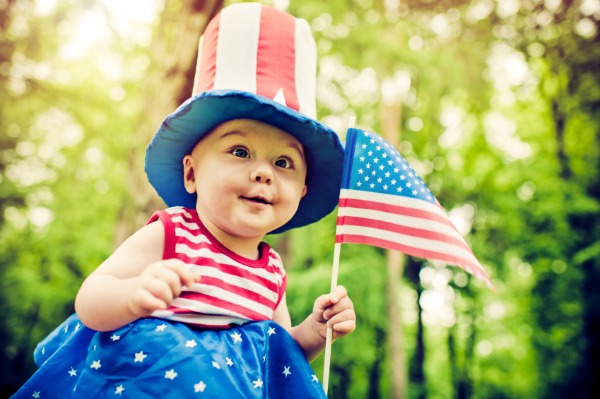 Fourth of July means celebrating American independence with friends, family, BBQ and fireworks. You won't let your little one crawl around with a lit sparkler of course, but there are plenty of ways to celebrate that don't involve personal pyrotechnics or potential calls to the fire department.
Rock the red, white and blue
No matter what you do or where you go, you can celebrate easily by donning red, white and blue. There are so many adorable flag-themed baby outfits you can buy, but really any combination of the colors will work too, for both boys and girls. If your babe is cloth diapered, you might even coordinate that day's diapers to work around the same theme for a super-cute touch — just pair a red diaper with a blue shirt and you're good to go. Photo ops will abound with the red, white and blue, so don't forget to dress yourself up too.
Backyard BBQ fun
Your older baby may enjoy eating watermelon, corn on the cob and other summer staples. But you'll need to keep a really good eye on what she grabs herself to eat as well as what well-meaning relatives try to share with her — especially if she hasn't started solids yet or suffers from a food allergy. For a younger baby, carry her in a wrap to keep those who are eager to share away, or give explicit instructions to your aunt that the baby absolutely cannot have any ice cream while you run to the restroom.
Avoid firecrackers
Some states have outlawed personal firework use for your home, but others haven't. Keep your little one inside if there are people — adults as well as kids — running around with lit sparklers. Keep in mind that fireworks don't always behave the way they are intended to. Bottle rockets can go the wrong direction, something may whiz when it should whir, a string of firecrackers may be accidentally flung your way and those sparklers can cause burns if someone doesn't notice your little one in your lap and runs by. Also, the loud noise can be hard on little ears, if not downright dangerous.
Enjoy the displays — from a distance
By all means, go to a large fireworks display — such as one that's put on by your city or county — but see if you can watch it from a respectable distance. If you're too close it can be frightening to a little one. You can also invest in ear protection for your baby, and let him snooze peacefully in a stroller by your side as you and your loved ones take in the lights.
Safety and fun can definitely go hand-in-hand during your baby's first Fourth of July celebration. Take plenty of photos, stay away from fireworks and keep his palate free from unsafe foods and it will be a day to remember for you and your little one.
More fun with your baby
New parent dilemma: Sharing the holidays
Protect kids from holiday allergies
10 Ideas for summer fun with baby