Engage Your Baby'S Senses
When it comes to bonding with your baby, simple activities like a pre-nap foot rub or simple game of hide and seek establish not only a foundation of love and trust between mother and child, but help your baby's brain to develop. Here are five different things to do together.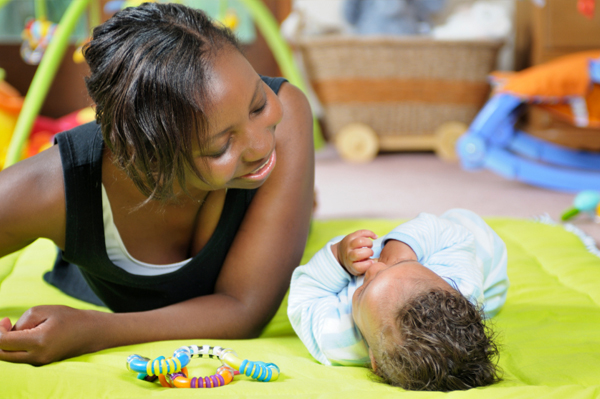 Contributed by Jessica Remitz
Baby massage
The best time to massage your baby is while she's calm but alert, like after her bath. Use a light, but firm, touch and start with her feet and legs. To gauge how much pressure to use, try pressing gently on your closed eyelid. As you move to her tummy, massage in clockwise strokes to help with digestion and make sure to steer clear of her head until her fontanel (soft spot) has closed at around 12 months.
Sing-a-long
Soothing your baby with a song like "Twinkle, Twinkle Little Star" can help get her to sleep from birth onward — and singing her favorite song during the day or just before naptime can also help to keep fussiness at bay. Once she's old enough to join in with sounds, claps or choruses, start with more active songs like "Old MacDonald" or the "Wheels on the Bus."
Talk about your day
Narrating the activities you do together like changing her diaper, taking a bath or having a meal will attune your baby to language. Asking simple questions and using words to describe new experiences like crawling in the yard ("The grass feels cool.") or trying new foods ("This banana tastes sweet.") will increase your baby's brain activity and cognition.
Have a play date
Start playing games like peekaboo around 6 months old as she starts to coo and laugh more often. Once she's reached a year, try setting up cushions and blankets in your living room as an obstacle course — with you waiting at the end as a reward. You can also bring the obstacle course into the yard as a fun activity outdoors.
Read a book
Reading to your baby from infancy on will help encourage her development and give you another outlet for bonding. Start with board books that have bright pictures and interactive stories, then move up to stories about new experiences like potty-training, seasons changing or learning the alphabet.
More on bonding with baby
8 Ways for dads to bond with baby
Breastfeeding and bonding: Building a relationship
Skin-to-skin with Daddy